Why is the left calling for clampdowns on protest?
Those who want the Westminster protesters locked up should be careful what they wish for.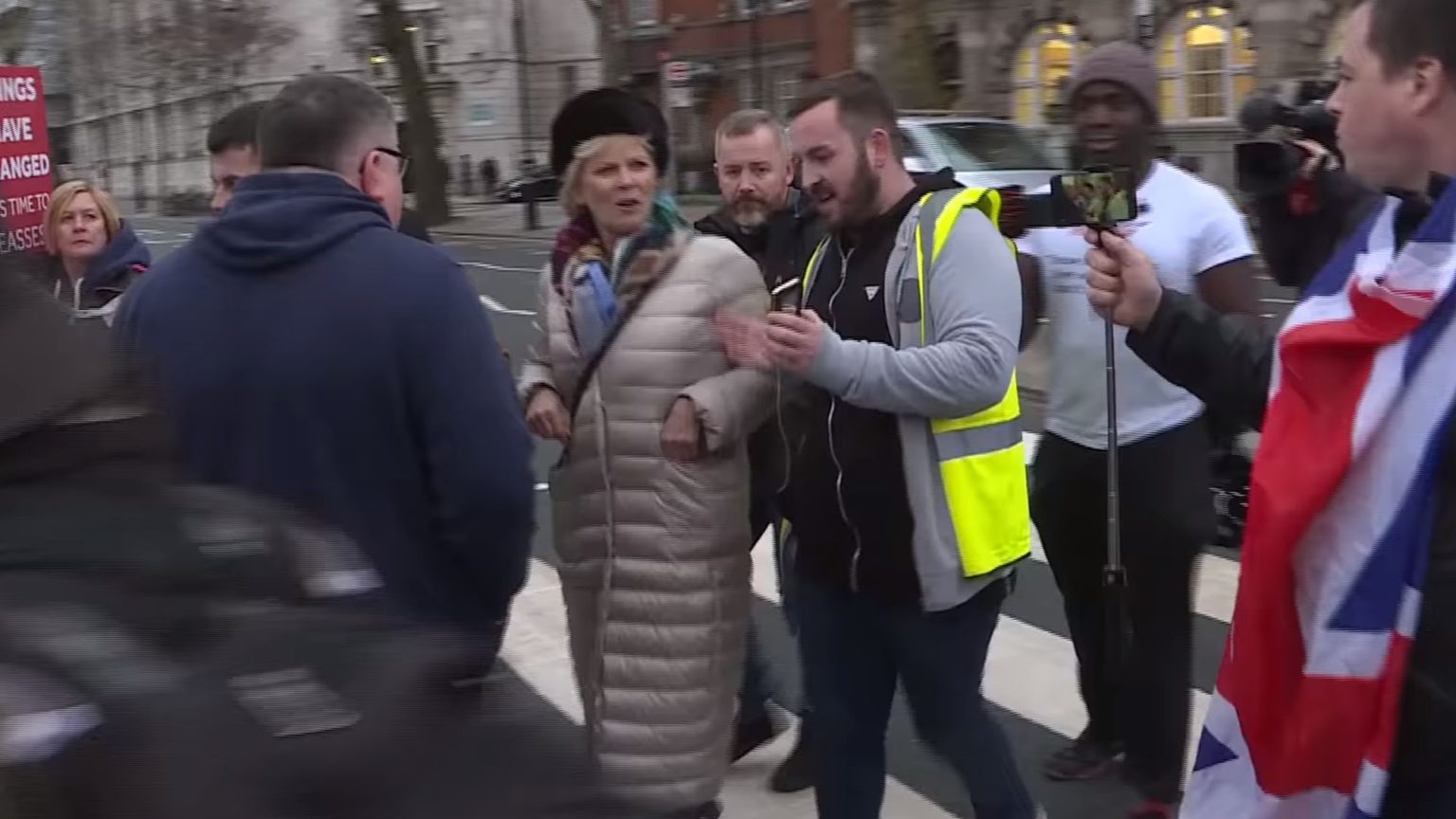 The political class has lost its mind. This week, footage emerged of a rowdy group of pro-Brexit protesters on College Green in Westminster following around after anti-Brexit Conservative MP Anna Soubry and Guardian columnist Owen Jones. They called Soubry a 'Nazi' and Jones a 'traitor' and a 'tampon'. In response, MPs wrote to the Metropolitan Police, calling on them to step up security around Westminster.
Across the board, MPs and journalists have been calling for the arrest of the protesters under the Public Order Act 1986, arguing that their protests crossed the line from legitimate speech into criminal behaviour. And the Met announced on Tuesday that officers have been briefed to intervene when they see a crime being committed in the area around parliament.
Those calling for more arrests should be careful. The Public Order Act of 1986 is one of the greatest threats to freedom of expression on the British statute book. Section 4A gives the police the power to arrest anyone who causes 'intentional alarm or distress'. Conduct that is 'reasonable' is exempt, but that is a relatively feeble, and subjective, caveat.
The Act also contains a host of other low-level offences designed to disrupt group assembly. These offences do not always require evidence of an actual threat of violence, or for the threat of violence to be vocalised. It all depends on how the target experiences the behaviour. It also grants police the power to make arrests before any actual disorder occurs. They can lock people up for simply looking like they are going to riot. This is why the Act is routinely used to round up protesters where no other offence has been committed. It is an ugly, catch-all provision which allows police officers to throw people in prison for what they say.
The sudden embrace of the Public Order Act by those purportedly on the left is remarkable, especially considering that it was drawn up by the Thatcher government in order to suppress left-wing protest. As legal academics Conor Gearty and Keith Ewing note, the Act was a direct and aggressive response to the Brixton Riots in 1981 and the Miners' Strike between 1984 and 1985. It was continuously used throughout the 1990s against animal-rights and environmental activists. But today, the Twitterati scoffs that the police should 'do their job', even it means suppressing free assembly and protest.
The space outside parliament has a rich history of impolite and sometimes aggressive protest. This ought to be preserved. Of course, defending the rights of protesters against unchecked police power is not to defend the substance of what they say. Anna Soubry is not a Nazi and Owen Jones is not a tampon. The protesters should channel their enthusiasm for Brexit more productively. But if we fail to defend their rights, everyone's rights will be at threat.
What's more, despite the catch-all nature of the Public Order Act, there is absolutely no evidence that the protesters outside parliament committed any crime. Both Soubry and Jones were flanked by police officers, who clearly felt there was no need to intervene.
Those calling for greater enforcement of Britain's draconian public-order laws should be careful what they wish for. If the police were consistently to enforce the Public Order Act, Britain would be a police state. It would allow for the arrest of anyone who challenges the authorities. Those calling for the police to intervene against Brexit hecklers outside parliament are far more dangerous than the Brexit hecklers themselves.
Luke Gittos is a spiked columnist and author of Why Rape Culture is a Dangerous Myth: From Steubenville to Ched Evans. (Buy this book from Amazon(UK).
To enquire about republishing spiked's content, a right to reply or to request a correction, please contact the managing editor, Viv Regan.