Our cultural highs and lows of 2018
spiked writers pick the best and worst of this year's art and culture.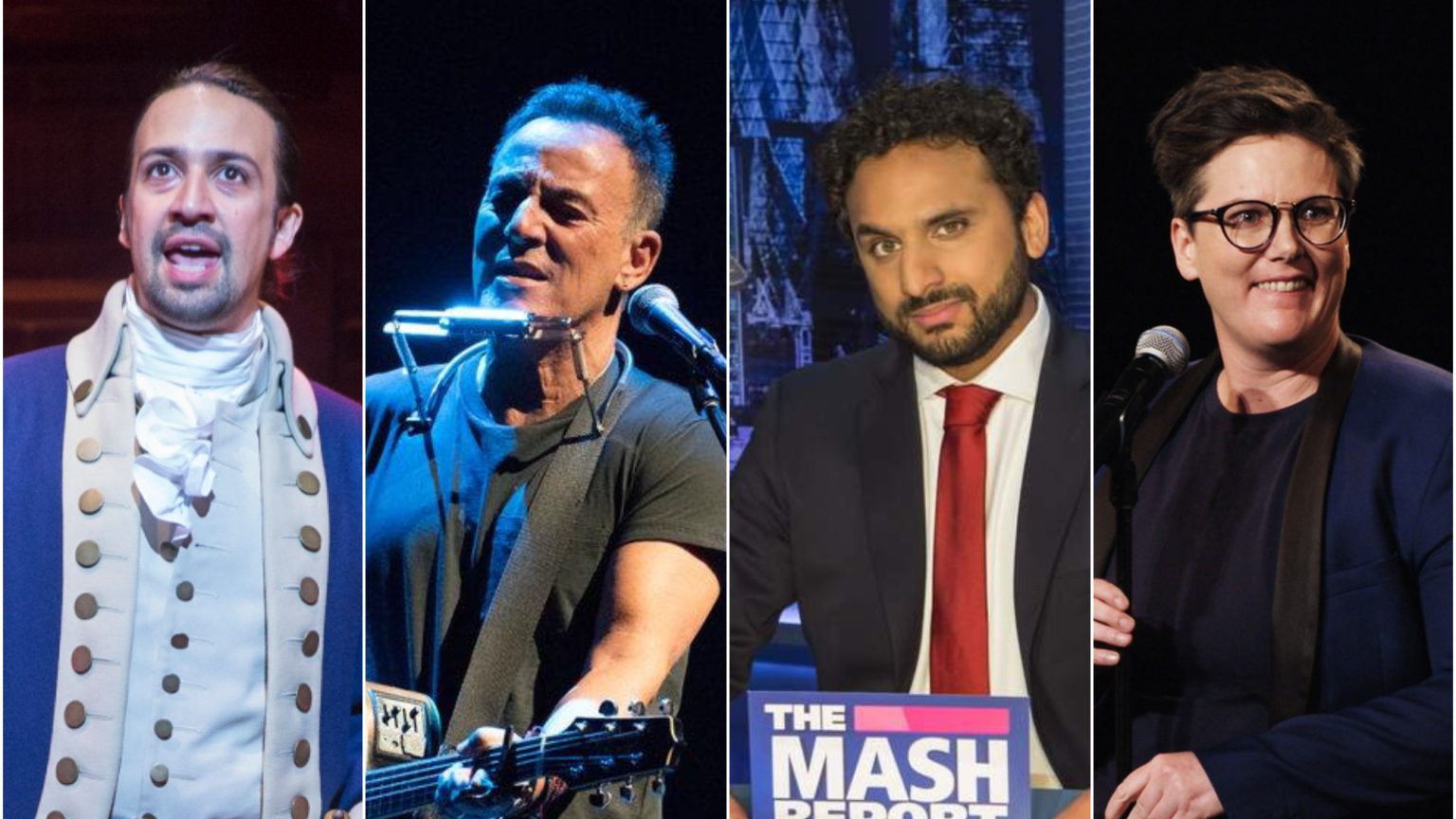 Wendy Kaminer chooses…
High: Springsteen on Broadway, by Bruce Springsteen
Yes, it opened in 2017, but a film version just became available on Netflix. It is a remarkable, bare bones two-and-a-half hour performance. Alone on the stage (except for two duets with his wife), armed only with an acoustic guitar or piano, Springsteen offers the story of his life, along with reflections on family, selfhood, politics, rock'n'roll and storytelling. He's never worked in a factory and lives a few miles from his childhood home, this born-to-run chronicler of blue-collar blues acknowledges. Cultural-appropriation critics who insist that you can only write about your own experiences should take note. Authenticity is sometimes a function of empathy and imagination, and whether this show is a portrait of the artist or a portrait of the artist's persona I cannot say – which is partly why it is so compelling.
Low: #MeToo censorship
The #MeToo movement's purification of popular culture continues, exemplified most recently and ridiculously in protests against Frank Loesser's lovely 1944 duet, 'Baby, It's Cold Outside'. The song, a dialogue between a sweet-talking man and the woman he hopes to persuade to spend the night, is now deemed date-rapey by activists who don't distinguish between a gentle, verbal seduction and coercion. Nor do they hear the voice of the woman who wants to stay, but feels constrained by mid-20th-century double standards. What will the neighbours say, she worries. 'My sister will be suspicious, my maiden aunt's mind is vicious' – just like the excesses of #MeToo.
Wendy Kaminer is an author and spiked columnist.
Tom Slater chooses…
High: Shoplifters, by Hirokazu Kore-eda
What makes a family? Shoplifters, a Japanese drama about a multi-generational gang of petty criminals in impoverished suburban Tokyo, offers a beautiful, incomplete answer to this question. It is both gorgeous and unsettling – not so much heart-warming as painfully human. Kore-eda is among the most humanistic filmmakers working today.
Low: The Mash Report, BBC
The problem with The Mash Report, the BBC's answer to the The Daily Show, is not that it is PC and preachy – though it is both of those things. It is that it is remarkably unfunny, with the noble exception of Geoff Norcott, the show's 'man of the people' correspondent. There's nothing wrong with anti-Brexit or pro-#MeToo jokes. They should just make people laugh before they applaud.
Tom Slater is deputy editor at spiked.
Julie Burchill chooses…
High: The Girl From Chickasaw County, by Bobbie Gentry
I've never been one of those old bores who insists that pop music was better back in their day, but this eight-disc box set containing Bobbie Gentry's seven remastered studio albums, as well as a treasure trove of rarities from her BBC TV series, made me finally give up the ghost of even pretending to be down with the kids. MUSIC WAS BETTER IN MY DAY!
Low: The BBC
The BBC has become even more of an embarrassment. There's so much rotten about it to choose from: the ongoing gender pay-gap, the Cliff Richard fiasco, the bias against Brexit, the revelation that it has spent £27million over budget for the new EastEnders set. But the liberal smuggery that has castrated comedy on Radio 4 is the worst thing about it – it has become a virtue-signalling circle-jerk with less laughs than the Christmas Day episode of EastEnders.
Julie Burchill is a journalist and author.
Andrew Doyle chooses…
High: They Shall Not Grow Old, by Peter Jackson
This astonishing documentary about life in the trenches during the First World War offers a more intimate insight than anyone could have anticipated. The restored footage has been expertly colourised, the frame rates stabilised, and lip-readers employed so that soldiers' words could be overdubbed by actors. The original grainy, black-and-white footage has a distancing effect, but with Jackson's innovative approach he is able to capture the horrible reality of our relatively recent past.
Low: The death of Godfrey Elfwick
Twitter's 'genderqueer Muslim atheist' was an excoriating and hilarious satire of the ever-increasing absurdities of the identitarian left. After numerous suspensions, the powers-that-be at Twitter decided they had had enough of seeing their worldview so effectively ridiculed and so decided to ban him for good. Thankfully, he now has a weekly column for the Spectator USA. Another victory for social justice.
Andrew Doyle is a comedian and spiked columnist.
Brendan O'Neill chooses…
High: The Barnes Foundation
I've long wanted to visit this iconic arts institution in Philadelphia, and this year I finally did it. It was founded in 1922 by Albert C Barnes, who got filthy rich through his development of Argyrol, which is used to treat gonorrhoea, among other things. Barnes used his capitalist lucre to buy up impressionist art from Europe and then he put it all in a small building where his factory workers could view and discuss it. Decades later the collection went public, was moved to a huge new beautiful building, and the end result is one of the most remarkable galleries in the world containing some of the most famous paintings of the past 150 years. Worth visiting Philly just to see this.
Low: Identitarian acting
How depressing that American actor Darren Criss says he will no longer play gay roles. He was brilliant as the psycho-gay in the mad, camp FX drama The Assassination of Gianni Versace. The idea that actors must share the characteristics of the people they play is bizarre. What next: only people who suffer from kyphosis can play Richard III? Censorious, identitarian nonsense that threatens to destroy the whole point of acting – pretending to be someone you aren't.
Brendan O'Neill is editor of spiked.
Joanna Williams chooses…
High: Hamilton, by Lin-Manuel Miranda
I worried about seeing Hamilton. Not only did the tickets cost more than I earn in a month, but I'd also previously sat through another Lin-Manuel Miranda production and hated it. Hamilton, however, was spectacular. A rap-based musical about the history of the American revolution and the life of the eponymous founding father shouldn't work – but it absolutely does. It's inspiring, exciting and had me singing along all summer.
Low: Vox, by Christina Dalcher
Something that definitely doesn't work right now is feminist dystopian fiction. Vox, by Christina Dalcher, has been hyped as a 're-imagining of The Handmaid's Tale'. But in the era of #MeToo, subtlety loses out to countless reiterations of one blunt point. The bogus message that it is terrible to be female has been repeated so often this year that it's not shocking, just boring.
Joanna Williams is associate editor at spiked.
Fraser Myers chooses…
High: Red, Wyndham's Theatre, London
Alfred Molina and Alfred Enoch star as artworld titan Mark Rothko and his new assistant in this revival of John Logan's Tony Award-winning play, Red. The chemistry between the pair is electric. At first, the wide-eyed assistant cannot compete with Rothko's sardonic barbs and superior knowledge of art history, but as the play develops, the assistant chips away at the master's grandeur.
Low: Nanette, by Hannah Gadsby
Hannah Gadsby's Netflix stand-up special, Nanette, is unique in the genre in that it builds towards a climax that elicits not laughter, but stony, awkward silence. The first half is mostly made up of pious lectures on various topics. But the main event is Gadsby's descriptions of her numerous #MeToo moments – some of which are shockingly violent. Unsurprisingly, it is hardly a barrel of laughs. Rather, she exploits her lowest moments to try to make us feel bad about ourselves.
Fraser Myers is staff writer at spiked.
Ella Whelan chooses…
High: Death and Nightingales, RTE
I re-read Irish author Eugene McCabe's 1992 novel Death and Nightingales annually, so I was always going to enjoy this three-part TV adaptation. Jamie Dornan sizzles as the fenian Liam Ward. And McCabe is master of the plot twist – it will leave you gripping the armchair.
Low: Dr Cosmos, by Dylan Moran
Dylan Moran used to be funny, back when he smoked, drank and did bits about chewing the mattress out of sexual frustration. He opens his latest stand-up show, however, with crass Brexit jokes about stupid people while brandishing a cup of herbal tea. They say you get more conservative with age — perhaps you get less funny, too.
Ella Whelan is a spiked columnist.
Christian Butler chooses…
High: Fun Home, by Lisa Kron and Jeanine Tesori
Fun Home, a musical adapted from American cartoonist Alison Bechdel's memoir and graphic novel of the same name, had an all-too-brief run at the Young Vic in London. The story contrasts Bechdel at three different ages, from her experiencing gay rites of passage through to her closeted father's downward spiral to suicide. It is funny, unique and life-affirming. Let's hope this extraordinary show gets a West End transfer.
Low: The death of Nicolas Roeg
We lost one of the most original voices in British cinema this year. His extraordinary run of films in the Seventies, including Don't Look Now, Performance and The Man who Fell to Earth, bear a unique style – radical non-linear editing, vibrant colour design and bizarre motifs, like expat protagonists and rock stars in lead roles.
Christian Butler is a spiked reviewer.
Patrick Marmion chooses…
High: Sylvia, Old Vic Theatre, London
This hip-hop musical by Kate Prince about Suffragette Sylvia Pankhurst absolutely set the stage on fire. The music, an audacious mix of soul, gospel, jazz, hip-hop and funk, had the audience dancing in their seats. The show was gleefully anomalous and anachronistic. Sylvia, a white Edwardian Mancunian, was brazenly cast as a sassy young black woman (Maria Omakinwa when I saw it), while Winston Churchill was a stocky young black man hilariously bossed around by his ragga-singing Jamaican mother. Wow. That is how you reclaim history: not by whingeing, but clowning. The audience couldn't get enough of it.
Low: Sylvia, Old Vic Theatre, London
Not only was Sylvia the best show that I saw in 2018, it was also the worst, thanks to mismanagement on a scale that would have impressed Jose Mourinho. The production lost its leading actress on day one, on the press night performers fell ill, and we were forced to see a stripped back performance accompanied by a farcical explanation by the Old Vic's artistic director. The running time was also far too long, at over three hours. This could have been a hit the size of Hamilton. All the elements were there. Instead the Old Vic missed a sitter.
Patrick Marmion is a writer and theatre critic.
Mick Hume chooses…
High: Mortimer and Whitehouse: Gone Fishing, BBC Two
Television, long dubbed 'the idiot box' by snobbish fools, continued to set the cultural standard this year. But never mind the high-minded fuss about Bodyguard or David 'humans-are-a-
plague' Attenborough's apes. For poignant, life-affirming drama, they were all knocked into a cocked angler's hat by Bob and Paul's excellent adventure, Mortimer and Whitehouse: Gone Fishing.
Low: The death of Philip Kerr
The death of 62-year-old thriller writer Philip Kerr also robbed the world of more stories about Bernie Gunther, Kerr's Nazi-loathing Berlin detective who somehow ends up in the SS and a wanted war criminal. Gunther is an anti-hero to stand alongside Raymond Chandler's Philip Marlowe – and detectives don't rank any higher.
Mick Hume is editor-at-large of spiked.
Neil Davenport chooses…
High: Phantom Thread, by Paul Thomas Anderson
Paul Thomas Anderson's lavish film about an English couturier, played with relish by Daniel Day-Lewis in his reported swansong, divided opinion among cinema-goers. Certainly, the plot detours bordered on the ridiculous, but as a piece of pure cinema, nothing came close to this film. It combines stunning set pieces with delicious, arcane wordplay and Jonny Greenwood's elegant score. Yes, it is absurd at points, but its oddness only adds to the pleasures to be found in this strange, slightly menacing film. Worth a thousand dreary Ken Loach dramas.
Low: The Handmaid's Tale, Season Two
Critics picked up on the relentless grimness of this dystopian drama as it began its second series this year, but plot and character inconsistencies were a far bigger problem. Serena and June seemed to have personality transplants on a week-by-week basis, while minor characters like Nick and his teen wife added to the boredom. Watching it was like rubbing teeth fillings with KitKat foil. Brace yourself – there's another 10 series of this lumbering mess in the pipeline.
Neil Davenport is a writer.
Patrick West chooses…
High: Chart music
One of the curious developments of the past 20 years is that chart music has been ever-improving. My own favourites of 2018 included Outrage! Is Now by Death From Above (a title that surely sums up the spirit of the age), Love Is Dead by Chvrches, and all the Now compilations. The reason that chart music is so much better than it was 30 years ago – when Stock Aitken Waterman dominated the charts, in Britain at least – is that the internet has introduced people to a bewildering new number of genres, thus providing for greater, healthier cross-pollination.
Low: The end of The Big Bang Theory
It was sad to see the The Big Bang Theory reaching its finale. I learnt to love this sitcom in 2018. Like The Goldbergs, it deserves to be on primetime TV in Britain, rather than buried away on E4 or Sky.
Patrick West is a spiked columnist.
Luke Gittos chooses…
High: Devotion, by Tirzah
This album is a striking and moving portrayal of intimacy. The south London songwriter has a brilliant eye for the everyday machinations of romantic relationships, and the production of Mica Levi, the genius behind too many exciting projects to list, elevates this album to new heights.
Low: Nanette, by Hannah Gadsby
For some reason I watched Hannah Gadsby's Netflix comedy special, despite having heard Gadsby was ultra-PC and spouts establishment wisdom to unquestioning adulation. This is where comedy goes if people stop caring about being funny.
Luke Gittos is a spiked columnist.
Wendy Earle chooses…
High: A road trip in Europe
This year I encountered some amazing art and architecture – from the awe-inspiring Reims cathedral to Le Corbusier's chapel, a modernist gem in Ronchamp; from the striking museums of Marc Chagall and Matisse in Nice to Giotto's stunning painted Cappella in Padua. Only the spirit of artistic freedom could have given birth to such wonderful works.
Low: The attacks on artistic expression
To the historic detriment of the arts, many arts institutions are adopting risk-averse practices of self-censorship; and no artist, alive or dead, is safe from the possibility of crossing arbitrary new lines drawn by the easily offended.
Wendy Earle is convenor of the Academy of Ideas Arts and Society Forum.
To enquire about republishing spiked's content, a right to reply or to request a correction, please contact the managing editor, Viv Regan.