Homelessness: sympathy is not enough
We need to tackle the root, economic causes of homelessness.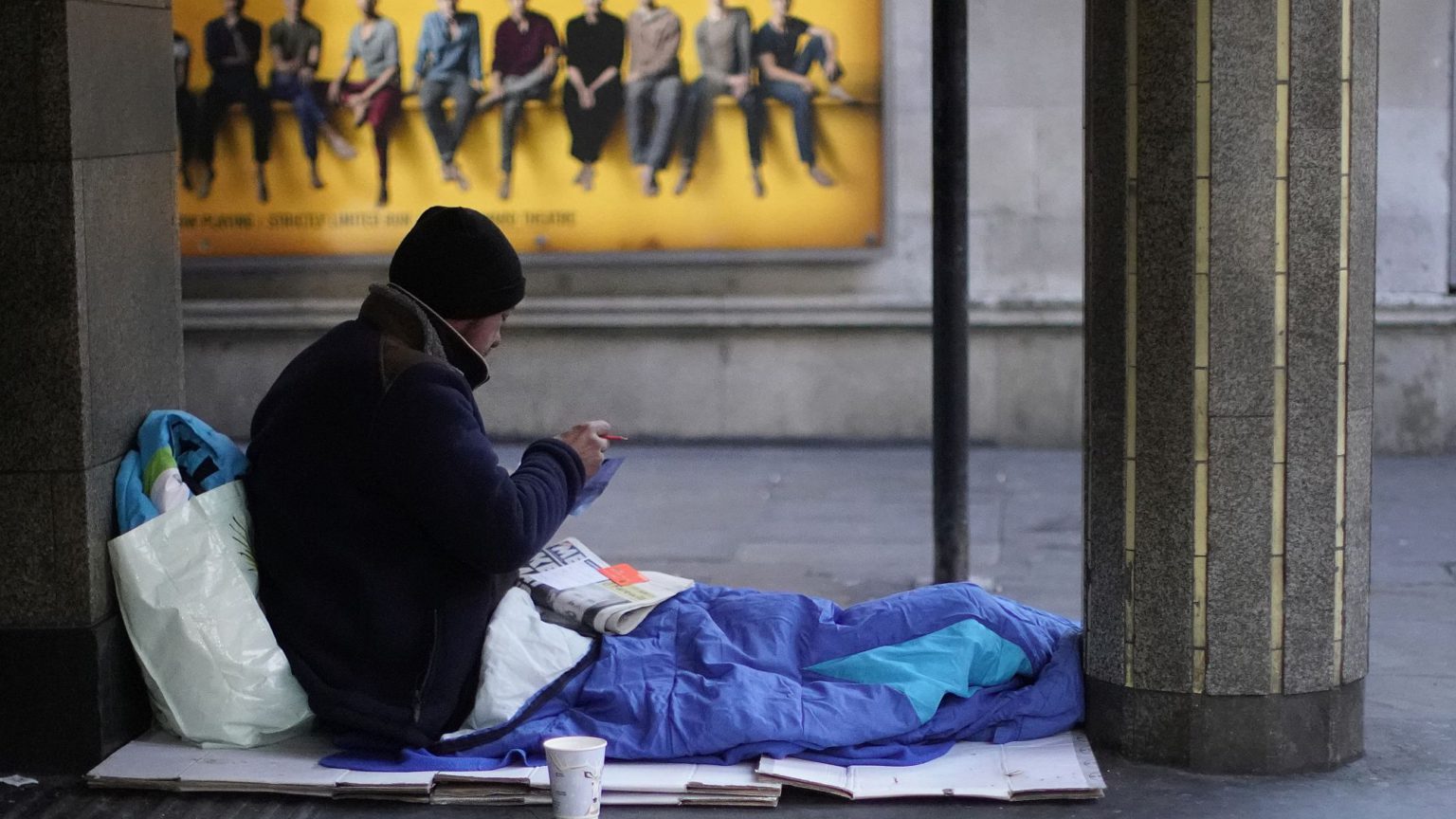 It is traditional at this time of year to spare a thought for those left out in the cold. And this Christmas many are concerned about the increasing numbers of street homeless, despite the government's bold ambitions to halve the numbers by 2022 and 'eliminate' the problem by 2027.
Homeless charities usually struggle for volunteers, but they have been inundated with offers of help over the festive period. So much so that they are having to turn volunteers away. Such offers are no doubt kind. But non-committal volunteering can be as much a hindrance as a help to a sector dealing with increasing need.
Indeed, with a problem as difficult and complex as homelessness, well-meaning virtue-signalling is not enough.
This year thousands took part in 'sleep outs' in Scotland, organised by the charity Social Bite. People camped out in their sleeping bags and were rewarded with performances from KT Tunstall and others. But there's something distasteful about such stunts. Bruce Forbes, director of the Angus Housing Association, told the BBC he thought the event was 'quite patronising to homeless people'.
To its credit, Social Bite raised £4million from its 'sleep out' last year, which was spent on a 'village' for 20 homeless people in Edinburgh, and contributed to a housing initiative that turned 800 homeless people into tenants. But, even then, is this really enough? How many fields full of people playacting at being homeless will it take to get the genuinely homeless off the streets and into permanent accommodation?
According to Shelter, there are 320,000 homeless people in Britain at the moment. This is somewhat misleading. Shelter conflates families living in B&Bs and hostels (the bulk) with the relatively few, if rapidly growing, number of people sleeping rough. But, inflated statistics aside, there is clearly a problem here that needs to be tackled.
Complex factors can lead to people sleeping rough or losing a tenancy. Mental illness, family and relationship breakdown, alcoholism and drug problems all play their part. Changes to the welfare system have contributed to recent rises, too. Stories of people losing their jobs and then their homes because they had to wait up to eight weeks to receive Universal Credit – the UK government's new benefits system – and then couldn't pay their rent are as familiar as they are depressing. But these explanations never really get to the root of the problem.
Too often we focus on politically convenient targets – whether it is the Tories and their supposedly nasty new benefit, or so-called austerity driving people into food banks and out on to the streets. But, in truth, it is a chronic shortage of housing, longstanding economic stagnation, rising costs and falling living standards that have created the conditions conducive to people losing their homes in increasing numbers.
No amount of awareness-raising, volunteering or Christmas spirit is going to solve these problems. Instead of hugging the homeless, we should be grappling with why so many people are forced out of their homes in the first place.
Dave Clements is a writer, adviser to local government and founder of the Academy of Ideas Social Policy Forum.
To enquire about republishing spiked's content, a right to reply or to request a correction, please contact the managing editor, Viv Regan.