The New McCarthyism is ruining public life
Another spiteful campaign is being launched against spiked. Here's our response.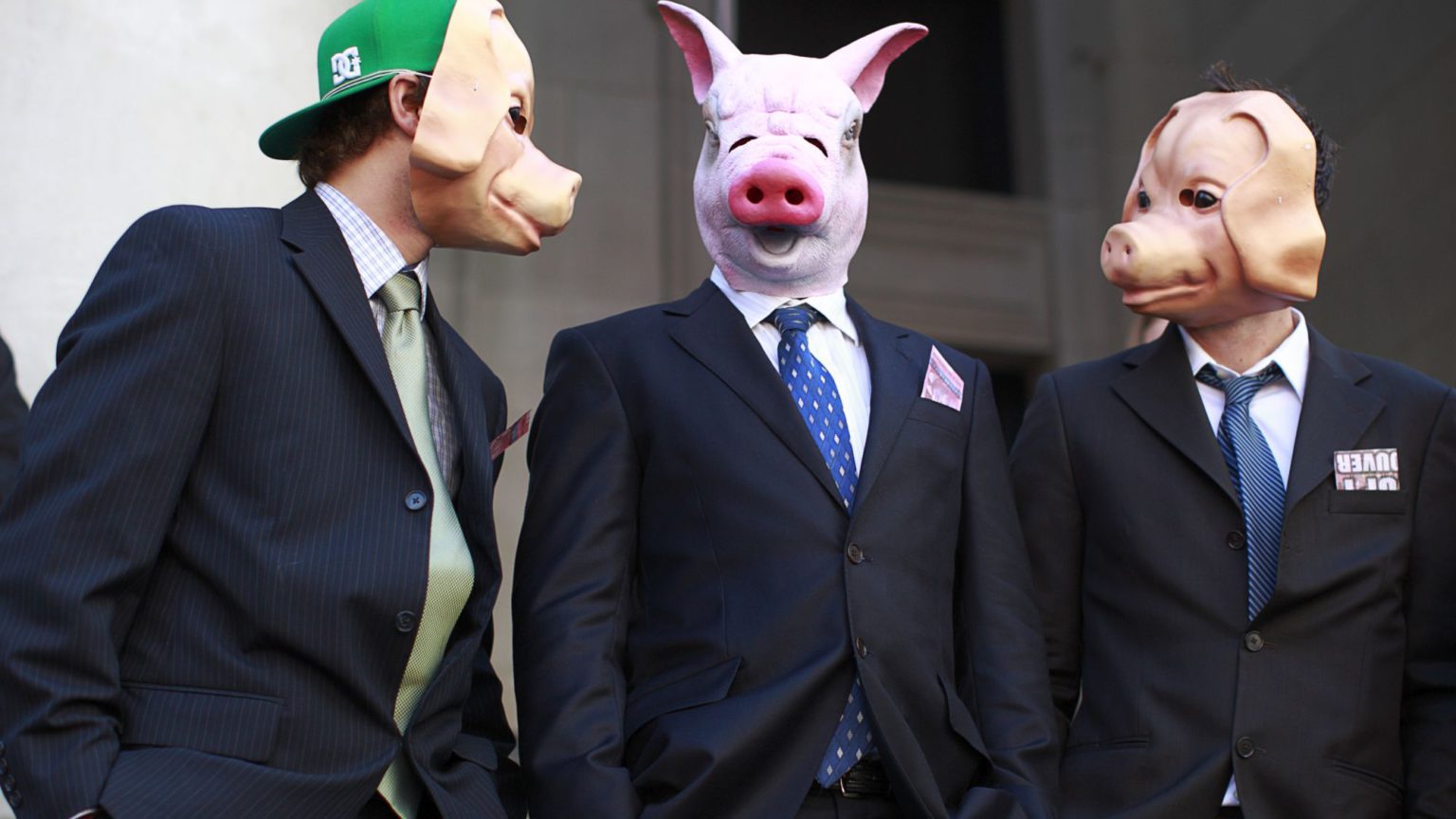 One of the most regrettable features of public life today is the crisis of good faith. The refusal to accept that people say the things they say because they really believe them, and the hunt, instead, for the real reason people hold and express certain beliefs. Who put them up to it? Who are they a front for? What's the hidden agenda? Do they know someone or get funding from someone and might this explain why they hold the views they hold? What is the story – the true, dark, shadowy story – behind their points of view and their political activity?
This mainstreaming of the conspiracy-theory imagination, so that the search is always on for Dark Money or sinister puppeteers, infects both the right and the left. So some on the right obsess over who is funding the youthful campaigners for a so-called 'People's Vote' instead of accepting that these young people genuinely believe, rightly or wrongly, that membership of the European Union is a good thing. On the far right, the obsession with Dark Money generates some deeply disturbing prejudices, primarily a belief that Jewish bankers use their wealth to control politicians and even people's minds. On what passes for the mainstream left today, it has become worryingly fashionable to speak of Dark Money and Russian influence and 'shadowy organisations', all of which are frequently held responsible for everything from the vote for Brexit to the election of Donald Trump. Again, bad faith comes into play: observers find it impossible to believe that members of the public hold certain views and so they search for the money or the brainwashing ads or the shady forces that make them think and act in the way they do.
This McCarthyite style, this incessant search for the hidden operators of political life, has a terribly insidious impact on public life. It grates against intellectual thought, because it discourages engagement with people at the level of what they say, at the level of what they believe, and instead incites a conspiratorial search for the behind-the-scenes forces that are apparently controlling us. And it makes for a more suspicious, distrustful public sphere. 'Never trust what people say' – that is in essence the rallying cry of the New McCarthyites and that is not conducive to a healthy, open, democratic culture.
One of the leading practitioners in Britain of the New McCarthyite style is George Monbiot, the Guardian columnist. In recent years, spiked has found itself on the receiving end of a few spiteful campaigns about our 'real' agenda. We have had the misfortune of being targeted by both far-right and left-leaning conspiracy theorists, the former convinced that we are doing the bidding of powerful Jews and Zionists, and the latter convinced we are a stooge for corporate Dark Money. Mr Monbiot has spearheaded a couple of those latter campaigns. And he is at it again. He is once again seeking to expose the alleged 'dark forces' behind what we do.
spiked recently received a number of questions from Mr Monbiot for an article he is writing. We reproduce his questions below and our response to them.
To edit a magazine like spiked, which has strong views and some opinions that some people find difficult or confronting, one has to have broad shoulders. But it's spiked's staff and contributors I feel bad for when yet another New McCarthyite campaign is launched against us. Our staff work incredibly hard, our contributors write for free, and they do so for one reason and one reason only: because they really do believe in the values of freedom, democracy and choice that spiked upholds and has been upholding for 17 years now. I only wish people would treat them with the good faith that they, and everybody else who is engaged in public life, deserve.
MR MONBIOT'S QUESTIONS:
Dear Brendan and Viv,
I have been unable to contact you by phone, as the number given on your site appears to be out of order. So could you please either answer these questions by email, or ring me back on [phone number removed]. Please respond by noon on Monday 3 December.
I'm writing a Guardian column on who funds Spiked.
This is prompted by our discovery that Spiked has received, through its US funding arm, $170,000 over the past two years from the Charles Koch Foundation. I have been investigating this funding and its context in collaboration with DeSmog UK.
My questions are as follows:
What was the stated purpose of these donations?
Could I please see your application for funds to the Charles Koch Foundation?
Could I please see the contract that accompanied this funding?
Was the funding from the Charles Koch Foundation covered by a confidentiality agreement?
Have you publicly acknowledged this funding? If so, please provide a link.
Have you declared it to your readers? If not, why not?
Have you declared it to those who write for Spiked? If not, why not?
Why has Spiked Ltd published only abbreviated accounts?
Have you received donations from the Charles Koch Foundation in 2018?
The Koch brothers are famous for spending their money carefully. So they must see something in Spiked that is of interest to them. What do you think this is?
Has the Foundation, or its affiliates, given you any other form of help, such as advice, promotion, publicity or staff time?
Did the Foundation request that you take any particular editorial line?
When did the Koch brothers or their foundations first provide money for Spiked?
Which other major donors (by which I mean people providing £5000 or more to Spiked) have supported you?
What is your total annual budget?
Who provided the money that Spiked used to start up?
Was LM magazine funded by the same sources?
What presence does Spiked have in the United States?
Brendan, how would you describe your politics? Do you still call yourself a Trotskyist? Or a Marxist?
Is there anything else you would like to tell me?
Thank you.
Yours Sincerely,
George Monbiot,
The Guardian
SPIKED'S RESPONSE TO MR MONBIOT:
Dear Mr Monbiot,
In the past three years the Toleration and Free Speech Programme at the Charles Koch Foundation has given Spiked US Inc $300,000 to produce public debates in the US about free speech, as part of its charitable activities.
In 2016 the Charles Koch Foundation awarded a grant to Spiked US of $170,000 to develop a free-speech oriented programme of public debates on campus titled the Unsafe Space Tour. Accompanying videos were also published. Here are links to those debates and videos:
https://www.youtube.com/watch?v=-YwJ2NEQn8o
https://www.youtube.com/watch?v=ifzGyigef4c
https://www.youtube.com/watch?v=AOX2eo9frDQ
https://www.youtube.com/watch?v=N-oI5Df9ESE
In 2018 the Charles Koch Foundation awarded Spiked US a further grant of $130,000 for the specific activities of four live events with accompanying videos and reports, again focusing on free speech. The first one is titled 'Should we be free to hate?' and is on 29 January 2019 at the New York Law School.
The Toleration and Free Speech Programme at the Charles Koch Foundation supports projects from diverse viewpoints, on both the left and the right, including the American Civil Liberties Union-National Capital Area (ACLU-NCA), the Foundation for Individual Rights in Education (FIRE), the National Coalition Against Censorship (NCAC), the Newseum, the Knight Foundation, the American Society of News Editors, and more.
We're very proud of our work on free speech and tolerance, and we are proud to be part of the programme.
Yours sincerely,
Viv Regan
Managing editor of spiked
To enquire about republishing spiked's content, a right to reply or to request a correction, please contact the managing editor, Viv Regan.