Saudi Arabia's fairweather critics
Too many are just using Jamal Khashoggi's killing to bash Trump.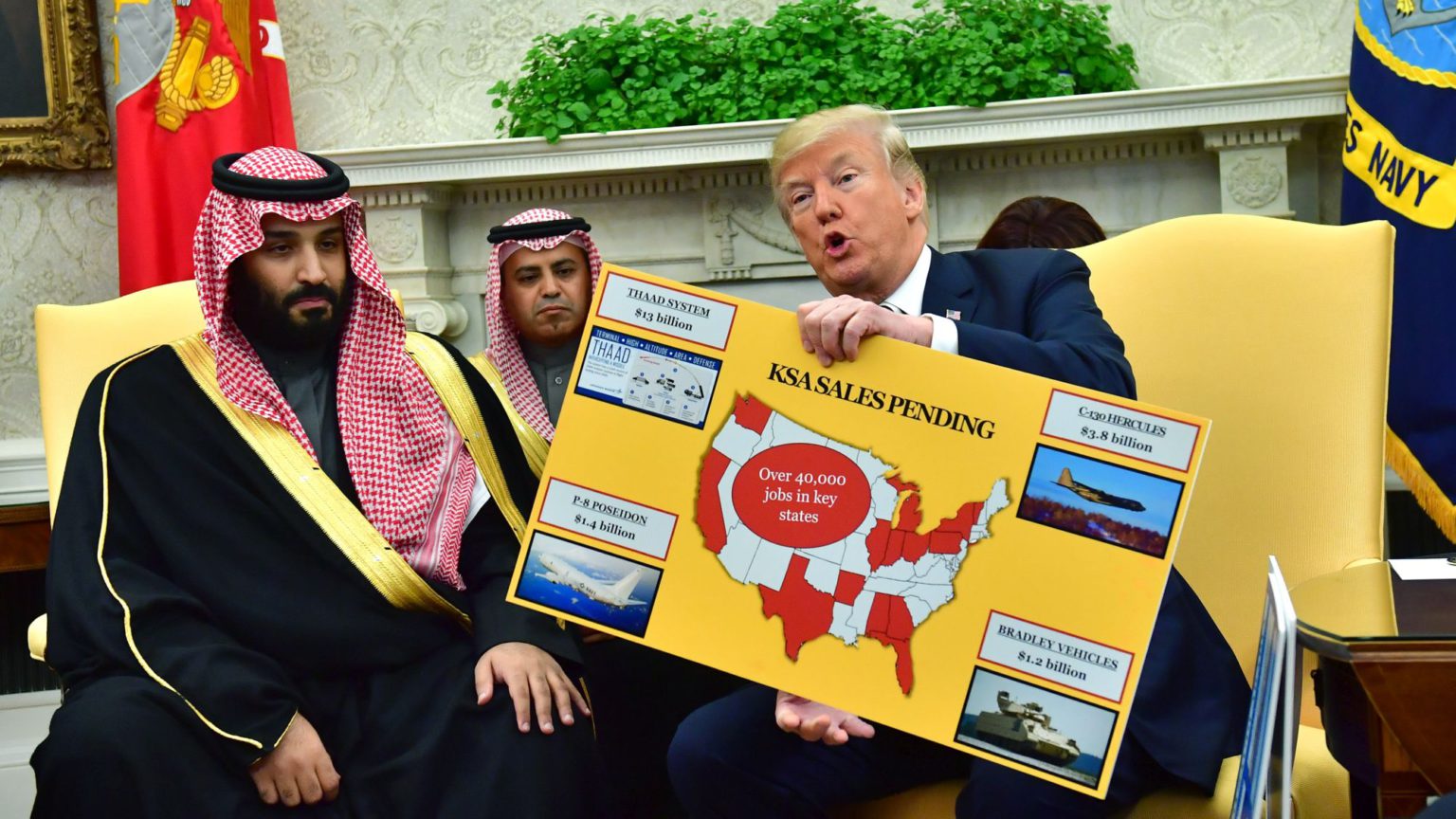 It used to be said of the murder trial of OJ Simpson that there are two things you need to know: one, he did it; and, two, he's going to get off.
Something similar might be said of the quasi trial by Western pundits of crown prince Mohammed bin Salman, Saudi Arabia's acting monarch, over the murder of Jamal Khashoggi: one, that he did order the killing of the US-based Saudi dissident; and, two, that US president Donald Trump is going to let him off the hook for it.
Neither the CIA's report alleging MBS's involvement, nor the grisly details Turkish authorities have been drip-feeding global media, make any difference. The decades-old US-Saudi alliance – itself a living legacy of a compact between the victorious Anglo-American powers and the House of Saud, as they carved up former Ottoman lands in the aftermath of the First World War – is simply too important to the US to be sacrificed at the altar of righteous PR.
Why? Well, some will talk archly of the West's reliance on Saudi oil. And no doubt there's a smidgen of truth there. But just as vital is the regional role of Saudi Arabia, which, as internally theocratic and intolerant as the kingdom itself is, is viewed by the West as a stabilising force in a region that is always threatening to redraw itself around its political and religious groupings. What's more, Saudi Arabia is doubly vital to Trump, given his focus on isolating Iran, which would be impossible without the regional support of Saudi Arabia and the gulf states it holds in thrall.
And yet, despite this, despite the morally unvarnished, realpolitik of the US's, and indeed Britain's, long-term relationship with the House of Saud, many in Western circles still seem surprised and disappointed by Trump's refusal to blow up this relationship following Khashoggi's murder. So they see in Trump's response to the CIA report, which concluded that the crown prince must have sanctioned the killing ('maybe he did or maybe he didn't', said Trump), a desperate attempt to obscure ultimate responsibility. Just as they see in Trump's refusal to listen to the Turkish intelligence service's recording of the murder a refusal to confront any actual evidence.
What is driving this, however, is not, one suspects, a sudden concern with Saudi Arabian politics. No, it is driven by the domestic animus towards Trump among the liberal-leaning. And this leads to a form of historical amnesia, as if the US allying itself with a brutal despot, and tolerating his brutal despotism, is something utterly unprecedented. 'By refusing to impose sanctions on the Saudi crown prince… Trump has set a new standard', thundered Khashoggi's employers at the Washington Post, concluding: 'No atrocity is too much – not even sawing up a critical journalist and then baldly lying about it to the president and secretary of state.'
Reading the condemnation of Trump's lack of condemnation, you could be forgiven for thinking US leaders have never cosied up to murderous rulers: that the US state department didn't back Chile's military dictator Augusto Pinochet in the 1970s and 1980s; that Ronald Reagan's administration didn't support Saddam Hussein in the 1980s, aiding and encouraging Iraq in its war against Iran, and covering its ears and eyes as its military gassed Iranian soldiers and Kurdish villages; and that Obama, during his time in office, didn't support, er, Saudi Arabia, first in its crackdown, post-Arab Spring, on dissent within the kingdom and in bordering Bahrain, and, second, in its prosecution of a ruinous, years-long aerial assault on Yemen, which has cost hundreds of thousands of lives. That is, you could be forgiven for thinking that the US has always stood aloof from the murky, amoral politics of other countries. Never meddling, never stooping low, never arming and killing.
The amnesia is wilful on the part of Trump's critics, of course. It allows Trump's reign of overseas barbarism and buffoonery to be presented as somehow uniquely amoral and harmful. And it permits those now suddenly condemning Saudi Arabia for being what it has always been – an autocratic, oppressive state – to feel tremendously good about themselves. This opportunity has been seized by Trump's critics in Congress and in the media. Meanwhile, the leaders of Germany and Denmark have announced they are to halt arms sales to Saudi Arabia following Khashoggi's killing (despite having continued to sell arms to Saudi Arabia as it rained down bombs on Yemen).
The double standards are difficult to stomach. The current wave of anti-Saudi sentiment is driven principally by a loathing of all things Trump. It has little to do with a genuine opposition to Saudi policy, internally and regionally. If it did, this explosion of anti-Saudi verbiage would have emerged long before Khashoggi failed to exit the Saudi consulate in Turkey on 2 October – like when the Saudis first started bombing Yemen in 2015.
The killing of Khashoggi, then, is convenient for Trump's critics. It allows them to criticise Saudi autocracy and Trump's moral failings without having to reckon with the US's and the West's long-term political, economic and military investment in Saudi Arabia.
None of this is to excuse Saudi Arabia's oppressive, miserably autocratic regime. It is simply to say that many of those in the West currently criticising it are doing so for far from principled reasons. What's more, any serious challenge to the oppressive structure and nature of Saudi Arabian society can only come from within that society. And this is a cause that is unlikely to be helped by politicians and pundits cynically exploiting Khashoggi's death for their own ends.
Tim Black is a spiked columnist.
Picture by: Getty.
To enquire about republishing spiked's content, a right to reply or to request a correction, please contact the managing editor, Viv Regan.