Straight out of the Ted Heath playbook
Just as Heath deceived us about the EEC, May is deceiving us about her 'Brexit' deal.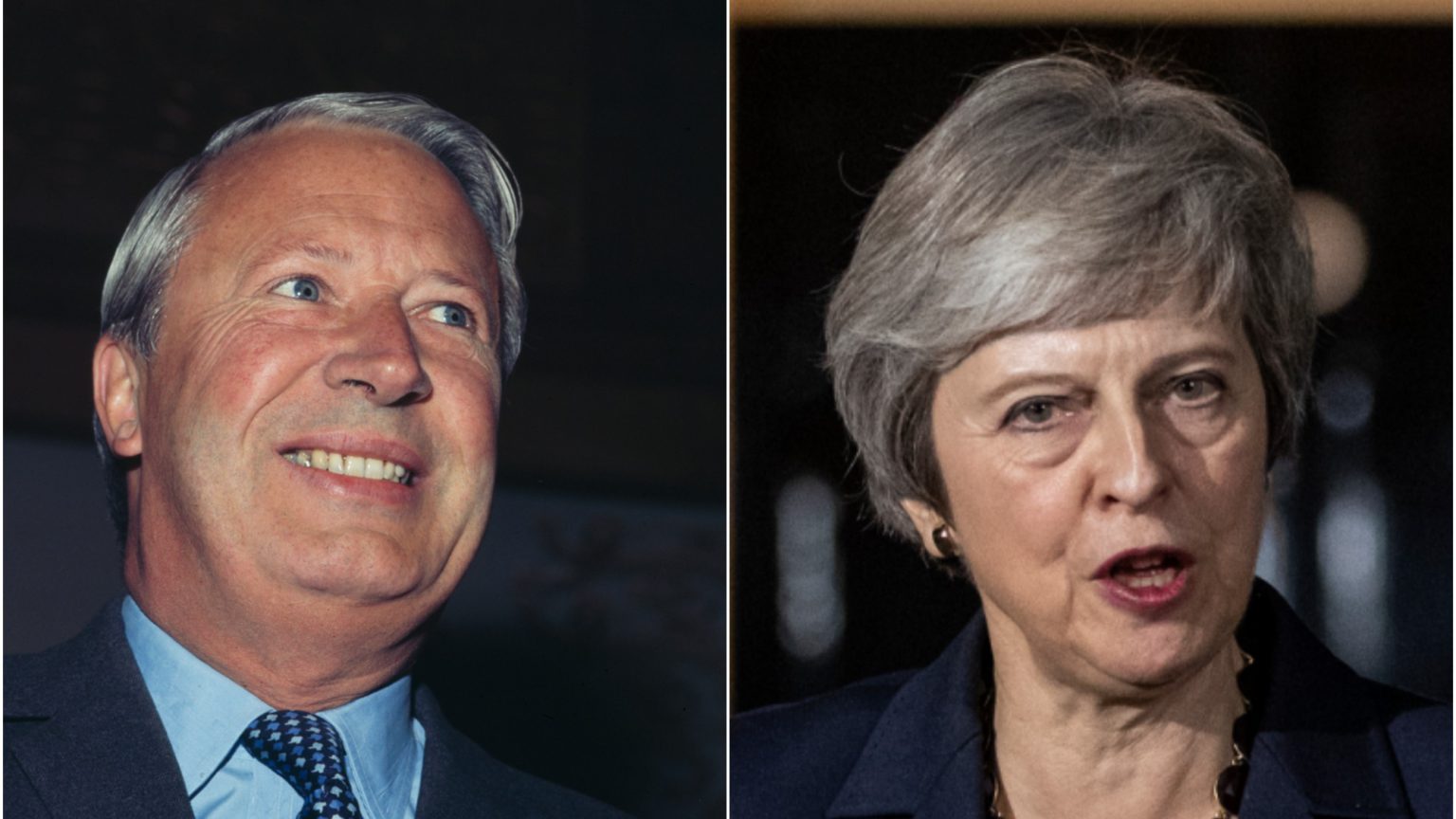 The No10 team needs to quit trying to present prime minister Theresa May as 'resolute' or 'determined' to get a 'good deal for Britain' in the Brexit negotiations. What they appear to be doing is trying to present an image of May as a modern Thatcher.
She is not. The efforts are only an embarrassment. The fact is that, with every passing week in which May speaks in support of her Withdrawal Agreement with the EU, she becomes more and more like Edward Heath, the Tory PM who took us into the then European Economic Community in 1973.
If May were genuinely 'resolute' against unreasonable demands from Brussels, she would show a lot more of Thatcher's approach in 1990, when Thatcher stood at the despatch box and replied with a furious, 'No! No! No!' to European demands for more power over the UK.
We get none of that from May. Instead the prime minister is trying to sell her EU deal in the same way Edward Heath sold entry to the EEC. He led the British people to believe entering the Common Market was just a free-trade deal.
He knew it wasn't. He tricked the British people with half-truths, deceptions and tactical omissions.
Now May wants to move the UK from being a sovereign state which is a member of the EU to being a captured territory which is a colony of the EU, and from which the UK has no independent right to leave. Yet she calls this 'leaving the EU'.
May is willing to agree – though she tries to deceive us she is not – a future relationship based on our ongoing capture in a customs union. She is willing to surrender to EU control over our regulations, competition laws, fisheries, trade deals – all under foreign legislative powers over which British voters will have no control.
Yet she claims this is delivering on the referendum vote to leave the EU. She is making the claim with half-truths, deceptions and tactical omissions.
Just look at Heath's behaviour and note the similarities in style with May's.
In 1960, prime minister Macmillan appointed Heath minister of state for Europe, with responsibilities for the negotiations for Britain's first attempt to join the EEC. That same year, the head of the UK delegation to the European Commission reported to the Foreign Office that the aim of the EEC was the unification of policies in every field of the economic union – ie, economic, social, commercial, tariff and fiscal policy. This needed to be made clear to the politicians, the report stressed.
Making that clear to politicians is exactly what Heath intended never to do. He made sure government never mentioned economic and monetary union, or the surrender of powers to a foreign European court, to voters.
Instead, in speaking to the Commons, in speaking to the people, Heath dissembled, he misled, he left out the important parts of the future the EEC planned for itself, and for us. That is, the parts the British people at the time would never have agreed to.
Now we have Brandon Lewis, Conservative Party chairman, mouthpiece for May, telling all party members that the draft deal – and these are his exact words – 'delivers on the referendum and will see us take back control of our money, laws and borders'.
Not in May's lifetime it won't. And she knows it.
I'm a barrister, I've read all 585 pages, I trained for years to be able to read this kind of stuff. I can tell you for certain that it will tie us to EU restrictions and EU controls for as long as the EU wants.
And, since it will bleed tens of billions of pounds more out of our taxpayers during all those extra years of control, it will not let us take back control of our money.
This is history repeating itself. In 1971, Heath had a 16-page booklet delivered to every household in Britain, an upbeat propaganda paper on how 'successful' British negotiations had been in Brussels. It omitted the vast disproportionate payments to the EEC his negotiators had agreed. It failed to mention that the EEC intended economic and monetary union. The booklet even pretended the powers of the courts in the UK would remain as they were.
In short, May is trying to push through this deal using the Heath playbook. She is presenting it to the British people using deception, camouflage, half-truths, and prose as impenetrable as the 13,000 pages of EEC legislation to which PM Heath committed the British people and the British parliament.
May's deal is equally a swine to read. It is full of cross references and technicalities. That is no accident. It was designed to be unintelligible to voters.
May and her Tory establishment are counting on the decent, hardworking men and women of this country to be too busy to give themselves headaches trying to understand the deal. That way the pro-EU Tories can hope to get the poisonous deal passed in some form.
Then, in the years to come, as each surrender, each poisonous agreement comes into force, they can turn to the voters and say – as ministers said throughout the 1980s and 1990s, as European power increased and increased, with no agreement from the British people – 'It was all in the deal. You agreed to it.'
While Theresa May is prime minister, Ted Heath walks among us like the undead. And another 40 years of a zombie Britain, living but unfree, may be about to descend on us.
Steven Woolfe is a member of the European Parliament for north-west England.
Pictures by: Getty.
To enquire about republishing spiked's content, a right to reply or to request a correction, please contact the managing editor, Viv Regan.