The Tommy Robinson trial: a threat to internet freedom?
Contempt-of-court laws are not fit for purpose in the internet age.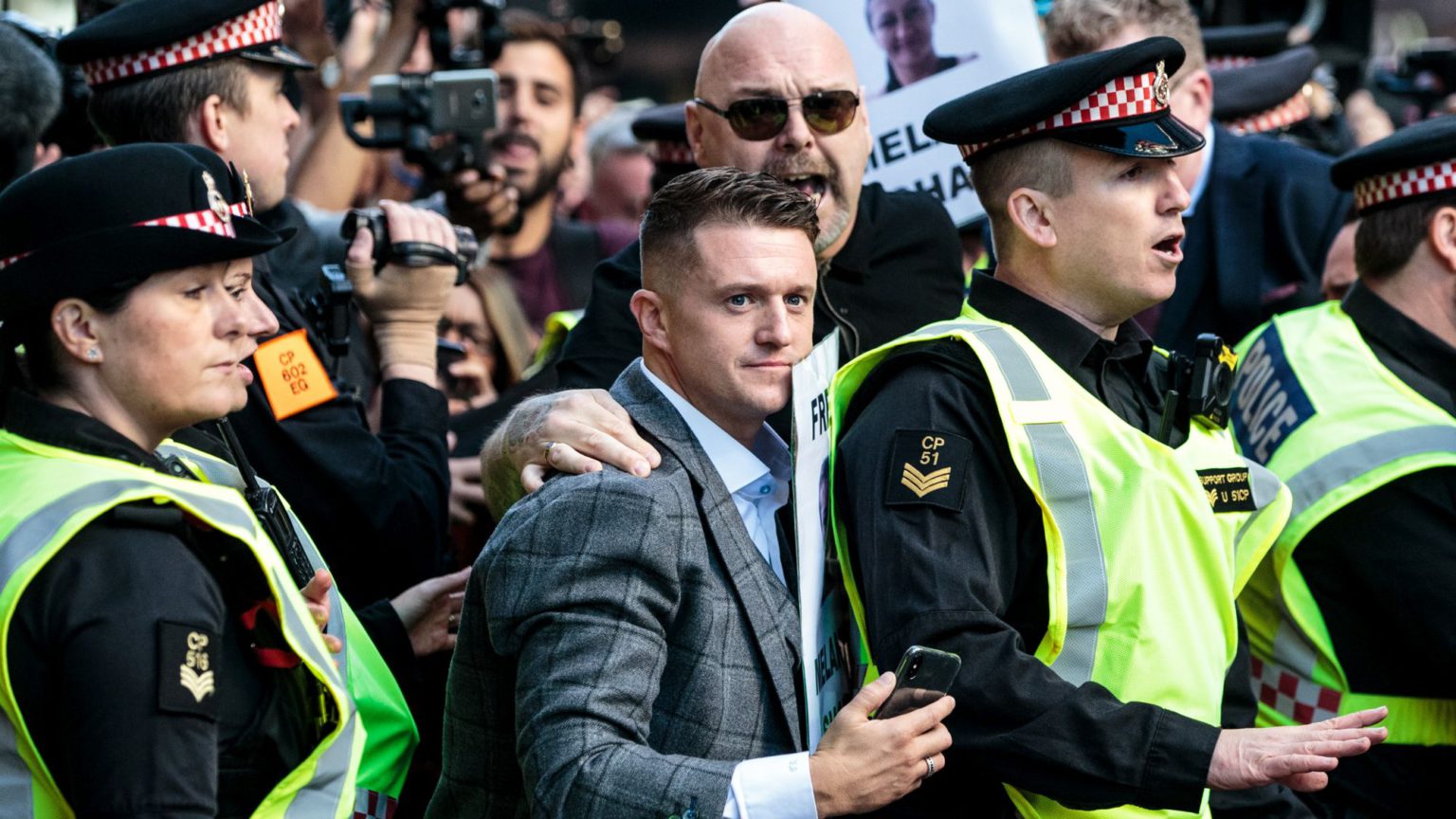 The internet is changing how information is accessed, how it spreads and how it is understood. There are two main ways we as a society can respond to the many ramifications of this. We can sit back while the authorities determine the rules of what can and cannot be published. Or we can, as citizens, accept greater individual responsibility.
One area where this needs to be addressed is in relation to jurors and how they might come across information online. This is one of the many aspects of the ongoing saga of Tommy Robinson's contempt-of-court hearings, following his livestreaming outside Leeds Crown Court.
Appeal Court judges found numerous flaws in Robinson's original hearing at Leeds Crown Court on 25 May and referred the matter for retrial, ruling that 'a determination of the underlying contempt allegations in the circumstances of this case is in the public interest'. On 23 October, Judge Hilliard referred the matter to the attorney general because the Appeal Court hearing did not allow for a cross-examination of the many complexities. The attorney general must now decide whether to pursue the matter further.
Full consideration needs to be given to the way in which the internet has changed how we access information. Without this, and given the great complexity of Robinson's particular circumstances, a hasty and ill-considered judgement could be disastrous for how the law develops in relation to the internet.
One aspect to consider is how the internet has allowed reporting and commentary by individuals and small organisations to be broadcast to wide audiences. The rise of 'citizen' or 'independent' journalism is a welcome development. It would be regrettable if the outcome of Robinson's case served to discourage or clamp down on this.
Originally, Robinson was held in contempt of court for breaching reporting restrictions. At the Old Bailey, it was then claimed that he was in contempt for publishing a video on the internet that 'created a substantial risk of serious impediment or prejudice to the ongoing criminal proceedings'.
One aspect of this claim raises questions as to how precisely an independent reporter should speak and behave. For instance, it was put to Robinson that he made 'highly derogatory comments' about the defendants. A comment might be considered 'derogatory' for its content, its tone, or both. A professional reporter might communicate the same content as an independent journalist or an activist. But by speaking in measured tones, with the right vocabulary, grammar and accent, their remarks might not be seen as 'derogatory' in the same way. Someone who is rough around the edges and who speaks passionately, on the other hand, might fall foul of this standard.
Clearly, it should not be up to the law to pass judgement on whether an online reporter speaks like someone from the mainstream media. It should only be concerned if the reporting is really 'derogatory' in a way that could create a substantial risk of prejudice to a trial. The danger before us is that some people could find themselves guilty of being 'working class while reporting'.
If the attorney general insists on pursuing the case against Robinson, the charge of allegedly 'prejudicing a jury' surely needs to be decided on by a jury, not just a judge. In any event, one might well argue that jurors know full well that they should not be accessing material related to their case. And if they do inadvertently see or hear anything related, they should discount it in their deliberations. Jurors are warned sternly about this – and the warnings have increased in seriousness in recent years, precisely in response to our ability to access information online.
Indeed, Robinson's defence team asked the court to consider the words of Addy J in the 1970 case of R v Lane in relation to media reports: 'I do not feel that, in deciding questions of this kind, one must proceed on the assumption that jurors are morons, completely devoid of intelligence and completely incapable of understanding a rule of evidence of this type'.
I must agree. Jurors who are not 'morons' and who might have come across a livestream like Robinson's would know immediately that they should not be watching it. If they did watch some of it, they are also likely to realise straight away (even if by some dim chance they didn't know who he was) that he was likely to be speaking and reporting with more passion and commitment than some stuffed-shirt TV reporter. They know it is the internet, after all. These 'non-moron' jurors would discount the livestream accordingly.
Another factor is the number of hits a particular report has. This is said to determine how likely it is to prejudice a jury: the more hits, the higher the chance a juror might come across it. Hence, the risk of Robinson's livestream might be considered, in the relevant legal sense, 'substantial'. This precedent was established by a 2011 case against a newspaper's website – and was raised at the Old Bailey during Robinson's trial. It was noted that Robinson's livestream had 'gone viral' and had been accessed 3.4million times by the time of his hearings in Leeds.
But 2011 is a long time ago in terms of the development of the internet, and our legal system must catch up in a hurry. The approach of taking hits into account becomes all the more problematic when we consider why Robinson's livestream went viral. It was because he was arrested at the end of it. Of course, the footage went viral. That is how the internet works. It is surely against any notion of natural justice if the arrest of an individual subsequently brings about the very circumstances for which they are later found liable. The police and the judiciary could have a field day with that one.
Submissions to court in Robinson's case also referred to what is known as the 'fade factor'. A published article or video, which might otherwise be found in contempt of court, may be held not to be if it is some distance in time from the trial. Awareness of the material would have 'faded'. On the other hand, one might try to argue that publishing material online as a trial is ongoing, or, in Robinson's case, livestreaming as the jury was deliberating, is at the other extreme.
Such considerations stem from the days when yesterday's newspaper was tomorrow's chip wrapping. Today, however, all news appears online and, once online, it is there to stay. It can be revived and can 'go viral' at any time, under the right circumstances. This means the courts need to rethink the relevance of the 'fade factor'.
The most sensible approach to this would be to realise that jurors are not morons and that the onus is on them not to access material – or to switch it off and discount it, if they find it unintentionally. This is the only way forward that is not going to result in haphazard and draconian attempts to clamp down on online publications. The courts must place their faith in the common sense and good faith of jurors. Those who serve on our juries can and do act responsibly in relation to online material. We should recognise this, rather than allow yet more interference with freedom of expression.
Paula Boddington is a senior research fellow at Cardiff University. Her latest book is Towards a Code of Ethics for Artificial Intelligence.
To enquire about republishing spiked's content, a right to reply or to request a correction, please contact the managing editor, Viv Regan.