How the left made Tommy Robinson
It was their censorship of 'Islamophobia' that made Robinson a star.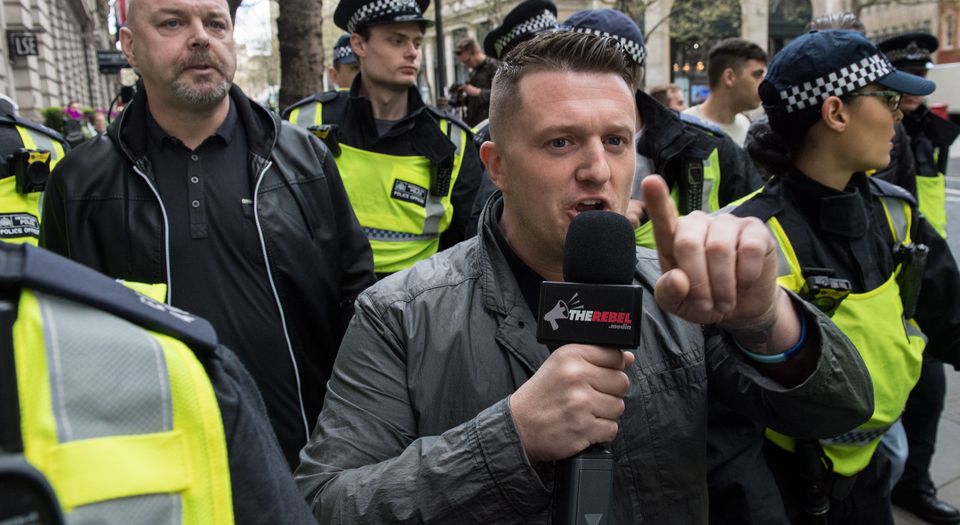 With painful predictability, the release on bail of the anti-Islam activist Tommy Robinson led to much media handwringing about the dangerousness of his ideas. He must not be afforded media platforms, worried leftists said. When Robinson supporter Raheem Kassam was given a few minutes on Today to big-up his mate, the chattering classes spluttered in their cornflakes. Reading their commentary you could be forgiven for thinking Goebbels himself had risen from the dust to elbow aside Sarah Sands and take command of Radio 4's morning show.
The idea driving this demand of 'No Platform for Robinson!' is that the Tommy Robinson phenomenon is a product of too much freedom of speech. According to these people, Robinson looms large in the public imagination because the media have been too open to his ideas. He and his kind have enjoyed too much liberty in the realm of public discussion, and, in the neo-Victorian view of the Ban Tommy lobby, this has allowed him to poison the minds of large numbers of people and reduce them to a Muslim-hating mob. Monkey see, monkey do: the misanthropic motor of every demand for restrictions on speech.
This argument is about as wrong as it is possible to be. The truth is the Tommy Robinson phenomenon is a product not of too much liberty, but of too much censorship. It is the cultural elite's cowardly instinct to chill open discussion about issues like Islam, multiculturalism, mass immigration and social tensions that created Tommy Robinson and his various movements, through allowing him to present himself as a seer in a time of silence. If Robinson really is the monster the left claim he is, they are his Dr Frankenstein.
Throughout his political career, from his leadership of the English Defence League to his current role as self-styled alt-media revealer of 'The Truth' about Britain's Muslim grooming gangs and other problematic Islamic activities, Robinson's appeal has continually been based on his willingness to say the unsayable.
He has benefited directly from a climate in which critical discussion of Islam and British values is demonised. And he has been successful because people aggrieved at the lack of openness around Britain's cultural difficulties see in him someone who will speak on their behalf. He is censorship's offspring.
Tommy Robinson, the political persona, is only possible in an era in which it is tantamount to thoughtcrime to be mean about Islam. In which criticism of Islamic values can be written off as 'Islamophobia'. In which expressing heated concern in the wake of Islamist terror attacks can make you an object of suspicion. 'Don't look back in anger' – that's all you're supposed to do when religious hysterics blow up 21 of your fellow citizens, including children.
He is only possible in a society in which officials refused for years to be open about the fact that largely Pakistani gangs were abusing mostly white working-class girls. In which a Labour politician, Sarah Champion, can be hounded out of her job for suggesting we be honest about such gangs. In which the liberal media continually tell us to panic about far-right extremism when the evidence of our eyes tells us Islamist extremism is a far greater threat: more than 450 Europeans have been slaughtered by Islamist terrorists in the past five years.
He is only possible in an era in which commentators mock people who raise concerns about cultural tensions in Sweden even as Jews are attacked in Malmo. An era in which even to say the word Islamist when talking about Islamist terrorism can win you hisses and boos. Witness the shutting down of then UKIP leader Paul Nuttall during a TV debate last year when he dared to put the word 'Islamist' before 'terrorist' when commenting on the barbarism in Manchester.
This chilling of discussion about Islam, about new cultural tensions, about the abandonment of the ideal of integration and its inevitable replacement by frayed communal relations, reveals how central censorship is to the ideology of multiculturalism.
If multiculturalism represents an official unwillingness to elevate any one value system over any other, to promote a specifically British way of life, then its attendant creed of 'progressive censorship' represents an official unwillingness to permit honest discussion about the consequences of multiculturalism's divisive worldview. What we've learned in recent years – from the rise of hate-speech legislation to the refusal of politicians in Cologne to say women were being harassed by newly arrived Muslim migrants – is that censorship is the handmaiden of multiculturalism. Our ruling class divides and censors and rules. It splits societies into communal blocs, chills criticism of its multicultural ideology, and then rules with relative ease over the atomised social sphere that inevitably accrues from this anti-humanist politics.
And into this fray comes Tommy Robinson, and others, who say: 'We'll tell the truth.' Every atom of their stardom comes from the fact that certain ideas are now off-limits in public life. The cowardice of the elites gives them life. In the absence of other, more progressive voices raising concerns about the divisive and censorious ideologies of the new ruling class, these right-wingers can clean up. They can claim the moral highground and present themselves as the daring utterers of things you aren't meant to say. And here's the thing: this isn't entirely a pose; this really is the role they play, courtesy of our silencing elites.
It isn't freedom of speech that is dangerous. It is censorship. Censorship is the midwife of extremism. It expels certain thoughts from the mainstream, which allows them to grow on the fringes, among those whose legitimate concerns can, in the secluded world of alt-worriers about the state of society, morph into something more unpleasant. 'No Platform for Tommy Robinson', people say, not realising that this very censoriousness has done more than anything to provide Robinson with a moral platform most activists could only dream of.
Brendan O'Neill is editor of spiked. Find him on Instagram: @burntoakboy
To enquire about republishing spiked's content, a right to reply or to request a correction, please contact the managing editor, Viv Regan.