Asia Bibi and the legacy of partition
Pakistan is still wrestling with the religious basis of its nationhood.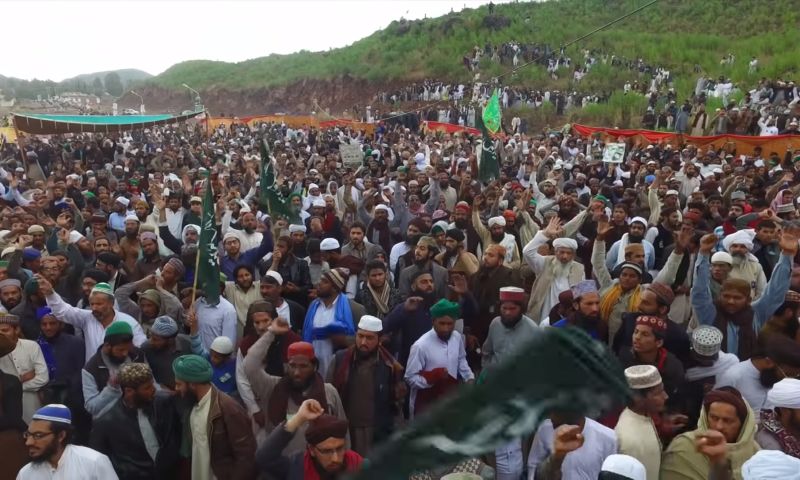 The protests in Pakistan, following the acquittal of Asia Bibi, have shown the depth of intolerant Islamist sentiment. We've seen protesters gather in their thousands, calling for the execution of Bibi. We've seen rioters attack cars with rocks and burnt tires, imploring Pakistan's lawmakers to change their minds. And we've seen roads blocked with massive containers, with one protester explaining that the traffic will 'remain blocked until Asia Bibi is hanged'.
And all because, in 2009, while Bibi, a Christian, was working harvesting berries, she took a drink from a metal cup she had found lying next to a well. Seeing this, a Muslim neighbour of Bibi's, with whom she had been having trouble, pointed out that Bibi's drinking from the cup violated the prohibition on lower-caste Christians coming into physical contact with higher-caste Muslims, even through the proxy of a cup. It was in response to her neighbour's insults that Bibi is alleged to have blasphemed against the Prophet Muhammad. A delayed death sentence and nine years of prison soon followed for Bibi.
The case is itself a testament to a grotesquely illiberal blasphemy law. But just as troubling has been the support for the original conviction, now spilling out on to the streets. It is not mass support, by any means. Indeed, much of it has been organised by the hardline party, Tehreek-e-Labaik, which itself is inextricably linked to the Bibi case, named, as it is, after the bodyguard who in 2011 murdered Salman Taseer, a liberal governor of Punjab who spoke in defence of Bibi.
Yet at the same there is no getting away from the fact that there is widespread persecution of and discrimination against Pakistan's Christian minority. Over the past 10 years alone, radical Islamist groups, enjoying the tacit support of certain political parties, have launched attacks against churches and other places where Christians might gather, while institutions and organisations continue to discriminate, reserving the most menial of tasks for Christians.
So why is there such animosity towards Christians (and other religious minorities) in Pakistan?
The answer lies, in part, in the tensions inherent in the foundation of Pakistan in 1947. Birthed in the moment of liberation from British imperial rule, Pakistan was to be a secular state. Yet, as everyone knows, that moment of liberation was also the moment of the partition of the Indian sub-continent along religious lines, with India designated a home for Hindus and Pakistan a home for Muslims. So while Pakistan was secular in form, its content was Islamic. This has often meant that the Pakistani state has ultimately relied on Islam, and, nestling alongside it, anti-Indianism, for its coherence, its identity. Which means that the state's relationship with religious minorities is always potentially, latently antagonistic.
The tensions were there from the start, fighting it out within the founder of Pakistan, Lahore Muhammad Ali Jinnah. He himself was a liberal, a secularist. Yet because he didn't trust the Indian National Congress's avowed commitment to secularism, he came to advocate the two-state solution to the question of independence in the early 1940s. 'It is a dream that the Hindus and Muslims can ever evolve a common nationality', he lamented. 'Hindus and Muslims belong to two different religious philosophies, social customs and literary traditions. They neither intermarry nor eat together, and indeed they belong to two different civilisations which are based mainly on conflicting ideas and conceptions.'
The partition of British India in 1947 therefore established Pakistan both as a separate secular state and a home-cum-refuge for British India's Muslims, a move that displaced millions, and cost hundreds of thousands of lives. It left Islam as the basis for national identity among a people who were otherwise divided along ethnic, cultural, class, linguistic and, hitherto, even geographical lines. Islam was the binding, pre-political force underlying and informing the legitimacy of the Pakistani state; protecting Islam, blasphemy laws and all, becomes a raison d'etre.
Not that this has meant Pakistan has been on a straightforwardly Islamist trajectory. From Jinnah's own opposition to Islamic hardliners in the late 1940s to today's uneasy truce between a secular state and the Islamist parties and groups operating in civil society, it has been a tension that refuses to be resolved one way or the other. Nevertheless, there have been significant moments when Islamism has entrenched itself at the heart of Pakistani political life – under the military rule of Zia ul-Haq, for instance. From 1977 to 1988, he used Islam once more to legitimise his dictatorship, co-opting religious parties, in particular the Islamist group Jamaat-e-Islam, and introducing new Islamic laws, establishing a federal sharia court and urging the teaching of Islam in schools. And he did so with the full backing of the West, which supported Pakistan's arming and support of the Islamist, proto-Taliban mujahideen in the war against the Soviet Union in Afghanistan.
More recently, the 'war on terror' of the 2000s, in which Pakistan played an often ambiguous supporting role to US, didn't so much rein in Pakistani society's own Islamist tendencies as inflame them.
Over and over again, in the absence of another source of national cohesion, Islam continues to be used by Pakistan's rulers to pull the state together. Indeed, such is its usefulness that Imran Khan, the cricketer turned president of Pakistan, ran his election campaign earlier this year, pledging to support blasphemy laws, the very laws that led to the death sentence against Bibi.
Is it any wonder, then, that blasphemy laws persist, and that Christians have been discriminated against and persecuted, living in a state that still relies on its original, ambiguous reason for being – the protection of Islam and Muslims?
Much of this, of course, is an imperial legacy. Throughout the 19th and 20th century, British authorities maintained their haphazard control over India through a strategy of divide and rule, codifying and reinforcing India's traditional caste system, and partitioning Indians into categories of caste, religion and language. Or as Rudyard Kipling put it in The Education of Otis Yeere, 'Strict supervision and play them off one against the other. That is the secret of our government.' The imperial authorities created, therefore, the divisions and mutual suspicions that the leaders of the Indian National Congress ultimately failed to overcome.
So Pakistan is in the grip of an imperial legacy. Yet that is not to say that is its fate. The tension between the secular form and the religious reality of Pakistan as a nation may have tipped in favour of the latter. But it doesn't have to be like this. That other liberal, secular legacy is still present within Pakistan, too. It could still be a nation where, as Jinnah himself put it, 'You are free to go to your temples; you are free to go to your mosques or to any other place of worship in this State of Pakistan. You may belong to any religion or caste or creed – that has nothing to do with the business of the state.'
Tim Black is a spiked columnist.
Picture by: YouTube.
To enquire about republishing spiked's content, a right to reply or to request a correction, please contact the managing editor, Viv Regan.