Is it now a crime to be a twat?
The police investigation of the Grenfell Tower bonfire video is deeply disturbing.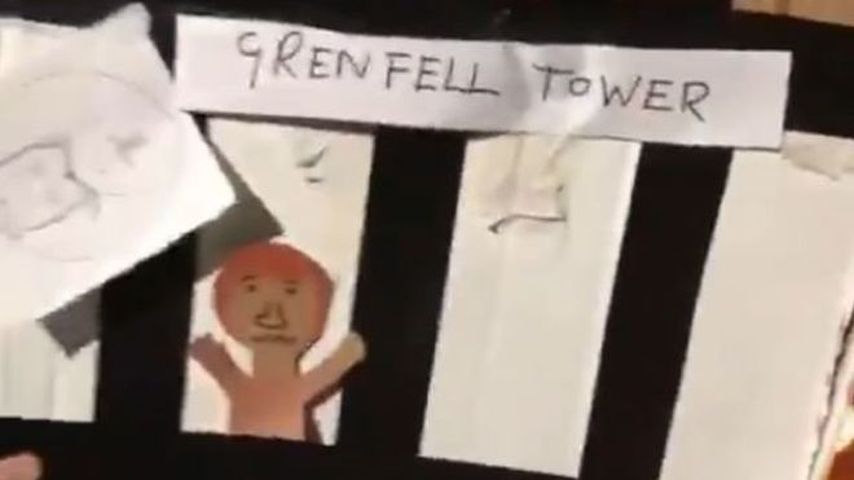 I cannot be the only person who finds the Metropolitan Police's promise to investigate the Grenfell Tower bonfire video more chilling than the video itself. Yes, the video is repulsive. But what crime has been committed here? Being a wanker? Being a scumbag? Saying disgusting things in your own back garden? Those are criminal offences now? If they are, then Britain has far greater things to worry about than the fact that a handful of dreadful people decided to burn an effigy of Grenfell Tower for Bonfire Night.
First things first: the video is horrible. I am going to make a wild guess that the people featured in it, laughing and cheering as their cardboard Grenfell Tower goes up in flames, are not very nice. Some of them are probably racist. In the windows of their Grenfell effigy, there are notably non-white paper figures, waving for help. The effigy-burners say 'This is what you get for not paying your rent!' as the paper figures are consumed by the bonfire flames. Gross.
But criminal? That would be even more gross. Living in a society that criminalises people for what they say in their own back gardens would be worse, infinitely worse, than living in a society that has small numbers of prejudiced twats who think mocking the Grenfell calamity is funny.
And yet it looks like we live in that society. The commander of Scotland Yard, no less, issued a plea for information about the video, declaring himself 'appalled by the callous nature' of the people in it and by their 'vile' comments. I'm sorry, but I don't want the police investigating videos in which no crime has been committed. In which no one's property has been damaged or stolen and no person has been harmed. In which there is merely an act of expression. That way the police state lies. If we allow speech in one's own home to become a police matter, we will regret it. Profoundly. What next: telescreens?
The police are upping the ante. This morning it is reported that five men have 'surrendered' to the cops and have duly been arrested. Some are saying they committed a public-order offence. In their own private residence? That's a fascinating, and disturbing, definition of public disorder. Others are saying they committed a hate crime. Even though there were no victims? Even though they did not utter their words to anyone but themselves? Even though – once again for the people at the back – they were speaking among themselves in their own private space?
Some say the hate crime was committed when someone decided to take the video from a WhatsApp group and share it online, where others will have seen it and possibly felt hated by it. In which case, will the veritable army of virtue-signallers from the political and media worlds who have been feverishly sharing the video and declaring their disgust with it also be questioned by the police for aiding and abetting this alleged hate crime? After all, it was their narcissistic need to derive a moral thrill from publicly condemning this strange, eccentric, offensive video that brought the video to the attention of millions of people. Without their moral posturing, this immoral video would not have been so widely seen. Arrest them too?
The fury over the Grenfell Tower video has been grimly fascinating. It has confirmed that virtue-signalling has now crossed the line from being the irritating pastime of time-rich tweeters keen to advertise their PC probity and has become an actual menace to the free society. Following an orgy of signalled virtue over this video, which included not just the usual suspects but also Theresa May, Sajid Javid, Diane Abbott and various police chiefs, the police clearly felt they had no choice but to investigate this back-garden idiocy.
So now we have virtue-policing – policing designed not to crack an actual crime but to demonstrate the decency of the police. The police appear to have launched an investigation in order to make a political and moral point about both the wickedness of the video and the benevolence of the police. This is not what the police should be for. Unless you live in Iran, of course, where morality police are a thing.
And, the greatest irony, the reaction to the video has confirmed where prejudice really lies in British society today. Not among ordinary people, the vast majority of whom will be as repulsed by this video as our political and media class are (but who probably won't feel the need to advertise that repulsion to the world). No, it is among the chattering classes, among the kind of people so showily grossed-out by this video, where some very modern prejudices lie today.
Witness the way they have held this video up as proof that Britain is riddled with racism. That there are loads of people like the people in this video. That scumbags like this 'walk among us in number'. That this video is 'not anomalous' but rather expresses a sentiment that lurks across the country. They are extrapolating from the behaviour of a handful of people in order to indict entire communities. They see in this tiny group of people in a back garden a reflection of ordinary Britons more broadly. In their minds, loads of people are like this, and we know who they mean: Brexit voters, tabloid readers, those people who – like the people in this video – have the St George's Cross flying in their homes. If only there were a word for judging entire groups of people on the basis of the behaviour of tiny, tiny numbers. Oh yes, there is: prejudice.
Brendan O'Neill is editor of spiked and host of the spiked podcast, The Brendan O'Neill Show. Subscribe to the podcast here. And find Brendan on Instagram: @burntoakboy
To enquire about republishing spiked's content, a right to reply or to request a correction, please contact the managing editor, Viv Regan.