The new aristocrats
The Camerons and Clintons of this world think they have a right to rule.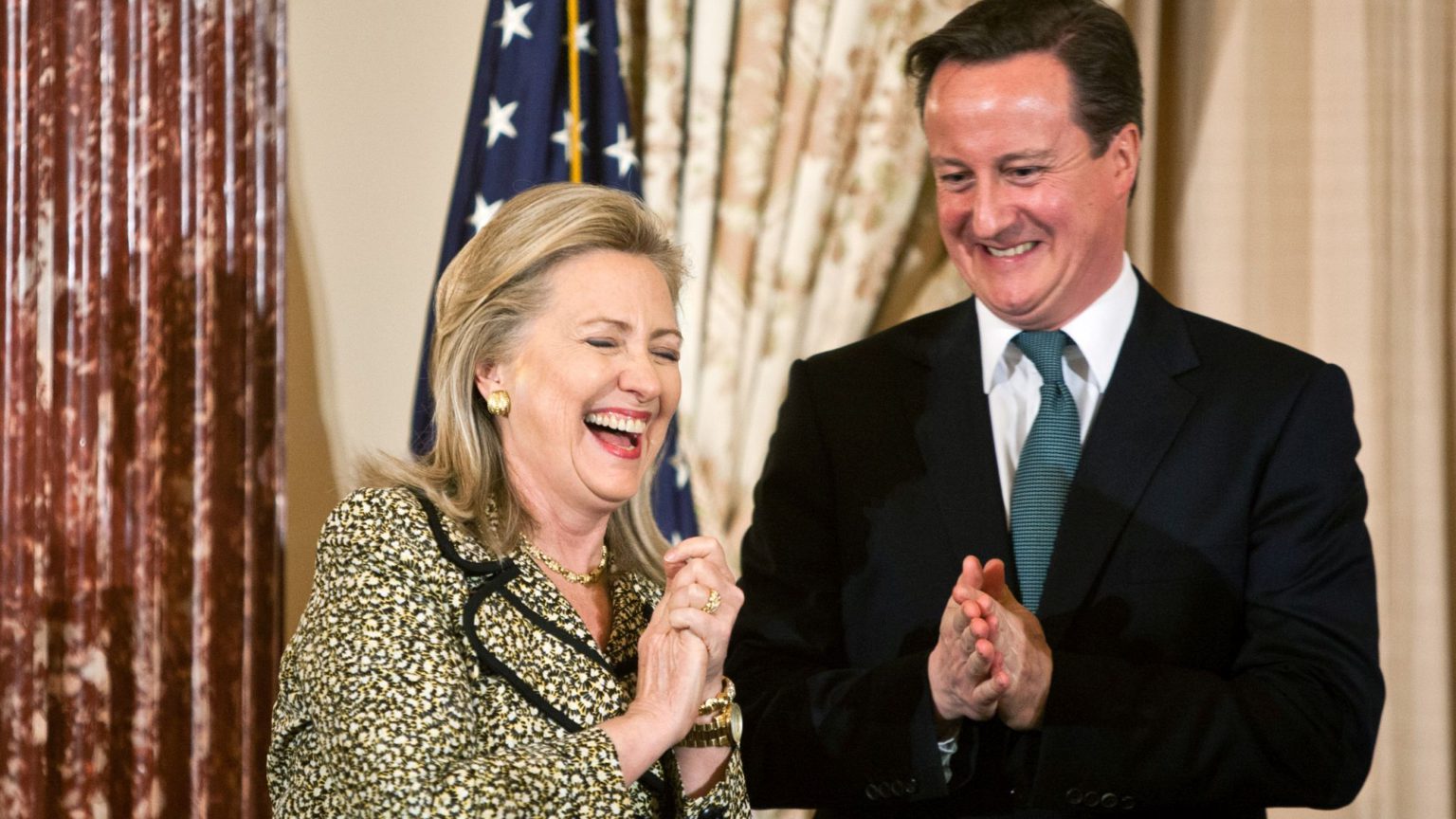 Two years after he resigned as prime minister, in the wake of a Brexit referendum he called and lost, David Cameron is 'bored shitless' and mulling over a return to frontline politics. So suggested the Sun's splash this morning, quoting a close friend who says that now Dave has polished off his long-delayed memoirs he is pottering around his £25,000 shed not sure what to do with himself. He apparently fancies a plum international job, perhaps foreign secretary, and is hoping the next Tory leader will welcome him back into cabinet.
This scoop comes within a week of another career politician, also felled by a populist uprising in 2016, revealing that she, too, longs to return to the big time. Hillary Clinton, the Democratic candidate whose sneering, prole-bashing campaign handed Donald Trump the presidency, was asked during a live podcast if she wanted to run again. She said no, but added: 'Well, I'd like to be president.' She then ran through her CV and cryptically said that, whoever in the Democratic Party retakes the Oval Office, she would be 'very well prepared' for the work that needed to be done.
This is pretty remarkable. Just two years ago both Clinton and Cameron were defied by their electorates in historic ballot-box revolts. The British people's rejection of the elite Remain campaign was as much a rejection of Cameron, who insisted on fronting it despite being electoral cold sick in many working-class constituencies. And Hillary Clinton's broadsides against 'deplorable' Trump supporters led many people in Wisconsin, Michigan and Pennsylvania who voted for Obama twice to flip to the Republicans. She is still, believe it or not, less popular than Donald Trump.
But the industrial-strength brass neck of Cameron and Clinton makes a lot more sense when you remember the layers of society they come from. They are both aristocrats. In Cameron's case, quite literally. The old Etonian comes from a blue-blooded section of society that has long considered political office its birthright. Clinton belongs to the sort of political dynasty that though thoroughly un-American has come to dominate American politics. In 2008, Barack Obama became the first person to win the US presidency in 20 years whose surname wasn't Bush or Clinton. And let's not forget that when the 2016 primaries began, everyone was expecting a bloodless race between Hillary and Jeb.
What's more, the Camerons and Clintons of this world are as much part of a new international elite as more familiar national ones. Both represented parties that had drifted from their traditional support bases and become thoroughly professionalised. And so politicians like them began to draw their legitimacy not from their domestic electorates, but from the international set. They began to feel more connected to one another than to their own citizens. They were more at home on a Davos panel than the campaign stump; more attuned to the passions and aspirations of Bill Gates than of Joe Public.
If Clinton or Cameron did ever manage to slide back into politics, they would do so at the say-so of the political class, not the public. As the Sun notes, the likely route back for Cameron into government would either be the gift of a Tory safe seat or a seat in the unelected House of Lords. And Hillary's somewhat cryptic comments seem to be her angling for a White House appointment. (If she did run for president again, she'd secure Trump a second term – and as clueless as they are, the Democrats know this much.)
But the reason they can wonder out loud about re-entering the fray is because politics remains an insular, elite game, even in the wake of 2016. While the Brexit and Trump revolts struck decisive blows to the political order, they didn't topple it. Brexit had no movement behind it, no party or leader that could give it force. And America's populist revolt was unfortunately invested in a right-wing charlatan whose incompetence and authoritarianism mean he is more likely to help discredit voters' desire for change than carry it through.
Two years on, with little really having changed, the new aristocrats spy opportunities to reassert themselves, or at least to slink back in. Though Cameron and Clinton are probably – hopefully – beyond rehabilitation, there are plenty more like them. And for now, they still rule.
Tom Slater is deputy editor at spiked. Follow him on Twitter: @Tom_Slater_
To enquire about republishing spiked's content, a right to reply or to request a correction, please contact the managing editor, Viv Regan.