Trump is not inciting violence
But he must still be held responsible for his inflammatory rhetoric.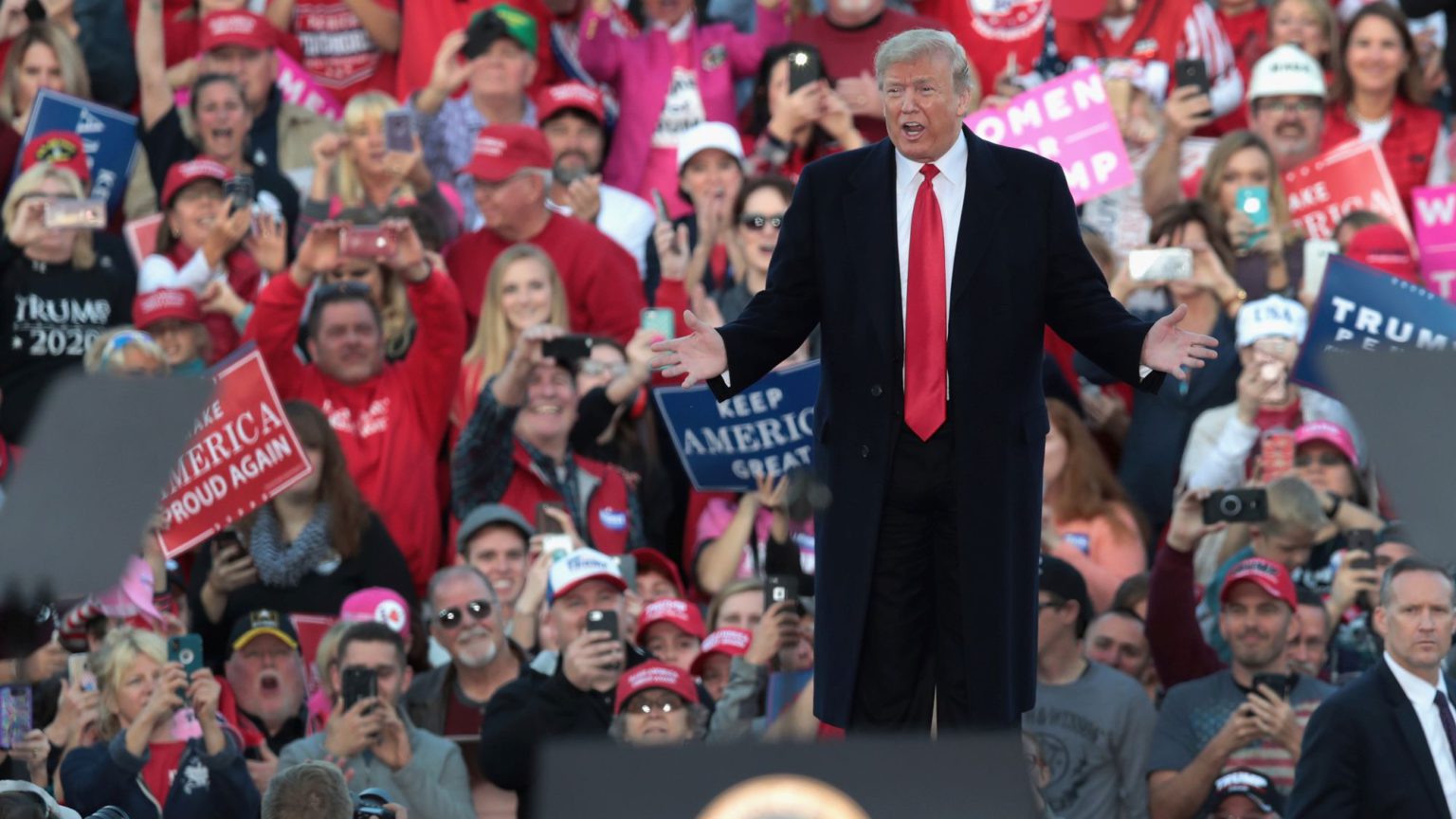 Days before the highly consequential midterm elections, Americans are drowning in alternative facts. Either you believe them and enter an alternative reality, or you disbelieve them but don't think they do any harm, or you're driven crazy by a world in which the Earth is flat if the president says so, and if you fall off the edge, it's the Democrats' fault.
Is the caravan of refugees from Central America infested with 'criminals and unknown Middle Easterners' as the president warns? 'Go into the middle of the caravan', he urged sceptical reporters. 'Okay?… You're going to find MS-13, you're going to find Middle Eastern, you're going to find everything.'
Is the caravan funded by billionaire, Open Society founder George Soros, who is also said to have funded anti-Kavanaugh demonstrators? Do Democrats want to bring people into the country who 'will carve you up with a knife'? Do they want undocumented immigrants to vote and are they responsible for an alleged epidemic of voting fraud – also entirely undocumented?
Is the media responsible for the pipe bombs mailed to Barack Obama, Hillary Clinton, Joe Biden and other prominent Democrats and Trump critics? According to the president, the bombs reflect the intense anger, hate and hostility that divides Americans today, which he blames on the mainstream media, including CNN, one of the bomber's targets. Or were the bombs part of a 'false flag' operation, mounted by a Democrat to make Republicans look bad before the election? 'Republicans just don't do this kind of thing', influential radio personality Rush Limbaugh announced. 'From the Haymarket riot to the Unibomber [sic], bombs are a liberal tactic', right-wing provocateur Ann Coulter explained, conveniently forgetting about Timothy McVeigh, the far-right domestic terrorist responsible for the 1995 Oklahoma City bombing that killed 168 people and injured nearly 700 others.
Will the false-flag charge survive the arrest of the alleged bombmaker, Cesar Sayoc, a 56-year-old Republican Trump supporter? Probably. Conspiracy theorists and others in the alternative-reality business are naturally undeterred by facts. Meanwhile, Trump's critics feel increasingly justified in blaming the president's inflammatory rhetoric for Sayoc's mail bombs, and the president blames news coverage of the bomb scares for slowing Republican momentum before the midterms – as if the coverage itself were part of some larger media conspiracy.
That, of course, constitutes one of his mildest attacks on the press, and in the wake of the bomb scares and Trump's praise of a Republican congressman for assaulting a reporter, some 200 prominent retired journalists have accused him of inciting violence.
They should know better: incitement to violence is a legal term, narrowly defined under the First Amendment as speech intended and likely to cause imminent violence. Distinguishing inflammatory rhetoric from incitement is essential to the preservation of free speech, as journalists should know. Trump can fairly be accused of exploiting or even inciting exceedingly angry, fearful partisanship to motivate his base, but he can't be charged with incitement. The logic of inferring a direct causal relationship between his language and the violence of others is the flawed and potentially censorious logic of trigger warnings.
But absolving Trump of incitement doesn't absolve him of any responsibility for the angry, abysmal state of our political discourse, and it doesn't deny the power of speech to shape people's attitudes and ideas. Indeed, protecting speech is politically essential precisely because of its power to persuade and inform. When the president condemns Democrats as evildoers intent on bringing murderous gang members into the country, it is not unreasonable to worry that he might persuade some that the violence threatened by Democrats requires a violent response. Robert Bowers, who shot up a synagogue in Pennsylvania, killing 11 people and wounding six others, was not just motivated by virulent anti-Semitism, but also by fury at immigration and 'invaders… that kill our people'.
When Trump's critics sharply criticise his rhetoric on immigration and other volatile issues, when they accuse him of potentially dangerous fearmongering, they're simply countering his speech with their own. It is not his fault, however, if they fail to persuade voters – the ultimate arbiters of political truth, responsible for deciding who or what to believe.
To enquire about republishing spiked's content, a right to reply or to request a correction, please contact the managing editor, Viv Regan.