How to be civil in a time of incivility
Andrew Doyle reports from Politicon on how politics should be done.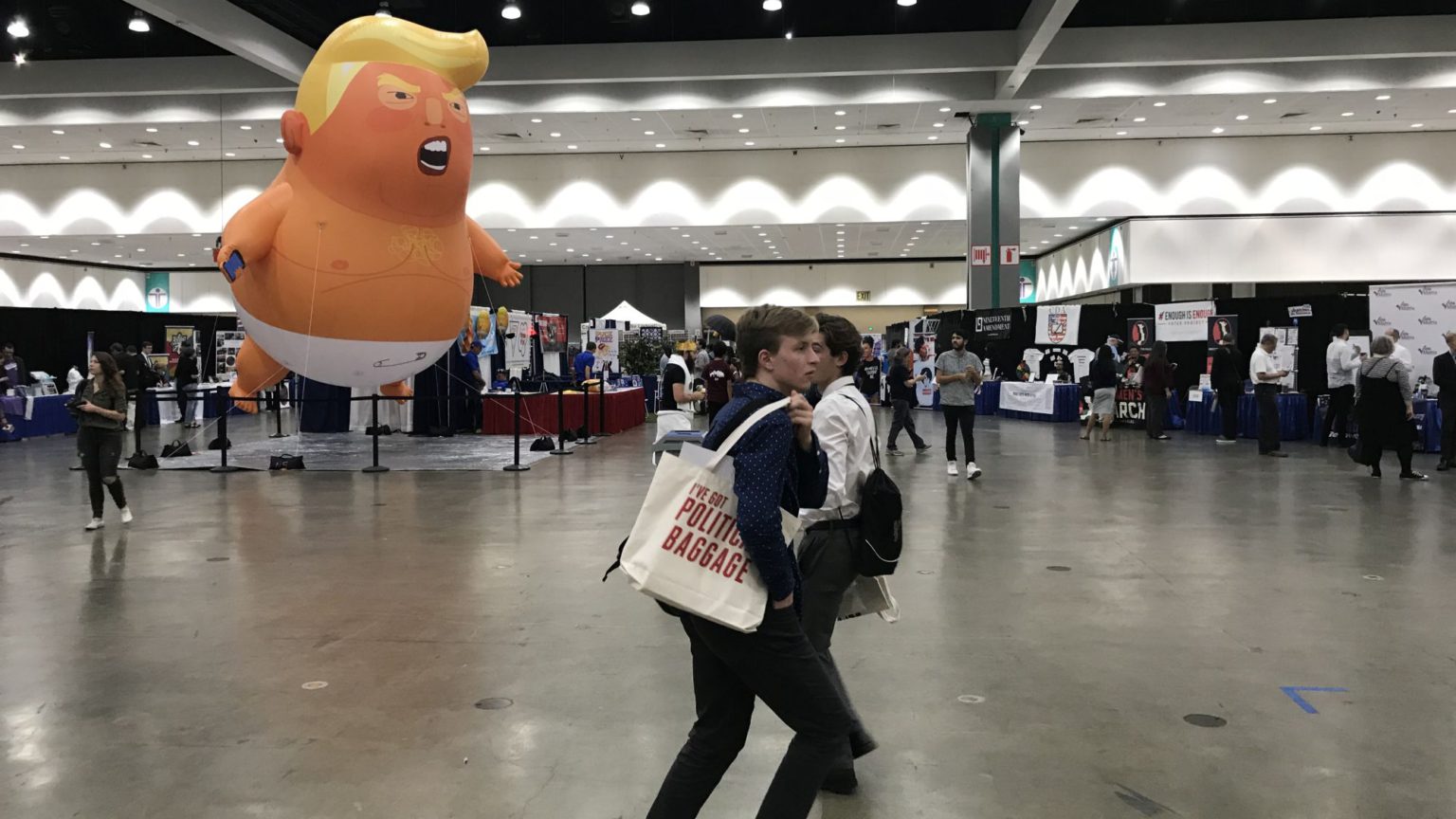 Liberty University in Virginia is a private Christian institution presided over by Jerry Falwell Jr, son of the famous televangelist. In September 2015, Bernie Sanders was invited there to deliver a speech in a gesture towards finding common ground between political adversaries. 'I came here today', said Sanders, 'because I believe from the bottom of my heart that it is vitally important for those of us who hold different views to be able to engage in a civil discourse'.
I spent last weekend at Politicon, a non-partisan annual convention in Los Angeles which seeks to bring together people of all political affiliations for debates, panels and other related activities. The description on the official website opens with a quotation from Sanders' speech at Liberty University: 'There is too much shouting. There is too much making fun of each other.' It's as good a soundbite as any to summarise the growing tribalism of contemporary politics which is the very antithesis of the Politicon ethos.
The convention boasted an impressively diverse line-up. Guests included right-wing commentator Tucker Carlson, liberal pundit Sally Kohn, conservative provocateur Ann Coulter, comedians Kathy Griffin and Eddie Izzard, actors Richard Schiff and Bradley Whitford, retired basketball player Dennis Rodman, and even Henry Winkler (aka 'The Fonz'). The attendees were a curious mélange of Democrat and Republican voters, many of the latter donning red MAGA caps, mingling freely in a busy convention hall with the Donald Trump baby balloon from the London protests gurning down on us from above like some kind of crude inflatable pagan deity.
Given the range of views represented, the organisers of Politicon had certainly achieved their stated goals. But civility and politics make unlikely bedfellows, so it was to be expected that there were moments when the general equanimity was breached. For instance, as one woman was explaining to me how Hillary Clinton had been robbed of the presidency, a passer-by shouted out 'You voted for a criminal', before quickly scuttling off to avoid any possible rebuttals. It was rude, but undeniably funny.
Elsewhere, I witnessed the tailend of a fiery altercation in a corridor between Cenk Uygur (founder of the YouTube current affairs show The Young Turks) and journalist Tim Pool. The dispute arose because of the publication of the so-called 'Alternative Influence Network', a study which dishonestly seeks to connect popular YouTube personalities with the far right. Pool took this opportunity to ask Uygur why The Young Turks had publicised such a self-evidently ludicrous report, especially since his name was so prominently featured. In response to Pool's polite approach, Uygur exploded into an expletive-ridden rant during which he falsely accused Pool of being a Trump supporter. I can't recall the exact words, but I believe the phrase 'fucking scumbag' made an appearance.
'There's a reason why he's got millions of followers and I've got a few hundred thousand', Pool told me immediately after the event. 'Because he's willing to tell me to go eff myself, and insult me and create a scene. I don't want to be disrespectful to Cenk now, but it's this kind of drama and political fighting that generates traffic.' We had already seen evidence of this sort of clickbait politics in action on the first day of the convention, when Uygur had heckled conservative activist Charlie Kirk during a debate. Video footage of Kirk's belligerent response – 'Come on Cenk, let's go!' – was shared by various news outlets, which might well have been the intention all along.
That such incidents are widely disseminated on social media has indubitably accelerated the degradation of political discourse, and Trump in particular has learned to deploy incivility in order to win support. Later that day I saw an interview with Michael Avenatti in which he emphasised that any potential rival for the 2020 election would need to resort to similarly brutal tactics in order to defeat the sitting president. I couldn't help but wonder whether stooping to Trump's level might only make matters worse.
'Trump is beatable through reasoned debate', Tim Pool told me. 'But it's tough, because he's tough. He's really good at destroying his enemies using condensed ideas. "Lying Ted", "Little Marco", "Crooked Hillary". He does these things to make sure that whenever you hear those names it's the only thing you can think of. I look at Trump and I see a bully, but Republicans like that. The Democrats don't have a counter. Whenever I see these Democrats they come off as snooty, elitist and smug. Trump comes off as down-to-earth.'
I also spoke to Pearson Sharp, an anchor for One America News Network, who believes that Trump's alpha-male tactics are unquestionably resonating with a certain section of the electorate. 'He doesn't act like a president', Sharp said to me. 'That's why he's working. People don't want a politician, they want a leader. Even though he's a billionaire, he's a very blue-collar sort of person. He just calls it like it is.' Whereas in the past, powerful politicians have been quick to apologise for speaking out of turn, Trump has proven that unpresidential language can have a humanising impact.
Perhaps the most effective form of political exchange lies somewhere in between the bullheadedness of Trump and the passive capitulation we have seen from Theresa May during the Brexit negotiations. It surely isn't too much to ask of our elected representatives that they aspire towards a brand of politics that is simultaneously robust and respectful. Ben Shapiro, a conservative with whom I have profound disagreements, seemed to embody this quality during his keynote speech at Politicon. Eager to take questions from his audience, he was particularly gracious to those from the left who had made the effort to attend, and encouraged those who wished to challenge him to move to the head of the queue. His answers were barbed and opinionated but never discourteous, even when one woman stepped up to the microphone wearing a t-shirt bearing the words 'Ben Shapiro is overrated'.
Conflict is the palpitating heart of politics. As Bernard Crick once argued, political discourse is a form of conflict resolution, an answer to 'the problem of order which chooses conciliation rather than violence or coercion'. My experiences at Politicon have strengthened my conviction that although human instinct does not lend itself readily to diplomacy, somewhere between fight and flight there is the impulse for compromise. It may not come easy when passions are inflamed, but there is nothing shameful in striving, and occasionally failing, to realise an ideal.
Andrew Doyle is a stand-up comedian and spiked columnist. He is also the co-founder of Comedy Unleashed, London's free-thinking comedy club. Follow Andrew on Twitter: @andrewdoyle_com
Picture by: Andrew Doyle
To enquire about republishing spiked's content, a right to reply or to request a correction, please contact the managing editor, Viv Regan.