Wentworth and Australia's new cultural divide
A by-election in a wealthy Sydney suburb says much about 21st century politics.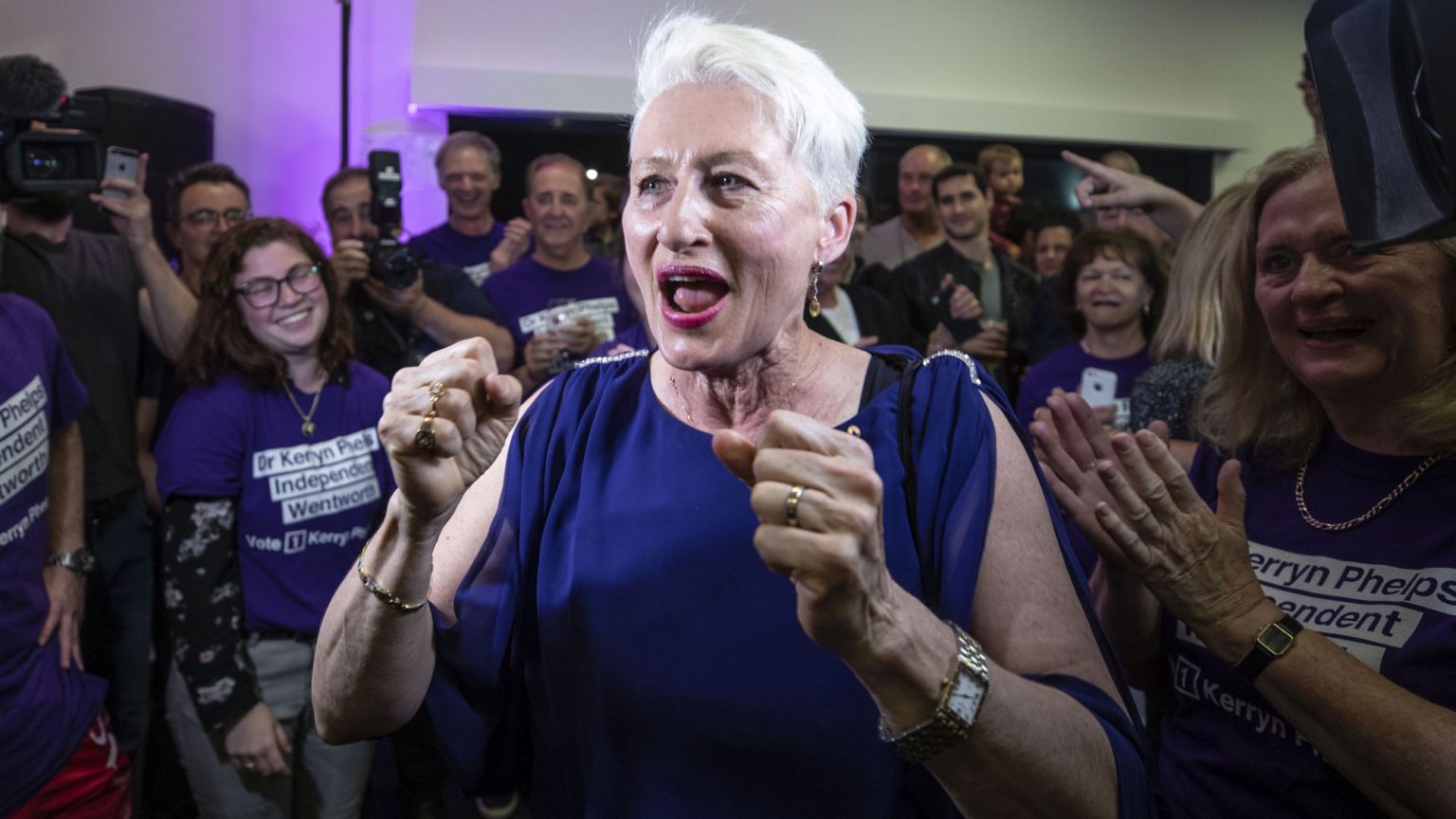 Could there be a causal link between the decline of political stability and the rise of social media, two of the defining phenomena of the 21st century?
The answer to this question, as if it were still in doubt, was bolstered by the result of a high-profile by-election in Australia last weekend. Votes are still being counted, but the probable loss of the 'blue-ribbon' Liberal Party seat of Wentworth would condemn Scott Morrison's coalition to governing without a parliamentary majority.
Just two months ago, Wentworth was held by a serving Liberal prime minister with a comfortable margin of 17 per cent. Malcolm Turnbull's most likely successor is @drkerrynphelps, an LGBTIQA+ celebrity and celebrity doctor formerly known as Kerryn Phelps, who campaigned as an independent on a platform of making the world a kinder place. Much of her campaign was conducted where her followers like to spend most of their time – on social media.
Many Liberals blame Turnbull, who took off in a huff to New York shortly after being deposed by his parliamentary colleagues. In the final days of a worsening campaign, senior Liberals pleaded with Turnbull to 'like' the party's candidate, @DaveSharma, on Twitter, which he pointedly refused to do.
He did, however, 'like' a post by @drkerrynphelps while his son, @alexbhturnbull, aka Alex, urged his followers in a video not to vote for the party that had been so mean to his father and removed subsidies from renewable energy. This video was published on Facebook, of course.
This happens at a time when the collected speeches of John Howard, last prime minister but five, comes out in paperback under the deserved title, The Art of Persuasion.
Howard, an orator with a strong command of Antipodean plain English, was the last prime minister to persuade his party to allow him to remain in the job for a full three-year term.
He was also the last prime minister to serve in a nation without Facebook. When his government lost office at the end of 2007, there were fewer than 100million Facebook users worldwide. Eleven years of unprecedented political instability later, there are 2.2 billion users with a heavy concentration in Australia.
The title of Howard's book is drawn from a 1948 speech, 'Politics as an Art', delivered by Robert Menzies, the founder of the Liberal Party and its leader for 21 years.
Political leaders, said Menzies, shouldered a responsibility 'to temper the frequently absurd asperities of political conflict by seeking to stir up only noble and humane emotions, since ignoble passions, so easily aroused, can in the nature of things produce only ignoble policies and unfair administration'.
Menzies, an early adopter of technology who pioneered the use of radio as a political platform in the late 1930s and early 1940s, had a glimpse of where politics might be heading.
He lamented the arrival of amplification 'even for indoor meetings of a few hundred people'. Speaking through the microphone, he said, caused 'the destruction of the old intimate contact between speaker and audience [and] is a dangerous enemy to that simple, direct communication which is of the essence of true, unexaggerated, public advocacy'.
Menzies, one imagines, would have been unimpressed by Facebook, where exaggeration and hyperbole are the currency of what passes for debate. Its participants are advocates for public morality, rather than public policy.
Menzies would probably have disapproved of the mobile-phone screen, which removes the obligation not only to speak to one's fellow citizens face to face, but to make eye contact. When Howard left office, the mobile phone was mainly for talking. Fewer than seven per cent of Australians used the phone to access the internet.
Today more than 80 per cent of Australians use mobile broadband. In a country that boasts the seventh fastest mobile broadband in the world, it has become the preferred means of accessing most applications, most of the time.
The effect has been to weaken the old social fabric determined by geography and kinship, while creating networks of like-minded citizens without borders.
In the world of #politics, party allegiance matters less than identity. Character is subsumed by victimhood. Argument gives way to sentiment. The objective is not to defeat your political enemies, but destroy them.
The cultural divide that is now the dominant fault line in Australian politics was apparent long before the rise of social media. In the 1999 referendum to decide if Australia should ditch the monarchy, educational attainment, rather than political allegiance or social class, was the strongest determinant of voting patterns. University-educated republicans were first shocked and then angry that the masses refused to back their cause, offering a foretaste of the stunned-mullet reaction of Remainers and Hillary Clinton supporters.
The seat of Wentworth, now apparently lost to the Liberals, embraces the splendid land that runs from the multimillion-dollar terraced houses of Paddington once occupied by workers, along the southern side of the harbour and around the heads to the beachside suburbs of Bondi, Coogee and Bronte.
It has the third highest concentration of university graduates of any Australian electorate. Its biggest industries are legal and finance. Average family incomes are more than double those in Tasmania.
It was home to 210 surgeons on the most recent census night, but its population does not include a single animal slaughterer. Meat boning is done elsewhere.
It's a great place to live if you need a barrister in a hurry, but it can be a nightmare if your toilet gets blocked. Wig wafflers outnumber dunny divers by a ratio of almost two to one.
If Wentworth was in Britain it would be in Zone One of London, and its residents would be demanding a fresh Brexit vote. This being Australia, however, the totemic issue is coal, the nation's second largest export, and largest source of anxiety for the environmentally aware.
'If the extreme right's pro-coal agenda decimates the Coalition's hold on a seat they've held for 60 years, we could finally loosen their grip on power', said Sam R from the activist collective GetUp! in one of many personalised emails.
'It's hard to articulate how much this upsets me, Nick. Watching our prime minister make the brutal, cold calculation that the immense human suffering that will result from climate change is not worth his time.
'But then I remember about you, Nick. And I want to tell you it makes my heart burst with pride to stand alongside people like you right now. People like you fill me with desperately needed hope in these trying times…
'Together, we can shake governments to their core. We can make them fear our unity, our resolution and, more than anything, our commitment to fight for each other and for our future until we win.'
On and on the email went, tugging at the heart strings with the rising tones of an evangelical preacher, before concluding:
'Can you chip in $12 here to take back our climate future?'
It is easy being green in Sydney's eastern suburbs, a land removed from the daily struggles faced by other Australians. It's a place where inflated electricity prices barely touch the hip-pocket nerve, where God's own air conditioner blows gently off summer waters, and subsidies for renewable energy have the added benefit of boosting your share portfolio.
Few Wentworth residents could tell you the price of petrol, just as few know the full horror of the word 'commute'. Four out of five Wentworth workers live less than 10km from the office. In outer-suburban seats, more than two thirds of workers suffer the tyranny of the long commute. Those are not the suburbs, by and large, where journalists live, which helps explain the woeful, one-sided coverage of politics.
Wentworth is home to 731 of them, the third highest concentration in the country, beaten only by two neighbouring inner-city seats. More than twice as many journalists live in Phelps' new seat than the total number who live in the five Queensland seats north of Bundaberg.
The elite's perspective is illustrated in this gratuitous advice given to prime minister Scott Morrison on Sunday from Peter FitzSimons, a columnist for whom the affluent North Shore is the centre of the known universe and Wentworth just a ferry ride away.
'Get serious on climate change… Treat refugees with humanity… Move the whole soul of your party away from right-wing ideologues, and towards where the bulk of the people are – much closer to the centre.'
Morrison, who hails from the Sydney's southern suburbs on the other side of the cultural fence, will be disinclined to take this advice. He has started strongly, pitching his message to those colloquially known as Squinters, the people in harbourless homes in the western suburbs, who drive to work with the visors pulled down against the rising sun in the morning, and the setting sun on their way home.
Nick Cater is a spiked columnist and executive director of the Menzies Research Centre.
Picture by: Getty
To enquire about republishing spiked's content, a right to reply or to request a correction, please contact the managing editor, Viv Regan.