'There is no great socialist ferment in the Democratic Party'
Michael Tracey on the democratic-socialist hype and Trump's embattled administration.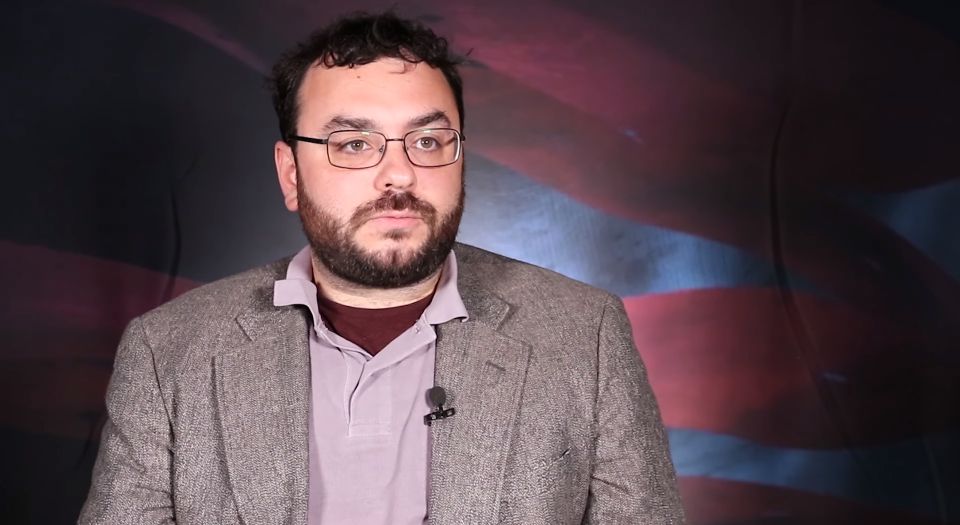 Last week, the Democrats held their primaries in New York. The party's insurgent socialist wing was expected to make inroads, but failed to meet expectations. Nevertheless, many still hope that these self-proclaimed 'democratic socialists' might provide direction to a party that is failing to offer a vision beyond 'resistance' to Donald Trump. With the midterms coming up in November, what are the Democrats' chances? And will the apparent disarray of the Trump administration dent his electoral support? spiked caught up with journalist Michael Tracey to get his view.
spiked: What happened in the New York Democratic primaries?
Michael Tracey: Andrew Cuomo, the incumbent governor, won a third term by a resounding margin over Cynthia Nixon, who described herself as a democratic socialist. Nixon is best known for her starring role in Sex and the City. She ginned up a lot of excitement among a certain set that I would characterise as the emerging New York City-centred intelligentsia. But not surprisingly, that didn't really transfer into a broader electoral performance statewide.
I can't recall an electoral outcome since Trump won the presidential election where there was such a discrepancy between the sentiment on my Twitter feed and the sentiment that was expressed by voters. Cuomo was the subject of overwhelming scorn among left-wing Twitter opinionators and among journalists – among everybody, or so it seemed. Of course, that impression was brazenly dispelled by an electoral outcome where he won the Democratic primary by over 30 points.
spiked: As you say, there has been this excitement around this new 'democratic socialist' movement in the US, with groups like the Democratic Socialists of America (DSA). But a lot of that seems to come from hipsters, students and media types, rather than working-class people, the kind of people you would expect a socialist movement would aim to represent. Is that a problem for this wing of the Democratic Party?
Tracey: Yes, I think it is a longstanding problem and it is only going to be addressed if the socialists are able to infiltrate the party machinery. Alexandria Ocasio-Cortez has now become a viral superstar because she won a congressional primary. But one thing Andrew Cuomo pointed out is that he won the district that Ocasio-Cortez will now represent in Congress by an overwhelming margin. So, on paper, those two outcomes don't seem congruous. There is this energised minority that wants a fundamental change in the party's direction. That consists of these DSA people, maybe people who are just more broadly under the progressive banner, who were mobilised by Bernie Sanders. That is an active and significant wing, but these people are a minority. Ocasio-Cortez won because she did well with high-information voters who know the obscure schedules of New York's primary elections. In certain low-turnout races, yes, the highly ideological, energised cohort within the party can make a tangible electoral difference. But all bets are off when you have a much higher-turnout contest like the Cuomo primary from last week.
For all the hype about how energised the insurgent wing of the Democratic Party supposedly is, only two incumbents in the House of Representatives have been unseated by challengers, zero Democratic senators have been unseated and zero Democratic governors have been unseated. Contrast that with, for example, 2010, when you had the Tea Party wave in the Republican Party – the incumbents this year have been on much firmer ground in the Democratic Party. As interesting as it is for people writing thinkpieces to suppose that there is this great swirl of ideological ferment in the Democratic Party, for the most part, the ideology is pretty static.
spiked: There has been a lot of talk lately about a 'blue wave' at the upcoming midterms, this idea that, largely because of Trump, Democrats are poised to sweep the board. Is that kind of talk premature? Are the Democrats really in a position to make large gains?
Tracey: Yes and no. There is reason to believe that segments of the Democratic electorate are energised enough that we can presume the party has an advantage over Republicans. I think in suburban districts, where Trump's popularity is lower than average, Democrats are going to do well. (There's an irony in that, because those are the districts that Hillary Clinton targeted, and often failed to win, in 2016.)
The electorate for the midterms is also different. If you look back to the New York state gubernatorial primary four years ago, Cuomo also ran against an insurgent challenger, Zephyr Teachout. Compared with 2014, Cuomo received triple the votes last week, so there was a greater turnout overall among Democrats. In large part, Democrats want to make a statement by voting. Is that an indication that they are going to turn out at similar rates in November? I think yes.
spiked: Recently, there has been a lot more talk about the disarray of the Trump administration. There was the New York Times op-ed, written by a Trump staffer, who claimed to be restraining Trump's worst instincts. Or there was the recent book by Bob Woodward, Fear, which detailed an administration in chaos. But are these revelations likely to have an impact on voters?
Tracey: For one, if you look at the New York Times op-ed, the criticisms raised in it are in line with the conservative criticism of Trump that has been hurled at him for three years now, but has never made any headway with the actual electorate. Trump steamrollered everybody who made that kind of criticism. A 'coup' is a melodramatic way of putting it, but there are definitely people who have reservations about Trump who are subtly attempting to thwart his agenda. It is a way for them to exact revenge on him – his staff are trying to force him to cohere to the model of Republican politics that Trump was supposed to have defeated in 2016. It is actually quite anti-democratic. But I don't think any particular voter is moved by the New York Times op-ed.
In terms of the Woodward book, it caused a furore a week ago and now it is just a distant memory. Woodward's work tends to create this spasm – like a sugar high and then you crash. It is quickly forgotten and you wonder what all the fuss was about. I wouldn't be surprised if it was already in the bargain bin. His books don't have a lot of staying power because he studiously declines to actually engage in any real analysis. He has popularised this notion (that you also see in the Times op-ed) that there are these 'adults in the room' who are curtailing Trump's worst impulses. But if you actually dig down into what those 'worst impulses' supposedly are, they invariably are his trade and foreign-policy heterodoxies. The most telling example on that front was the way Trump's deliberation over Afghanistan is depicted in Woodward's book. Trump has this 'wild' idea that maybe he would like to get the troops out of Afghanistan after 17 years. Then the sober, serious and sane adults come in and put their foot on the brake pedal and convince Trump that's not the way to go. Maybe if Woodward had a tad of analytical rigour about him he might have said that the instinct to compel Trump to remain in a 17-year engagement is the one that needs to be reigned in.
Michael Tracey was talking to Fraser Myers.
To enquire about republishing spiked's content, a right to reply or to request a correction, please contact the managing editor, Viv Regan.