'Get Boris?' It's another backdoor plan to stop Brexit
Time for the Tory 'civil war' to be honestly fought in the open.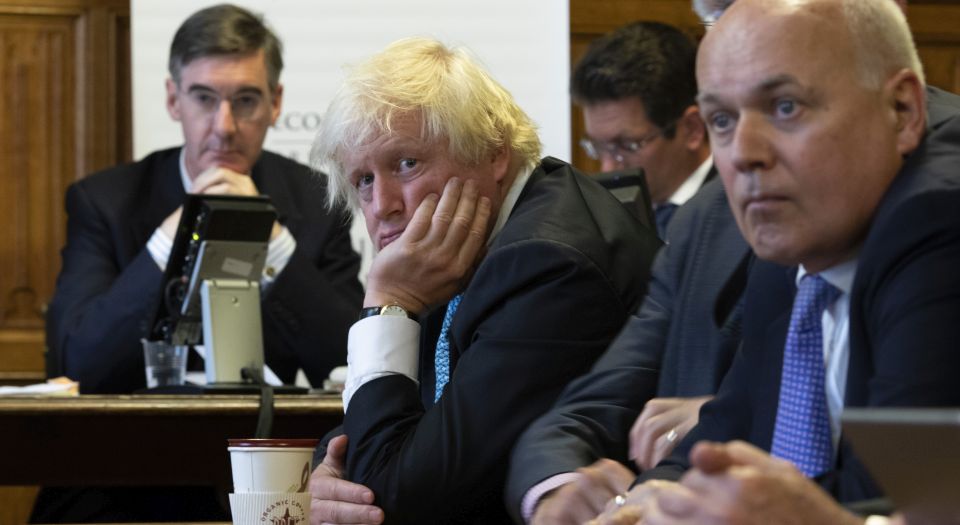 What's behind the reported 'Tory civil war over Boris' (Johnson)? British political history has often been made by big political parties splitting over the defining issues of the day. But governing parties have not made a habit of splitting over one backbench MP's personal life, or over some jokes and imagery he used in newspaper articles.
Let's stop the nonsense and admit this phoney war is really about Brexit. Then all sides can come out and fight to the finish.
In the late 19th and early 20th centuries the powerful Liberal Party split, most importantly over the defining issue of Home Rule for Ireland (all of which was then part of the United Kingdom). The Liberal Unionists joined with the Conservatives to form the Tory Party that would come to dominate UK politics.
In 1931 the governing Labour Party split over prime minister Ramsay McDonald's plan to impose big cuts in public-sector wages and unemployment benefits, in response to the economic crisis known as the Great Depression. McDonald formed a National Government with other parties, and the political realignment helped pave the way for both Winston Churchill's wartime coalition and then the radical postwar Labour government from 1945.
Now we are frequently told that Theresa May's governing Conservative Party faces 'civil war' and the threat of a split. Yet in terms of historic significance, the causes often cited do not seem to match up to Irish independence or the Great Depression.
Instead recent headlines declare 'Tory MPs in civil war over Boris Johnson as he's branded "disgusting"', 'Tories in civil war after Boris Johnson "suicide vest" remarks', and 'Boris Johnson sex dossier sparks Tory civil war'. This follows earlier reports that 'Theresa May faces Tory civil war after Boris Johnson's niqab comments'.
Boris might be a larger-than-life figure in an age of political pygmies. But still, some may feel, not quite big enough for his choice of sexual partners or choice of words to become the defining issues in British political life.
Those threatening 'civil war' over Johnson are fighting under false flags. The truly historic issue at stake here is Brexit. The 'stop Boris' campaign is another thinly disguised attempt to stop Brexit, by rubbishing the leading Tory politician who, for better or worse, is most prominently associated with the vote to leave the EU, albeit as a late recruit to the cause.
Why else would Remainers have appeared so outraged by Johnson comparing Muslim women in burkas to letterboxes (in an article arguing against bans on the niqab), when others had made the same joke with impunity? Why else would a Tory Remainer and former minister hysterically condemn as 'one of the most disgusting moments in modern British politics' Johnson's reasonable suggestion in another newspaper article that May's Chequers proposal has 'wrapped a suicide vest around the British constitution'? Are all politicians now to be banned from using any warlike or violent rhetorical imagery, from 'bombshell' or 'sniping' to 'shoot from the hip' or 'stabbed in the back', in case it might offend a victim? Or is Boris a special case?
And why else would the sad announcement of Johnson's impending divorce trigger such a sudden and gleeful outpouring of 'bonking Boris' stories, many apparently based on a dirty dossier compiled by Theresa May's staff around the Tory leadership contest that followed the 2016 EU referendum?
No, this 'civil war' is all about the battle over Brexit and whether the UK will really divorce from the European Union. When Tory arch-Remainer Sir Alan Duncan pompously declares his determination to ensure that the 'disgusting' suicide-vest article marks 'the end of the political career of Boris Johnson', he means that he wants to end the political influence of 17.4million Leave voters. Whatever we might think of Boris's personal qualities, I know which side I'm on in that battle over Brexit.
The democratic revolt for Brexit has changed everything in British politics. It has rendered redundant the old right-left lines, confirming that it is pointless to try to understand politics in those traditional terms today. In the process it has exposed the extent to which the Conservative Party now exists as a unified political organisation in name alone.
The Tory Party now hosts competing views on Brexit that might struggle to be contained in at least two rival parties. At one end, some Conservative MPs, lords and grandees are among the most bitter and recalcitrant members of the Remainer elite. At the other, Conservative politicians such as Johnson and Jacob Rees-Mogg are in the front rank of outspoken and publicly ardent Brexiteers. Between the two is May's 'soft Remainer' government, trying to do a deal with the EU that would represent Remain by another name.
It would surely be better for the future of Brexit and British democracy if the gloves came off, everybody honestly declared their hand and the supposed civil war began in earnest. Instead, we have backdoor attacks and manoeuvres from the Tory Remainers, while the Brexiteers threaten to challenge May's leadership yet so far fight shy of making good on their promises.
The longer this phoney war continues, the greater the danger that Brexit drifts into a quagmire of the EU elites' making. Let open battle commence, fought along battle-lines that will have to cut across the old party lines. That will also divide the Labour Party, where tensions over Brexit are hardly less stark than among the Tories; perhaps the only difference is that the Labour Remainers even more clearly hold the whip hand.
A key question in this new divide concerns the willingness to embrace the possibility of a clean break, no-deal Brexit. Tory Remainers denounce it as 'madness', and Labour leader Jeremy Corbyn swears that his party 'will not countenance' a no-deal Brexit. They are effectively saying that they will accept whatever neocolonial deal the EU finally deigns to offer. Forget party loyalties – that would be a fundamental betrayal of the voting majority's democratic demand for a clean-break Brexit. There must be no deal that sells short popular democracy.
A veteran man of the left like me, proud to be the former editor of Living Marxism magazine, now finds he has more in common on the biggest issue of the age with the likes of Johnson and Rees-Mogg than with their allegedly left-wing opponents. A major realignment in British politics is surely long overdue. Let people stand for what they really believe today, instead of half-heartedly waving whichever faded colours they are still wearing for Britain's zombie political parties.
Mick Hume is spiked's editor-at-large. His latest book, Revolting! How the Establishment is Undermining Democracy – and what they're afraid of, published by William Collins, is out now.
To enquire about republishing spiked's content, a right to reply or to request a correction, please contact the managing editor, Viv Regan.