What Nike and Nietzsche have in common
Both preach that it is better to 'just do it' than to believe in something.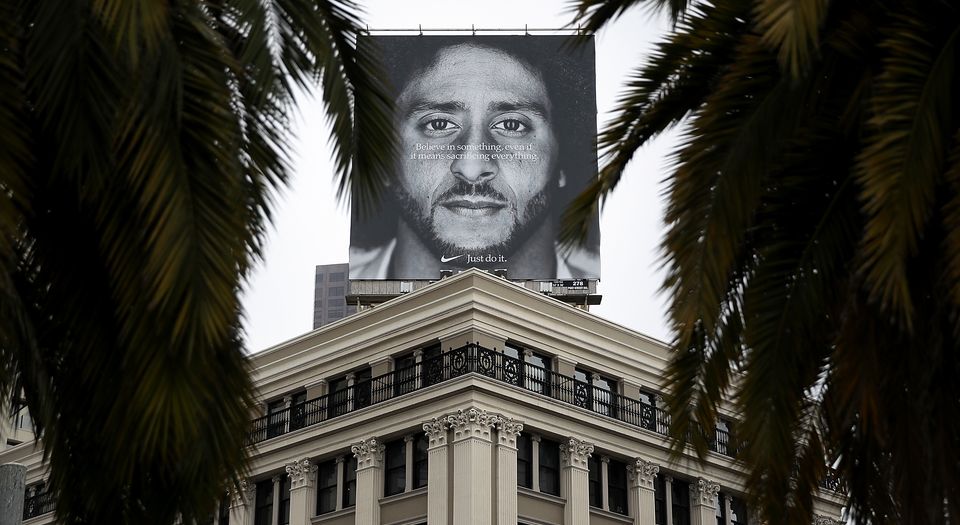 There has been much commotion and a great deal of consequent debate following Nike's decision to feature on its latest ad campaign Colin Kaepernick, the American footballer who began the trend of athletes kneeling down during 'The Star-Spangled Banner', in order to highlight racial injustice in the United States. Those on the right have protested, in extreme cases by burning their Nike trainers. Many on the left have in turn accused them of exaggerated outrage or confected offence-taking.
To my mind, the most striking thing about this advert is its already infamous wording: 'Believe in something. Even if it means sacrificing everything.' It is not just because this could well be the mantra of an Islamist suicide bomber or someone with an extremely serious gambling problem. Nor is it the use of the vague and grasping 'something'. It is because these words sit so uneasily with the slogan it purports to celebrate: 'Just do it.' Indeed, 'Believe in something' is a contradiction and a very betrayal of Nike's 30-year-old legend.
'Just do it' is the best known of a raft of Nietzschean slogans to have proliferated in recent decades, all of which, consciously or not, pay homage to the German philosopher who said that we should act, not think, that we should forever strive to go beyond. The motto echoes Nietzsche's most famous exhortation: 'Live Dangerously!' So in a similarly Nietzschean spirit today, David Beckham named one of his aftershave products 'Beyond'. 'Break Your Limits' reads the slogan for Enertor insoles. Ford adverts beseech us to 'Go Further'.
'Acknowledge yourself', as Nietzsche wrote in 1868, 'through action, not observation'. He urged us to challenge what we believe in, to strive to become Übermensch – 'beyond men' or 'above men'. Über, having no direct equivalent in English, can mean 'above' and 'beyond', and it surely can't be coincidence that the current slogan for Land Rover is exactly that: 'Above and Beyond.'
For Nietzsche, the self is a vortex forever in flux, and we should dare to challenge ourselves anew: 'First one needs to emancipate oneself from one's chains, and finally one must emancipate oneself from this emancipation. Each of us, even if in very different ways, has to toil against the chain-sickness, even after he has smashed the chains.'
To judge by such product names and advertisements, Nietzsche is very much of the zeitgeist, which is why Nike's entreaty to have us 'believe' is so jarring and seems out of kilter. Nietzsche asked us continually to act and strive precisely in order that we don't settle down into lazy belief systems. As he concluded in 1888: 'Convictions are prisons.'
Nietzsche opposed ideologies and dogmas not just because they made us lesser men, but because they deceived us and made us immoral. 'Convictions are more dangerous enemies of truth than lies' (1878). Beliefs and certitudes are the source of human misery and cruelty: those who are convinced they have good and righteousness on their side were responsible for the Crusades and Inquisition of yesteryear and are today responsible for Islamist terrorism. 'We "seekers after knowledge" are suspicious of virtually every kind of believer… a strong belief which "makes one blessed" arouses suspicion of what is believed', as Nietzsche wrote in On the Genealogy of Morals (1887). To invert Dostoevsky's most famous words: if there is a God, then anything is permitted.
Those who don't have convictions, who instead forever question and doubt, are better people for not believing in anything. It is better to go beyond good and evil. It is better to just do it than to believe in something.
---
It's called acting for a reason
Many years ago, when I knew him slightly when we were teenagers, I recall China Miéville – future best-selling 'weird fiction' author and already redoubtable Marxist – remarking that it was outrageous and racist that Ben Kingsley should have played Gandhi.
How China's remarks resonate in 2018, a year in which there has been growling and grumbling that Jack Whitehall will play a gay character in a Disney film, and that Ruby Rose isn't 'gay enough' to play Batwoman, and in which Scarlett Johansson dropped out of playing a transgender character in a film because she wasn't one herself.
In the latest example of a scolding minority conflating reality and fiction, Scope, the disability charity, has criticised the decision to cast an able-bodied actor as Joseph Merrick in the upcoming BBC adaptation of The Elephant Man. Phil Talbot, of Scope, told The Times: 'It is disappointing that a disabled actor has not been cast in the remake of The Elephant Man as it is one of the most recognisable films to portray a disabled character. This is a missed opportunity.'
Never mind the broad and almost meaningless category of 'disabled person'; the wider plea that actors must play versions of themselves is antithetical to the very essence of acting: to pretend to be someone else. It is also demeaning. In the end, this line of thinking entails gays and disabled people having only minor or marginal roles, while straights and the able-bodied get the star parts.
This mindset would also mean no black James Bond (he was white in the books). It would have meant no celebrated biopics of Gandhi, Christy Brown or Douglas Bader. Henceforth, anyone who plays Hamlet will have to be Danish and mentally unhinged. Taken to its logical conclusion, the end of unfettered make-believe would mean the end of acting itself.
---
A racist gorilla?
A gorilla statue that had been removed from a playground in Corsicana, Texas, following complaints it was racist is set to return following protests from local residents. The gorilla was taken from the community park following concerns from some citizens that it was potentially racially insensitive.
Most of us know that underpinning a vein of racist thinking, especially in the 19th century, is the notion that black people are lesser humans and closer to apes. But to think that a gorilla itself — or a representation of it — is actually racist by merely being there is bizarre. This is diseased thinking.
But this is what happens when a society becomes so obsessed with racism, perceiving it to be a kind of invisible, omnipotent and ubiquitous force, bestowing it with voodoo powers, with this spectre causing its victims to become 'unwittingly' or 'subconsciously' racist.
This neurotic infatuation with race has made us frightened even of our own thoughts.
Patrick West is a spiked columnist. His latest book, Get Over Yourself: Nietzsche For Our Times, is published by Societas.
To enquire about republishing spiked's content, a right to reply or to request a correction, please contact the managing editor, Viv Regan.