Steel Panther: metal's un-PC heroes
The 'Pussy Melter' controversy reveals all that's wrong with this age.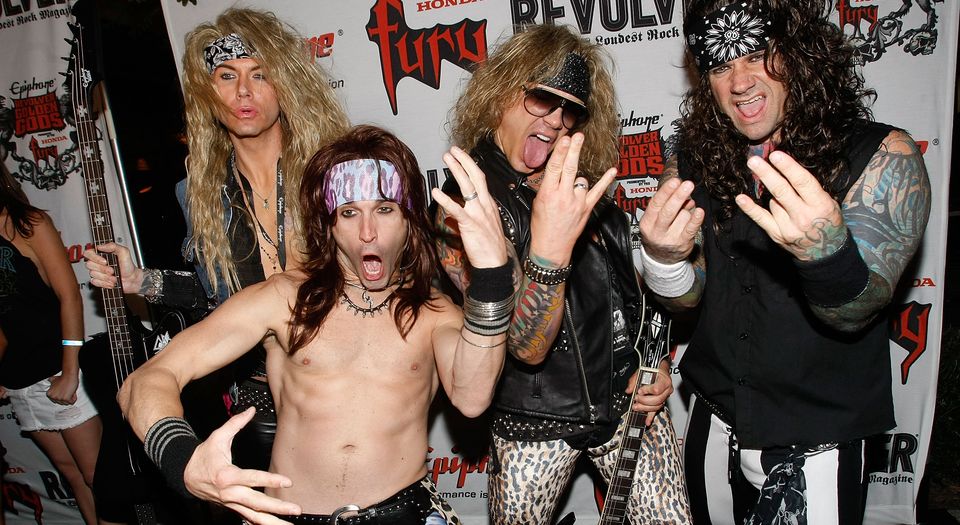 The combination of heavy riffs and post-#MeToo vibes has created controversy, insta-wrath and a lot of money for one band.
Meet Steel Panther, an American glam-metal band / comedy act with a penchant for Eighties-style masculinity clad in bright-pink leggings. Their tongue-in-cheek humour and catchy tracks, like 'Asian Hooker' and 'Death to All But Metal', have gained them a loyal global following of 'Fanthers', wielding hairspray, glitter and their best headbanging moves.
Steel Panther have been touring the world, 'Spreading the Disease' (that's a recent tour title) and selling outrageous merch ('Say Perhaps to Drugs' t-shirt, anyone?) for the better part of two decades. But this summer they found themselves in the middle of an online controversy over something called 'Pussy Melter'.
Satchel, the band's lead guitarist, created a product with guitar pedal-maker TC Electronic. Pussy Melter is a guitar effect of the 'toneprint' kind, which means a piece of software you can upload on to an existing pedal to copy a guitar tone – in this case, Satchel's. The Pussy Melter toneprint didn't make much of a splash, until now.
Musician Jessica Fennelly came across it on TC Electronic's website. She was 'shocked by the poor marketing decision' and started a petition, dubbing the effect 'offensive', 'extremely vulgar' and 'obviously sexist'.
Characteristically, Steel Panther suggested renaming the Pussy Melter to something more politically correct, like 'Butthole Burner', but that didn't fly with TC Electronic: a measly 1,000 petition signatures later, it was pulled.
Satchel was quick to rebrand TC Electronic 'PC Electronic' on Twitter, and the band's social media were flooded with support.
Bands like Japanese Breakfast, Ted Leo, and Emily Reo, however, shared Jessica Fennelly's outrage. Raphaelle Standell-Preston, guitarist from the Canadian band Braids, supported the petition as well and later gloated in a Pitchfork piece: 'I fought the sexist gear community and won.'
But it turns out Raphaelle celebrated too soon. Last week, Steel Panther launched the Pussy Melter directly, cutting out TC Electronic and commissioning a US-based custom pedal maker to turn it into a bright-pink piece of hardware, complete with outrageous knob labels 'Dirty', 'Load' and 'Booty'. At $200 plus shipping, the Melter is no cheap toy. But the internet is loving it. It seems to be resonating way past the Fanthers, or musicians. 'I'm not even a guitar player and I've ordered one', says a comment under the announcement.
It seems that a lot of us are done with being held hostage by other people's feelings. Like beauty, offence is in the eye of the beholder. It is a subjective, personal emotion that is best investigated in a therapy session. It's not worth lashing out over and trying to ruin the fun for everybody else.
You find yourself wondering if any of those raging against Steel Panther have ever heard a single line of their lyrics. Extreme mock-sexism is what they do. 'Cleaning, cooking, being good looking / That's what girls are for' is hardly feminist poetry. Those who pushed the petition would probably be shocked to see hordes of women fighting to be objectified on stage and eagerly lifting their tops in front of a cheering audience. (The percentage of women in the crowd is always higher than at most other metal shows.)
There are no highbrow messages here: it is pure entertainment, pure music, a night of partying and letting go, with a band that, while purposefully outrageous, are still extraordinary musicians. If you're easily offended, just do these guys a favour and stay home.
It is clear now that by pulling the initial pedal, TC Electronic overreacted. In this #MeToo era, a mere hint of a sexism-hued scandal sends a chill down the spine of executives huddled around a whiteboard with the word INCLUSIVITY written on it. But there's a lesson here for TC Electronic: you can't please everyone, so don't bother trying.
This is rock'n'roll, everybody's favourite medium for scandalising law-abiding citizens. Back in 1955, over 15,000 letters were sent to radio stations in Chicago demanding that 'dirty' – meaning 'black' – records be pulled from rotation. In 1977, the Sex Pistols' 'God Save the Queen' was banned by the BBC. Music inevitably riles some people.
So props to Steel Panther for not backing down. In a world trembling under the judgemental gaze of PC watchmen, their anything-goes, no-limits brand of humour feels more liberating – and necessary to defend – than ever.
Pavla Karon is a freelance writer.
Picture by: Getty
To enquire about republishing spiked's content, a right to reply or to request a correction, please contact the managing editor, Viv Regan.