Now Corbyn plans to 'nationalise' the news
Why cheer the Labour leader's support for government-approved journalism?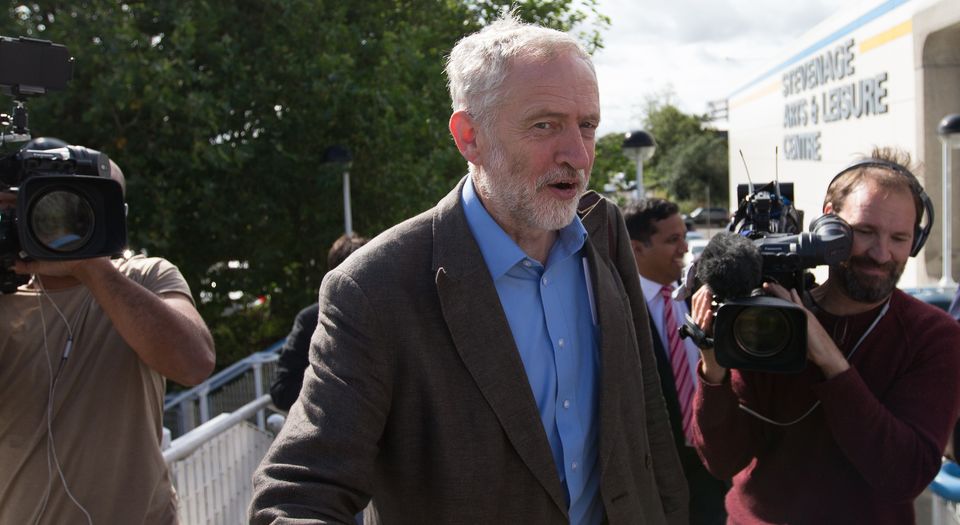 Government-approved journalism is condemned as a giveaway sign of dangerous authoritarianism in states such as Turkey. So why is the Labour left cheering Jeremy Corbyn's plan to impose a less obvious version of the same thing somewhat closer to home?
In a speech delivered today at the Edinburgh Television Festival, Corbyn outlined his proposals for reform of the UK media landscape. The one that caught my eye was his plan for a windfall tax on big tech firms such as Google, Amazon and Facebook to fund 'public-interest journalism'.
The Labour Party leader wants the Treasury to take millions in tax off the tech giants, which an 'independent' fund would then dole out to support new 'news cooperatives' pursuing 'investigative, public-interest journalism'. He thinks existing independent media outlets, such as the Bureau for Investigative Journalism, should be granted charitable status.
Without such government intervention, says Corbyn, 'a few tech giants and unaccountable billionaires will control huge swathes of our public space and debate'. He argues that investigative journalists today are being 'held back' by 'media tycoons' — and by 'excessive state influence' in the case of the BBC. 'The best journalism', Corbyn concluded, 'takes on the powerful, in the corporate world as well as government, and helps create an informed public'.
Which might all sound nice and apple pie. Who, after all, would want journalism to go against the public interest? Or support a less diverse media and an uninformed public? Encouraging the Treasury to make the tax-averse tech giants turn out their pockets is arguably even more popular than fruit-based home-baked desserts today.
No sooner had excerpts from the Labour leader's proposals been released in advance than Corbyn's online fan club were cheering them to the digital rafters, with #ChangeTheMedia trending on Twitter long before he even stood up to speak. That sounded more like a threat than a proposal. What Labour's plans would really mean is a British form of government-approved journalism produced by a state-sponsored media. No wonder they went down so well with the instinctive Stalinist wing of the Corbynista movement.
The overbearing influence of the tech giants certainly creates problems in the media world. Established news outlets are understandably furious at the way the likes of Google and Facebook exploit their content while paying little in tax and taking the lion's share of advertising revenue.
Here, however, Corbyn is exploiting public concerns about the big tech firms' behaviour as a shield behind which to pursue Labour's own media-bashing plans. Look at what his woolly words mean.
Corbyn wants to invest taxes in more 'public-interest journalism' – which appears to be an unquestionable Good Thing. The question it should always raise, however, is – who is going to decide exactly what the 'public interest' means? Government ministers? Judges? Jeremy Corbyn's press office?
On closer examination it becomes clear that the notion of 'public-interest journalism' is less of an agreed universal value than an ethical-sounding cover for pursuing what are really matters of personal taste and political preference.
One thing seems certain: it won't be the British public deciding what 'public-interest journalism' taxes should finance. Corbyn wants his fund to be 'independent'. Another buzzword that should always raise the question: independent of what, exactly?
There are no such things as independent angels floating above the media melee below, with only the public interest at heart. Everybody has interests, agendas and angles of their own. Labour's independent media-funding body would be another government-backed quango, stacked with placemen from the political and cultural elites — and every bit as 'unaccountable' to the public as any tycoon or tech giant he might rail about.
As for the HMRC funding journalism to create a more 'informed public' – again, informed by who, peddling which political line? It is not hard to imagine the sort of information Corbyn and Co want to feed us. We have not all forgotten how his chosen 'charitable' outfit, the Bureau for Investigative Journalism, was behind the story when the BBC's flagship Newsnight programme got carried away with its self-righteous posing and effectively accused a Tory lord of being a paedophile.
Many people want to see a more diverse media – that's why some of us have put our energies into creating such an alternative publication as spiked. What the UK media needs most, however, is diversity of content and ideas. What Corbyn's plans promise instead is a far more conformist media, with the despised popular tabloid press tightly regulated and Labour's own brand of government-approved journalism given the floor and public funding.
His complaint about BBC journalism being too influenced by the state is a transparent tantrum about a few BBC journalists criticising his leadership – from the same fantasy stable as the left's complaint that the BBC, mainstay of the Remainstream media, is somehow an outpost of Leave propaganda.
Labour's track record of press-bashing should give the lie to any notion that it is interested in a more free and open media. And there are few internal party divisions here – Labour's non-Corbynite deputy leader, Tom Watson, is an even more ardent tabloid-hater than his boss.
As Corbyn's fanclub in the Media Reform Coalition spelt out in their manifesto for the General Election: never mind that freedom nonsense, what the Labour left ultimately wants is for 'communications to be organised and regulated in the public interest'. Organise the media! Regulate the press! Nationalise the news!
We could moan about media empires and encourage the state to restrict their freedoms. Or we can strive to remove the already onerous legal and cultural obstacles to freedom of expression – which is also the best hope of 'diversifying' the debate and creating an alternative media.
Whatever anybody thinks of any part of the relatively free press we have in Britain today, there is always something worse. That's an even more unfree press, however the plan to sanitise what the public sees might be dressed up in Corbyn's fine words about 'public-interest journalism'.
Mick Hume is spiked's editor-at-large. His new book, Revolting! How the Establishment is Undermining Democracy – and what they're afraid of, published by William Collins, is due out in early 2017.
Picture by: Getty
To enquire about republishing spiked's content, a right to reply or to request a correction, please contact the managing editor, Viv Regan.