It's now the US v Turkey
Tensions between the two NATO allies run deeper than the dispute over a pastor.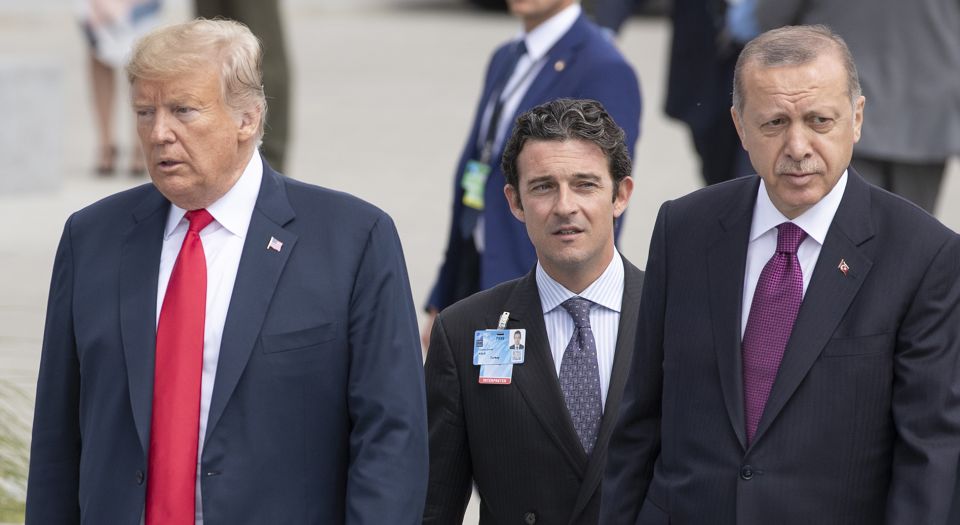 As the value of Turkey's currency, the lira, plummeted to a new low last week, having depreciated by almost 40 per cent since mid-February this year, Turkish president Recep Tayyip Erdogan appeared to be in no doubt as to who was responsible: the US, and its mercurial president Donald Trump. He is waging 'economic war against the entire world', Erdogan told supporters in the Black Sea city of Trabzon. 'The aim of the operation', he continued, 'is to make Turkey surrender in all areas, from finance to politics'.
And there was a smidgen of truth to Erdogan's claim. After all, Trump has just doubled tariffs on steel and aluminum imports from Turkey, putting them at 20 and 50 per cent respectively, prompting investors to start offloading more lira. Trump had raised the tariffs in response to the collapse of a long-planned-for deal to secure the release from a Turkish prison of evangelical preacher Andrew Brunson, arrested by the Turkish authorities in the purges that followed the failed coup in 2016. The deal collapsed because the Turkish state wanted in return not only the release (which the US had agreed to) of Mehmet Hakan Atilla, a Turkish banker jailed for violating US sanctions against Iran, but also the dropping of all legal proceedings against the Turkish state-owned bank Halkbank, accused, like Atilla, of violating US sanctions against Iran.
There is little doubt that Trump's trade-war response to Turkey's stand on Brunson, complete with a tweeted 'Our relations with Turkey are not good at this time!', has deepened Turkey's economic crisis – but it is hardly the cause. In truth, the Turkish economy has been struggling for a while. In 2008, with the global economic crisis just about to break, Turkey's economy had been growing at an annual rate of 8.8 per cent since the early 2000s. By 2012, annual growth had dropped to 2.1 per cent. Even last year, economic growth was still only at just over three per cent.
The reasons for the slowdown, and now the currency crisis, are manifold. Alongside the global economic crisis, there has long been an excessive reliance on overseas funding and borrowing, a credit bubble which in turn has now exacerbated the depreciation of the lira, as more and more investors withdraw, worrying that debt-heavy Turkish businesses, particularly in construction, won't be able to pay back the loans taken out in dollars and euros given the falling value of the lira. Add to that Erdogan's almost personal control of Turkey's national bank (the finance minister is Erdogan's son-in-law), his steadfast refusal to raise interest rates, and the deep-seated problems of cronyism and corruption in the dishing-out of state contracts – and then understanding how this once ostensibly buoyant economy found itself in dire straits becomes less difficult.
In a sense, Trump's intervention, complete with self-aggrandising, belligerent rhetoric, has actually played into Erdogan's hands. He now has a readymade excuse, an external force to blame, for Turkey's economic woes. And he himself is off the hook. As Abdullatif Sener, Erdogan's former deputy prime minister turned political opponent, put it, 'The entire Turkish public now thinks that the cause of the economic crisis is Trump's attack on Turkey, and this is strengthening Erdogan'. Even Turkey's main opposition parties signed a joint statement to condemn Washington's sanctions rather than criticise Erdogan.
Yet this itself – this willingness to use the US, and 'the West', as a scapegoat – testifies to the deeper and dangerous shift in US-Turkey relations. Just over a decade ago, Turkey, even with Erdogan at the helm, as he has been since 2003, was considered a US ally, a steadfast, stand-up NATO member, a secular, democratic nation that wanted ever-closer relations with the West. In 2006, Boris Johnson, of all people, even backed Turkey's membership of the EU, stating 'our generation has a historic chance… to build a bridge between the Islamic and Christian worlds'.
Erdogan himself is well aware of Turkey's postwar history as, largely, an ally of the West. In an op-ed for the New York Times last week, he wrote of Turkey's six decades of close friendship with the US, of how, from the Korean War in the 1950s to the war in Afghanistan in the 2000s, Turkish soldiers have 'shed blood' alongside their American brothers.
And yet, despite all this, today we have a situation where the US, and by implication the West, is now at odds with Turkey, which is still, remember, a NATO member. And this is not all down to Trump. He, in his own inimitable way, has certainly poured oil on the flames, by ramping up a trade war, and clearly damaging further Turkey's already struggling economy. But Trump is merely continuing where his predecessors left off. And what is more, and what is more worrying, the US and its allies seem to have actually blundered into this simmering conflict with Turkey. This is not a strategic play. It is not a conscious attempt to pressure Turkey to take a direction desirable for the West. No, it seems almost accidental, an adventitious byproduct of the West's clueless interventions in that part of the world to which Turkey is meant to be the bridge – the Middle East.
Look at what Erdogan actually says in his New York Times piece. He sees the trade war as only the most recent example of America's betrayal of Turkey. He also accuses the US of not being supportive enough in the aftermath of the failed coup of 2016, adding that, 'To make matters worse, there has been no progress regarding Turkey's request for the extradition of Fethullah Gulen [whom Erdogan argues was behind the coup] under a bilateral treaty'. And, above all, he attacks the US for its actions in Syria, where it backed Kurdish military forces against ISIS: 'My government has repeatedly shared our concerns with American officials about their decision to train and equip the PKK's allies [the Kurdish YPG] in Syria. Unfortunately, our words have fallen on deaf ears, and American weapons ended up being used to target civilians and members of our security forces in Syria, Iraq and Turkey.'
So this trade war, and the Brunson fiasco that underpins it, is part of a longer-running, deeper antagonism that has developed between Turkey and the West. And it has developed, in the main, because of the West's clueless interventions in the Middle East, in particular in Syria where it has actively backed Kurdish forces Turkey considers a threat to its internal security. And worse still, Kurdish forces that the West then effectively abandoned to their fate at the hands of Turkish military after ISIS had been rolled back.
And perversely, by clumsily turning itself against Turkey, the US, with its Western allies in tow, has not undermined Erdogan. Far from it. It has reinforced the autocratic tendencies of his reign, in which critics and oppositionists are routinely jailed, allowing him increasingly to pitch his tyrannical presidency as a necessary move in the battle between 'us' and 'them'. As he said in a speech last week, 'They have the dollar, but we have our people, our Allah. As we didn't surrender to the coup makers', he continues, 'and stood against the tanks with our bare hands, we will not surrender to the economic hitmen. We will struggle with all we have.' A struggle that will no doubt focus principally on internal 'enemies' of the Turkish state.
In Erdogan's New York Times op-ed, he concludes darkly: 'Failure [on the part of the US] to reverse this trend of unilateralism and disrespect will require us to start looking for new friends and allies.' One suspects, given Turkey's refusal to back sanctions against Iran, and its ever-growing proximity to Russia, that Turkey has already recalibrated its foreign relations. The old postwar alliances really are coming apart now. And, with Trump's US pursuing its own unique, unplottable course, it looks as if, likewise, there is no centre to hold anymore.
Tim Black is a spiked columnist.
Picture by: Getty
To enquire about republishing spiked's content, a right to reply or to request a correction, please contact the managing editor, Viv Regan.