MagicGate: game culture's new civil war
Political violence is breaking out... over a trading-card game.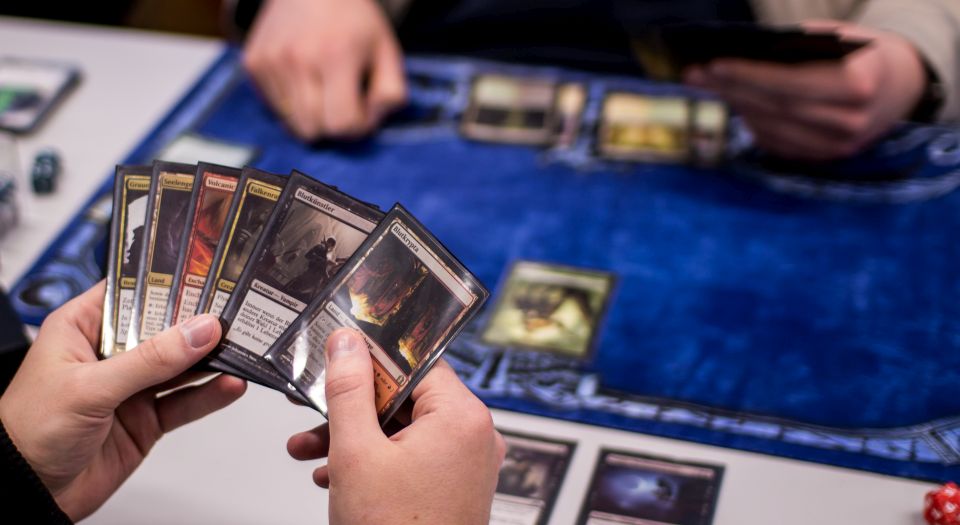 In the early hours of 2 August, Jeremy Hambly, a popular YouTuber who covers gaming, pop culture and media news, was assaulted outside a bar in Indianapolis. He was caught off-guard and suckerpunched, and was left with bruises, a slight cut and a torn shirt. Shaken, he recorded his injuries on his phone. But this was more than a bar fight – this attack was political, and arose out of a simmering feud within gaming culture.
Magic: the Gathering (MTG) is a game produced by Wizards of the Coast (WOTC), encompassing trading cards, merchandise, online gaming and organised tournaments. A number of vlogging channels have sprung up to discuss MTG products and culture.
Jeremy Hambly's UnsleevedMedia channel has become prominent in part due to his criticism of WOTC's incorporation of identity and sexual politics: WOTC has reduced the attractiveness of female character designs, uses 'they' as the second-person singular pronoun in official texts, and uses explicitly 'inclusive' language and tone-policing at MTG events. After Hambly made negative comments about a female cosplayer (someone who dresses up as a fictional character at public events), he was accused of 'harassment' and banned for life from participating in WOTC-sanctioned tournaments and online play. He became the first MTG player to be banned for life without the possibility of appeal without having cheated or committed a crime. It seems that Hambly's severe punishment was due not to a violation of MTG guidelines, but to his unpopularity among some fans and his criticism of WOTC policies.
Hambly's supporters are often described as bigots and misogynists intent on making MTG a space 'unsafe for female players'. They are dismissed as insincere 'trolls'. But matters became more serious when he exposed a number of criminals convicted of sex crimes who were, at that time, not banned from MTG events. A number of paedophiles had 'judge' status and therefore had access to child gamers through game stores and sanctioned tournaments. His vlogs named the individuals using data in the public domain and contrasted their MTG accreditation with his lifetime ban. (Later on, WOTC did ban some of the individuals he named.)
The decision to ban Hambly led to a division in MTG fandom, dubbed 'MagicGate', with those who had also tired of its identitarian drift siding with Hambly. Activists began to describe these critical fans as 'dangerous' 'Nazis' and 'harassers' intent on making MTG an 'unsafe environment'. They began equating their criticism and mockery with actual violence. The meme of 'punch a Nazi' has circulated widely among left-wingers for years, with their definition of 'Nazi' seemingly being anyone critical of identity politics. (A Kickstarter is currently trying to raise funds for a comic advocating political violence called Always Punch Nazis.) The combination of an online echochamber, extreme language and personal resentment have left some individuals on a hair trigger.
On 1 August, Hambly attended the gaming convention GenCon in Indianapolis. Early the following morning, he was smoking outside a bar with companions when – according to Hambly and four witnesses – a man asked him if he was Jeremy Hambly. When he said yes, the man repeatedly punched him while holding his shirt, yelling that he was going to kill him. Hambly broke free and went inside the bar. The attacker was prevented from entering and punched a window before leaving. According to witnesses, the alleged attacker was another convention attendee and professor, whose social-media profiles proclaim he 'punches Nazis'. In a tweet before the altercation, the suspect said that he would 'fight' anyone who objected to the attendance of noted feminist Anita Sarkeesian at GenCon. (Hambly posted a negative comment about her presence before the attack.)
Thus a heightened atmosphere of political tension led to an unprovoked physical assault. Responses to the attack in the gaming world have been divided. While many people offered sympathy and support to Hambly, others have attempted to remain neutral, and some have even taken his attacker's side. Chelsea Pendragon, who writes for the website 'Comic Crusaders', wrote an op-ed (later removed) in which she advocated violence when persuasion and boycotting do not generate obedience:
'I do not condone violence in most situations, I feel as though our words should be powerful enough to convey our messages and invoke change, but sometimes this is not the case. Sometimes our words, voting with our wallets and refusal to entertain the rhetoric we disagree with falls upon deaf ears. And if that rhetoric is dangerous to others? Well, I won't be losing any sleep over the fact that a fist made the point a bit more clear.'
If rhetoric is 'dangerous' then violence is justified. She goes on:
'Your freedom of speech does not free you from the consequences of that speech, and sometimes that means unpleasant things happen. No one was killed or seriously injured and no places of businesses were specifically targeted. A few knuckles v repeated acts of terrorism seems like a mild trade-off for the type of fanatical internet cult these fans have created.'
In other words, if you exercise your freedom of speech you will be assaulted. Verbal criticism is now 'repeated acts of terrorism'.
If identitarian activists continue to support violence, then the climate will only become more tense. If companies – which have sought to profit by commercially exploiting social activism, dabbling in gender politics and virtue-signalling to attract audiences – do not take active steps to institute free-speech policies and make clear that diversity of opinion is welcome, then gaming will become ever-more prey to this kind of escalation.
To enquire about republishing spiked's content, a right to reply or to request a correction, please contact the managing editor, Viv Regan.