The problem with 'woke' comedy
Simon Evans on how sanctimony is dulling our sense of humour.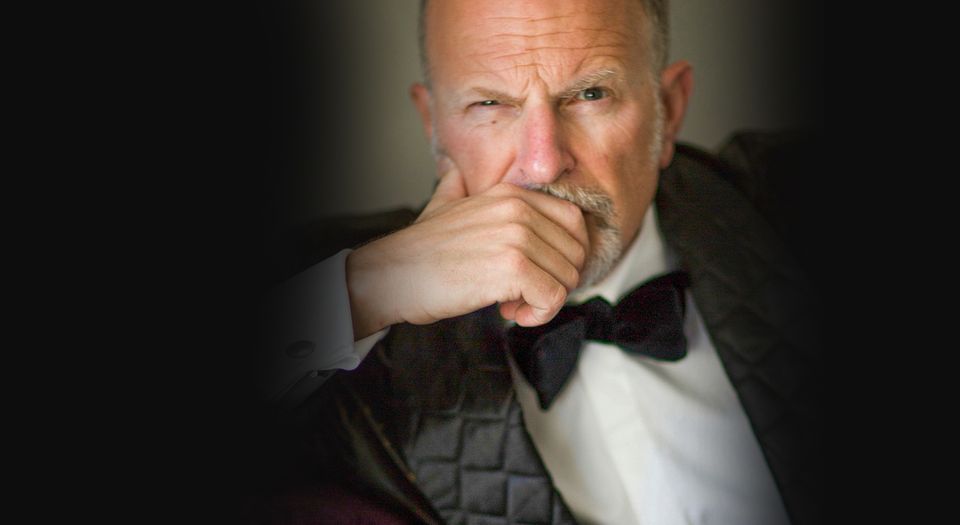 Following his critically acclaimed 2017 Fringe show, Genius, Simon Evans has returned to Edinburgh this year with Genius 2.0, another whipsmart, and hilarious, rumination on the decline of intellectualism, and perhaps even civilisation. Evans, a seasoned stand-up and Radio 4 regular, has been known to prick the comedy world's consensus, most recently on Trump and Brexit. So, is comedy today too safe, too undaring, too identikit in its politics? spiked caught up with him in Edinburgh to discuss.
spiked: Your new Edinburgh show is about the decline of the intellectual. How did you come to this subject, and how is it different from Genius, your show last year?
Simon Evans: The show has sort of evolved from last year's show. Shows change over time like coral reefs, they just gradually grow little nodules that then develop into whole new branches. One of the points I'm trying to make with it is that there has been a deliberate dumbing down across society. Which you see with Kenneth Clark's [1969 landmark BBC arts series] Civilisation becoming Civilisations [the 2018 remake], which had a more gentle presentation, a more inclusive egalitarian notion of what amounted to what. In the show, I examine two editions of The Guinness Book of Records, one which I received at the age of nine in 1974, and the one my son received last year, and I look at the difference in the expectation of what a reader, a nine-year-old, would be presumed to be interested in, and capable of understanding. It used to be full of extraordinary achievements, now it is all about fame and status, with massive full-colour pictures of Adele and people dressed as Spiderman.
spiked: You've been called a right-wing comic, even though you've never actually defined yourself in that way. What do you make of that label?
Evans: Yes, Stewart Lee first pointed the finger at me. He said I was the only right-wing comedian who he found funny, though I don't know whether that was the character of Stewart Lee writing about the character of Simon Evans. Nowadays, a lot of people say the left-right paradigm doesn't make much sense, anyway. I just find it interesting and fun to probe and project the extremes for comic effect. To the extent that I do political comedy, or comedy that addresses topical and thorny issues, I think the point is to be non-conformist, and to adopt a sort of Socratic approach, to try to test the coherence of the propositions of either side. Anyone who sees my show will see that Theresa May and Jeremy Corbyn are dealt with quite even-handedly. It is not that I prefer her to him or vice versa, it is that I can't quite believe the poor quality of intellectual firepower that we're getting on either side. Really, that's my howl of dismay.
spiked: Where you do you stand on Brexit?
Evans: I didn't vote in the referendum, but only because I found myself in London and couldn't get to my polling station. I was a little bit relieved. I think I would have voted Remain, but not with any great enthusiasm. Just because I'm risk-averse and I haven't spent my life harbouring suspicions about the true nature of the EU. There are things to be anxious about, there is a degree of reform necessary. I just felt, on balance, that we would be unable to make the necessary assertions in our own governmental structure to be as confident, as determined, as assertive, as we would need to be to make Brexit work. I could sort of see how it was going to be steered, half-arsed, just chewing off our arm at the elbow rather than slaying the beast and being done with it. But that's not to say Brexit is a disaster and you can't trust the people. It may very well turn out to be the correct choice.
spiked: What do you make of this claim that political comedy, or satire, is impossible in the age of Trump, because politics is already so ridiculous?
Evans: The stand-up Norm Macdonald was asked if Trump was good for comedians. He said Trump was great for bad comedians, and terrible for good ones. The truth is the conversation about Trump is being driven largely by propaganda, seen through the lens of those who are either against him or those who are rabidly in favour of him. It is very, very rare we look at the hard facts. This is something I said on The News Quiz on Radio 4 a few months ago, which created a little bit of a stir in the studio audience, which I quite enjoyed.
Trump isn't exactly my guy, there's a certain brash vulgarity about him that doesn't appeal to me. But, you know, the stock market seems pretty healthy. The war in Syria has calmed down significantly compared with how it flared up during Obama's administration. We've had progress in the Korean peninsula. Compare that with George W Bush, who by this point in his administration was well on the way to launching the most disastrous and unnecessary offensive in the Middle East in the post-Second World War era, which destabilised the region to absolutely catastrophic effect. The idea that Bush is now seen as this paternalistic elder statesman who is able to shake his head in sorrow over what Trump is doing is utterly absurd.
spiked: Even people on the left seem to like Bush now…
Evans: Exactly! These people have no memory at all. And if you want to talk about sexual harassment, which Trump has been accused of, deal with your fucking Clinton problem and then come and see us. And not just Bill, Hillary herself stood up for Bill when he was accused of abusing women, there was no #MeToo from her then, she was literally throwing women under the bus so that her husband could reach the presidency. Trump has obviously said things out of turn that have created rifts. But I've also seen an awful lot of what he's said and how it is presented in the media. 'He said all Mexicans are rapists.' Well, that isn't what he said. What he said was objectionable, but it wasn't that.
spiked: Do you think there's a hunger at the moment for comedy that isn't quite so identikit, politically or otherwise?
Evans: Definitely. I think people enjoy a comedian who has his or her own take and presents it without apology. But there's different generations, you know. I don't play student gigs anymore, but I did notice, towards the end, that they don't really have any sense of humour about their views. They've only quite recently become 'woke', and they feel they've grasped something of what's going on in the world, they're very tolerant of minorities and all that, and that's great, but it means that if you prod or poke any of those sensibilities, they don't find it funny. Whereas when people get older they realise we're all playing a bit of a game, we're playing a bit of a charade. Live-action roleplay – that's all life is. Just an update of Shakespeare's 'all the world's a stage'. The comedian's job is to make you laugh at the ridiculous nature of humanity, and you can't do that by endlessly regurgitating socially acceptable talking points.
spiked: What's next for you?
Evans: We have another series of Simon Evans Goes To Market, a show I do on economics on Radio 4, coming up, which we'll start working on in the autumn. It is on the grand economic theories – we'll look at Marx, and Keynes, and Adam Smith, and Friedrich Hayek, and possibly one or two more recent theorists as well. And I'm back out on tour with Genius 2.0. It will carry on evolving. I might even come back to Edinburgh with Genius 3.0. I've seen Life 3.0 has done well in the bookshops.
Simon Evans was talking to Christian Butler.
Genius 2.0 is at the Assembly George Square Studios until 26 August.
To enquire about republishing spiked's content, a right to reply or to request a correction, please contact the managing editor, Viv Regan.