Zimbabwe: a victory for Mugabeism
Zanu-PF's election victory shows how little has changed.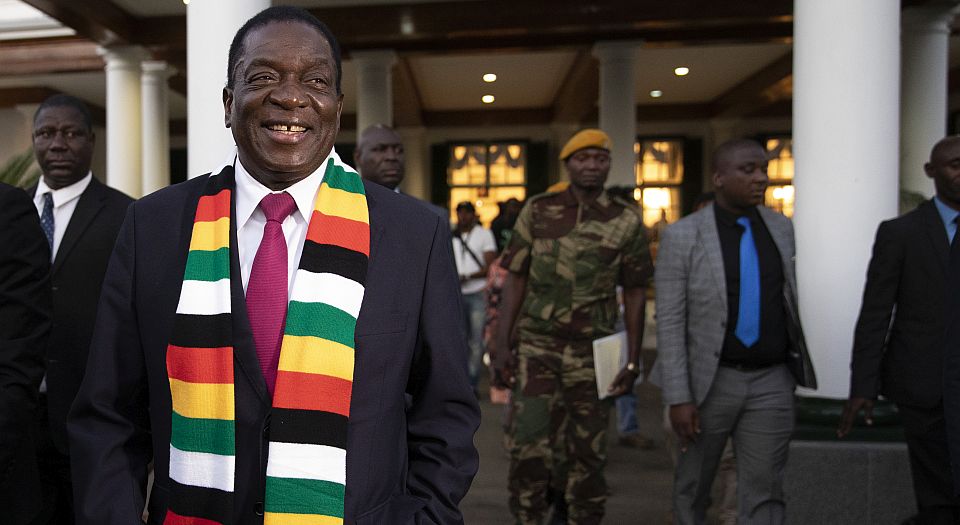 While it was not on the same scale as the state-backed violence that dominated Zimbabwe's 2008 presidential election (and run-off), when over 200 protesters and opposition supporters were killed as Robert Mugabe and Zanu-PF achieved what many now accept was a largely gerrymandered victory, the aftermath of Emmerson Mnangagwa's victory, again for Zanu-PF, was certainly grimly reminiscent of those dark days. Once more, the protesters who flooded on to the streets to dispute the legitimacy of Mnangagwa's narrow victory over Nelson Chamisa, leader of the Movement for Democratic Change-Tsvangirai (MDC-T), were beaten and shot. Once more tanks and troops rolled into Harare, using tear gas and whips to quieten the crowds. And once more, people were killed – six this time.
The claims of electoral fraud are the same, too. Chamisa, MDC-T and its supporters allege that Mnangagwa's 50.8 per cent to 44 per cent victory was the product of dodgy ballot papers, voter intimidation and bribery. The Zimbabwean electoral commission has added fuel to the fire, by being achingly slow to release the results of the presidential vote. Chamisa may not exactly be whiter than white himself, but his suspicions certainly carry weight.
It was all meant to be so different for post-Mugabe Zimbabwe. Following the bloodless coup d'état last November, when Mnangagwa initially assumed control of Zimbabwe's transitional government, many predicted national recovery, albeit a slow, painful one. Editorials in the US and Europe spoke of new dawns, and observers predicted a brighter future. UK prime minister Theresa May might have been speaking for the international community as a whole when she said: 'The resignation of Robert Mugabe provides Zimbabwe with an opportunity to forge a new path free of the oppression that characterised his rule.'
But this has proved to be wishful thinking. Or, more accurately, it has proven to be a wilful misinterpretation of Zimbabwe's problems. It was an interpretation that held Mugabe, long demonised and rendered up, to use a moniker favoured by the British press, as Africa's Hitler, as almost solely responsible for Zimbabwe's political and economic struggles. He was venal, despotic, and determined to hang on to power, regardless of the needs and wishes of those he and his comrades liberated from colonial rule nearly four decades ago. He was the source of this young nation's woes, and his removal the chance for its renewal. So when that moment came last November, when the Zanu-PF and the army finally escorted him out of the building, there seemed to be a strangely naive expectation that Zimbabwe could finally step out of the shadows of autocracy.
Yet, as Mick Hume explained at the time, nothing was really changing. Mugabe was stepping down, but the system that remained – a Zanu-PF dominated state, supported by the military – was Mugabeist in everything but name. Mnangagwa, Mugabe's successor and now the elected president of Zimbabwe, was steeped in Zanu-PF tactics and ideology.
Known as the 'crocodile', this one-time spy chief was one of the creators of the very system of repression and control Zanu-PF had long deployed to maintain power, playing a key role in the 2008 election violence, and in the brutal pacification of Matabeleland in the 1980s, when Zimbabwean troops murdered more than 20,000 civilians. More importantly, the army has continued to be the bedrock of Zanu-PF's continued reign, turning might into right with every military-managed election. After all, it was the army that removed the increasingly isolated Mugabe following his attempts to create something like a hereditary presidency. And it was the army that urged a Zanu-PF-backed protest against Mugabe. All in the name of the continued rule of the Zanu-PF.
That Mnangagwa and the army seem to have secured another electoral victory for Zanu-PF, at considerable human cost, should not have been a surprise, then. Theirs is a Mugabeism, a bureaucratic, military despotism in which the state's self-preservation and, with it, an elite cabal's personal enrichment, continues to be the overriding objective, just without the increasingly monomaniacal excesses of Mugabe himself. It is simply a more rational version of Mugabe's modus operandi. Even the electoral result appears more reasonable and less eyebrow-raising than the Zanu-PF landslides of yore, falling within the range of sampled findings of the Zimbabwe Election Support Network, the largest monitoring group in Zimbabwe.
It seems, then, that the crucial problem for Zimbabwe remains: namely, that its future is still as steadfastly out of the hands of the Zimbabwean people as ever. Even MDC-T, the main opposition to the Zanu-PF, seems as caught up in the courtly politics of the Zimbabwean state as those it claims to oppose. So, during the election campaign, MDC-T was reported to have held secret talks with the National Patriotic Front, a fringe political party created by former Zanu-PF members and funded by no less a supporter of Mugabe than his wife, Grace. Grace Mugabe was even alleged to have offered an MDC-T-led political alliance $24million and a fleet of cars in return for senior ministerial positions and parliamentary seats for the NPF in the event of electoral victory, something Chamisa was then forced to deny, despite elsewhere proudly claiming that Mugabe himself was going to vote for MDC-T. Either way, such scheming, intra-political-class manoeuvring shows how little say the Zimbabwean demos continues to have in Zimbabwean politics.
Yet those who think that the solution to Zimbabwe's inability to rid itself of Mugabeism is some form of international condemnation and increased sanction miss perhaps one of the most crucial contributory factors to Zimbabwe's desperate plight. And it is desperate. Its once enviable farming industry is in ruins, unemployment runs at over 90 per cent, and well over two-thirds of the population live in poverty. Yet the attempt to blame this entirely on Zimbabwe's ruling caste ignores the impact, since 2001, precisely of international intervention, in the form of harsh US and EU sanctions. It is true, as the advocates of these sanctions claim, that they target the freedoms and assets of specific individuals and institutions rather than the Zimbabwean people. Yet given that these individuals and institutions are virtually identical with the Zimbabwean government, whose spending accounts for over 90 per cent of GDP, it is fair to say that these sanctions are effectively against the nation as a whole. Moreover, by isolating and economically targeting Zimbabwe's ruling cabal, the international community has only hardened that cabal's sense of self-preservation, its resolve to rule – and its willingness to quell a restive population.
Any real and lasting democratisation of Zimbabwe will not come from outside, in the shape of sanctions and harsh words, just as it will not come from within the state bureaucracy of Zanu-PF and the army. Rather it will come, as it always must, from the Zimbabwean people themselves.
Tim Black is a columnist at spiked.
To enquire about republishing spiked's content, a right to reply or to request a correction, please contact the managing editor, Viv Regan.