Why liberals bash Trump but ignore dictators
Perhaps protesters expect only white rulers to be civilised.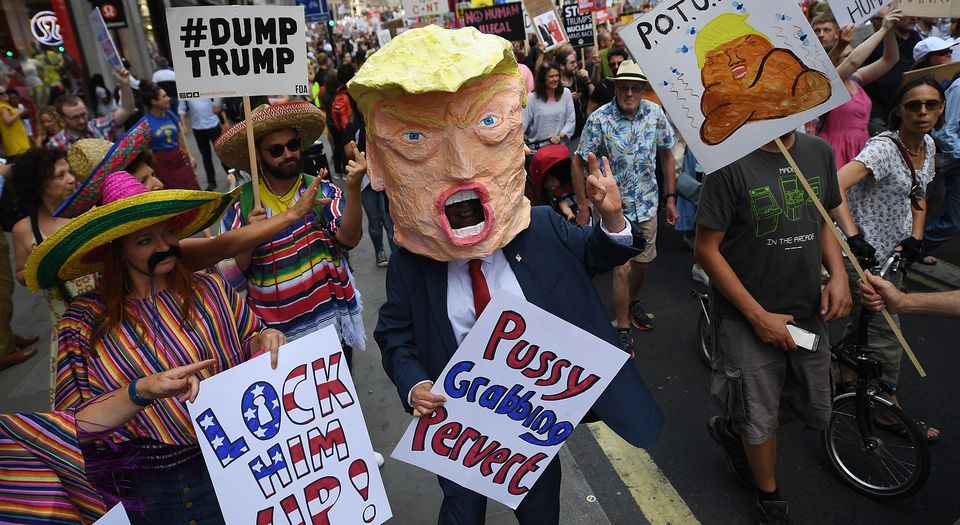 Although the first episode of Sacha Baron Cohen's latest outing, Who Is America?, was enjoyable, especially the absurd liberal Dr Nira Cain-N'Degeocello, the programme is based on that most feeble and lazy of premises: that Americans are crass and stupid. Ha ha! Let's all laugh at a country that has seven entries in the world's top ten university rankings.
Anti-Americanism was in full voice at the weekend with the visit to Britain of President Donald Trump, as thousands took to the streets around the country to protest against – so the consensus goes – this unbelievably evil, crass and thick man. The slogans on the placards vomited with rage – 'World's #1 Racist', 'Trump is a fascist', 'Stupid, callous, fragile, racist, narcissistic POTUS' – while one protester in London, an Anglican vicar, summed up both the mood of the protesters and the anti-Trump narrative. 'The way that he's spoken about Islamic people, the way he's spoken about Mexicans crossing the border, his attitudes towards women and gay people – it's all so totally offensive. He's broadcasting poisonous attitudes towards the community, so I think we all have felt we needed to organise to keep idealism alive and to make sure that message of hate isn't embraced by people', he said.
You might argue that the protests were directed at the man, not the American people. But it is more than a coincidence that Trump conforms to a negative American stereotype beloved of the infantile left and BBC radio and television comedians: the crass, philistine, insular, vulgar, money-obsessed oaf. The idiotic cacophony we heard at the weekend had all the hallmarks of cheap, uninformed students'-union anti-Americanism, a moronic inferno against a man with similar politics to his predecessor, but with terrible manners.
More to the point, it is always America that Britain and other European countries get outraged by. There were no comparable protests by British people when the Chinese president, Xi Jinping, came to visit in 2015, despite the fact that China executes an estimated 3,000 people a year, more than the rest of the world combined. By comparison, last year America executed 23 people.
Where were the protests when the Turkish president, Recep Tayyip Erdogan, came to visit in Britain this May? According to an Amnesty International report on 2017/2018, in Turkey: 'Dissent was ruthlessly suppressed, with journalists, political activists and human-rights defenders among those targeted. Instances of torture continued to be reported… Any effective investigation of human-rights violations by state officials was prevented by pervasive impunity. Abuses by armed groups continued.' In Turkey these days, even political protests are banned.
While we are familiar with the anti-Trump narrative, where are the jokes and the invective directed at the leaders of Saudi Arabia or Venezuela, countries with appalling human-rights records? Where are the displays of solidarity for the oppressed women of Iran, struggling against their regime for the right not to wear a veil in public?
More glaringly, considering that so many anti-Trump protesters take umbrage against him as women and feminists, sporting pink vagina hats (so racist!) on protests, their silence on a matter closer to home, namely the rape gangs unmasked in Rochdale, Rotherham, Telford, Newcastle and elsewhere, has been deafening. Molesting a woman is an awful thing to do, but the sexual abuse of thousands of teenage girls – 1,400 in Rotherham alone – is an unspeakable crime. Yet no one has spoken out in anger about this in the name of feminism.
From this we can only conclude that self-styled feminists, and anti-Americans in general, only expect and demand civilised behaviour from white people or mostly white, Western countries (again, so racist!). They fear being labelled Islamophobic, 'right-wing' or racist if they speak out against the Chinese or Muslimmgangs. It wouldn't look cool. They would lose face among their liberal friends and peers, or even – most catastrophically – lose some Twitter followers. Far safer to castigate and condemn a white, male American.
It is always the same story. It is always the nominally compassionate and altruistic left who are the most egotistic and self-centred, and obsessed with their precious public image.
---
Corporate virtue-signalling
Insincere corporate virtue-signalling has long been a feature of modern life: BP sponsoring the Paralympics, Lloyds Bank fretting about your mental health, adverts for Maltesers featuring lesbians, vegetarians, the deaf and the disabled. Earlier this month the Bank of Scotland proclaimed: 'We're proud to support Fife Pride 2018 this weekend – celebrating inclusion and diversity #Pride #BeProudBeYou.'
I would never have expected this sort of thing from that unpretentious retailer, Iceland, founded by Conservative party donor Malcolm Walker, the most northern man in England. But virtue-signalled they have.
In Iceland stores at the moment you will see posters announcing 10 per cent off all purchases until 29'July for NHS, police, fire-service, ambulance-service, HM Coastguard and RNLI employees. As Walker explains: 'On the 70th anniversary of the NHS's founding, we felt it was appropriate to honour the hard work our emergency services undertake all year round. I'm forever grateful for their commitment and dedication to the people of Britain – they are the ones we rely on when the going gets tough.'
Much as I admire and respect our emergency services, it is not as though their employees work for free, solely out of the goodness of their hearts (except RNLI volunteers, who do). Many in the higher echelons of the NHS earn bucket-loads. It would be more just to give a discount to people who work for comparable charities like the British Red Cross or St John Ambulance and who get paid nothing.
The epidemic of blind NHS-worship is spreading. There is no limit to the means people will use in order to look benevolent.
---
Those IRA splinter groups in full
With the recent attack on the home of the former Sinn Fein leader, Gerry Adams, purporting to be from the 'New IRA', spiked reflects on the many incarnations of the militant organisation, past and present.
The IRA
The Official IRA
The Provisional IRA
The Real IRA
The New IRA
Continuity IRA
Hard IRA
Epic IRA
Uber IRA
Monster IRA
Surreal IRA
Woke IRA
TERF IRA
Problematic IRA
Inappropriate IRA
Systemic IRA
Bespoke IRA
Curated IRA
Fusion IRA
Nailed It IRA
LGBTIRA
CISIRA
Absolute Legend IRA
Proper Naughty IRA
Like, whatever IRA?
Boaty McBoat IRA
I Can't Believe It's Not Real IRA
Patrick West is a spiked columnist. His latest book, Get Over Yourself: Nietzsche For Our Times, is published by Societas.
To enquire about republishing spiked's content, a right to reply or to request a correction, please contact the managing editor, Viv Regan.