Fascists, fascists everywhere
Why the left loves to whip up fears over the far right.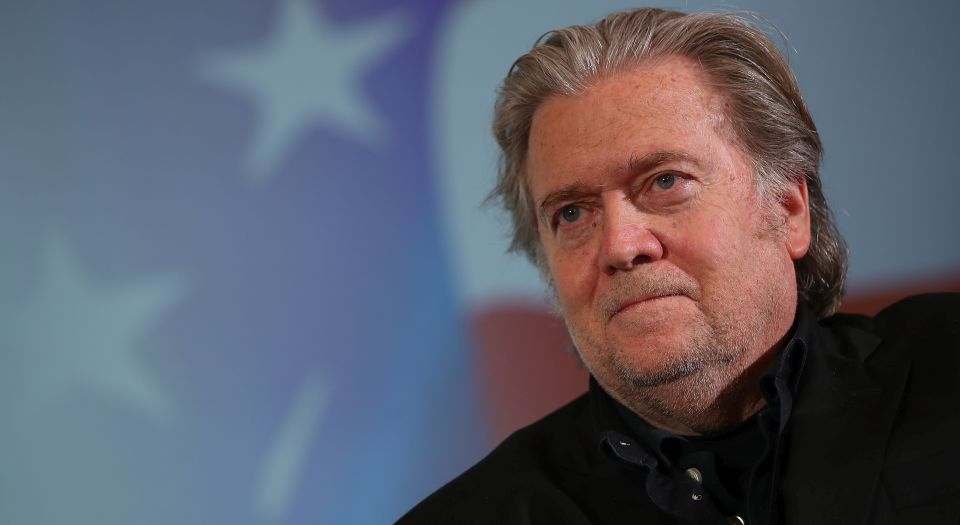 Fascism is on the rise, we are constantly told. Ballot-box revolts in the US and Europe mean fascism is becoming mainstream. Fascist ideas are 'frightfully trendy right now', apparently.
Last weekend, unashamedly riding on the coattails of Donald Trump's state visit to the UK, former White House strategist Steve Bannon gave interviews to ITV's Good Morning Britain and LBC's The Nigel Farage Show. He discussed Trump, Brexit and his philosophy of 'economic nationalism'. According to the Twitterati and much of the press, by inviting Bannon to air his views, British broadcasters were 'emboldening out-and-out fascism'. A Mirror journalist feared that the nation had gone from 'outrage over Nick Griffin on Question Time in 2009 to the normalisation of Steve Bannon' today. LBC was labelled 'a megaphone for the far right'. Alastair Campbell fumed that 'Bannon should be treated as an undesirable… the white-supremacist equivalent of a jihadist'.
Is Bannon really a white supremacist or a fascist? Did he say anything in either interview that would promote fascism? Of course not. Bannon certainly has some strange views and has made some striking statements in the past. He has previously expressed a 'fascination' with fascist leader Mussolini, but he has likened himself to Lenin, too. His rhetoric is undeniably bellicose, reflecting his view of the fierce cultural divides in society and a declining West fighting for its survival.
But anyone who tuned into his interview with LBC last week will have learned that his ideology of 'economic nationalism' doesn't take into account 'your race… your ethnicity, your religion, your gender, your sexual preference. What it takes into account is that you're a citizen. In our case, citizens of the United States.' Hardly white supremacism. At worst, Bannon defended Trump's Muslim ban on ITV and expressed support for the anti-Islam campaigner Tommy Robinson on LBC. Some of Bannon's views are unpleasant and illiberal, but they aren't fascistic and certainly nothing a grown-up audience can't handle. Nor did his views go unchallenged in either of those interviews. Questions from LBC's political editor, Theo Usherwood, clearly rattled Bannon, resulting in an angry, off-air outburst following the show.
Those worried that these broadcasters were uncritically 'platforming' fascist views clearly didn't bother to listen to the interviews. And this plays into Bannon's hands. Right-wing populists make great hay out of the fact that the liberal establishment and the left prefer to dismiss them as fascistic rather than engage with them. Bannon once infamously told an audience of Front National supporters to take pride in being labelled racist. When challenged on this by Nigel Farage, he replied that 'when they can't get you on the facts, they'll throw racism up… and then you know you're winning'. For Bannon, the left's 'race-baiting' allows him to concentrate on voters' concerns about 'economics and jobs'.
The reaction to Bannon's UK trip speaks not only to an unwillingness to engage with – and where necessary, confront – ideas like his; it also speaks to a need within the modern left, a desperation almost, for a resurgent fascism to rail against. Fear of fascism now seems to be one of the few things unifying both the liberal establishment and the broader left – as we saw at the anti-Trump protest last weekend. The march's organisers attempted to inject a sense of historical significance into an otherwise weird, apolitical event by raising the spectre of fascism. Organisers imagined future children and grandchildren asking 'What did you do when the likes of Donald Trump were on the rise?'. But the carnival atmosphere, irony-laden signs and lack of coherent demands betrayed a sense that the marchers knew deep down that a Nazi takeover isn't really around the corner.
Indeed the bar for what constitutes fascism seems to get lower every day. For a writer at the Irish Times, Trump's policy of separating migrant children from their parents – as well as his decision to end the policy due to popular pressure – proves that the US is in the process of 'test marketing' fascism; 'trial runs of fascism are in full flow', apparently. One Guardian writer accuses not only Bannon, but also Farage, Brexit-funder Arron Banks and even Boris Johnson of 'supporting fascism [and] white supremacism'.
The charge of fascism tells us very little about the movements, ideas and thinkers that are labelled as such. It reveals much more about those who see fascism everywhere. Liberals and the left have become disoriented after a series of agonising defeats. Across Europe, centre-left parties are in free fall. The US Democrats were humiliated by Trump's victory, while much of the British left lined up with the establishment's losing Remain campaign. But there is no need to reckon with why they are so often on the 'wrong' side of the populist upsurges, why their world feels like it is spinning out of control, when 'fascism' offers a simple, catch-all explanation. Ironically, the left's willingness to believe the worst of voters merely compounds their disconnection from them. This is grist to the mill of Bannon and his acolytes.
Fraser Myers is a writer. Follow him on Twitter: @FraserMyers
Picture by: Getty
To enquire about republishing spiked's content, a right to reply or to request a correction, please contact the managing editor, Viv Regan.