Russia 2018: the greatest ever World Cup?
Final thoughts on an all-right England and the French revolution.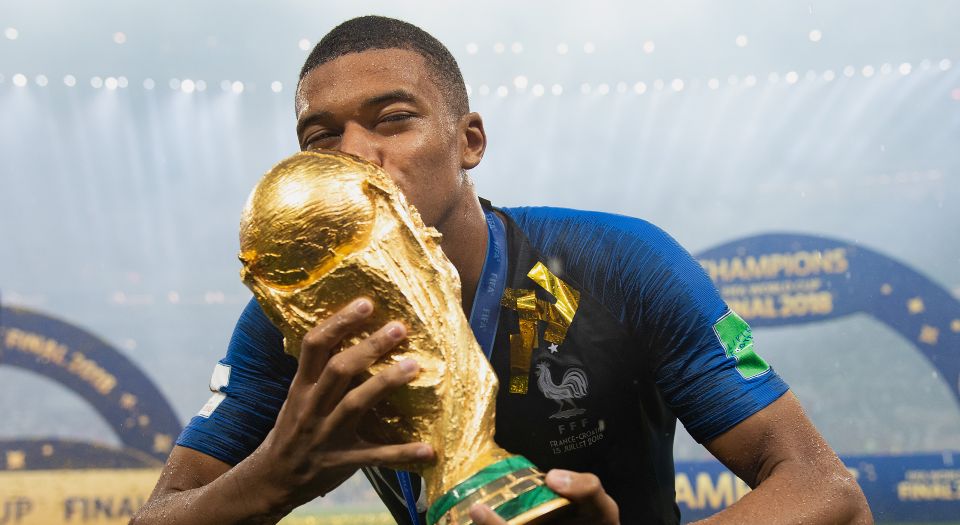 T
he game's always the thing
Everybody agrees that the 2018 World Cup has been a roaring success. Yet remember how recently we were being warned that it would be the equivalent of a humanitarian disaster?
Before a ball was kicked we were assured that English and other international fans would all be beaten up, if not eaten alive, by armies of 'neo-Nazi' Russian hooligans, and that President Vladimir Putin would cynically exploit the World Cup 'like Hitler did the 1936 Olympics', as a tool in his plot for global domination and world war.
British government ministers and officials boycotted the tournament after the poisoning of Sergei and Yulia Skripal (the expense-account restaurants of Moscow might have missed their presence, but it's unlikely anybody else did). And England squad member Danny Rose reportedly told his family 'don't come to Russia', because of 'fears that they would be racially abused'.
Questions were asked about why there were relatively few England fans at the team's opening games in Russia. In the face of such sustained scaremongering, it might rather seem a wonder that anyone braved the journey.
Yet once the actual football kicked off, what happened? None of the above. Instead the World Cup immediately became a glorious, thrilling spectacle, capturing the imagination of fans worldwide amid a rolling party atmosphere across Russia.
This follows the similar reality gaps between political scaremongering and sporting success around other recent World Cups and Olympic games, notably London 2012. It should surely be a reminder to us all to ignore the agenda-driving doom-mongers in future and remember that, in the end, the game's the thing. There is no chance of keeping politics out of sport, but we might at least try to keep sport out of politics and reject attempts to use our great sporting occasions as political footballs. (Rider: the idea of staging the next World Cup in Qatar still seems bonkers, but…)
A great World Cup – but 'the best ever'?
FIFA president Gianni Infantino has described Russia 2018 as the 'best World Cup' ever, and media reports say 'it's hard to disagree' with the top football bureaucrat's assessment. But presumably we are still allowed to.
Russia 2018 was a great World Cup, particularly compared with the recent duller editions. The compelling mix of upsets, controversies, late goals and rising stars reaffirmed the World Cup's status as the true 'greatest show on Earth', outscoring the Olympics in terms of global appeal and emotional pull.
Do the cold statistics back up the more overheated assessments? Much has been made of the 169 goals scored at Russia 2018. That did come close to the record of 171 (at Brazil 2014 and France 1998), and far outscored the totals at Germany 2006 (147) and South Africa 2010 (143).
Break the totals down into goals-per-game, however (a clearer comparison, since there were fewer matches in earlier World Cups), and Russia looks more average in the long view. Indeed at 2.64 goals per game it is in the bottom third of World Cups in those stark statistical terms, way behind the crazy-looking record of 5.38 goals per game at Switzerland 1954.
But overall goal statistics don't tell the whole story. In Russia 2018's favour, a record nine winning goals were scored in the 90th minute or later, adding to the thrills. On the other side, a record 43 per cent of all goals in Russia were scored from set-pieces, often depicted as the boring way to score.
Anyway, since when was simply seeing a lot of goals the measure of great World Cups? If that was true then the 140 scored at the 16-team tournament would make Switzerland 1954 the gold standard. And the mere 115 goals at the 32-team Italia 90 would make it the worst modern tournament, rather than the outstanding World Cup that many of us remember.
Defending is a vital part of good football, and the high number of goals from set-pieces and mistakes at Russia 2018 might look like a worrying sign of the lost art of the organised defence (hampered by rule changes that often seem to make tackling illegal, with the award of a record 22 penalties this time around).
In the end, your view on the 'greatest World Cup' is a subjective judgement. No doubt my continued vote for Mexico 1970 reflects my age, just as Infantino's opinion might be slightly influenced by the fact that Russia 2018 was the first World Cup held under his presidency. And, as with the losing football fans' eternal hope that 'there's always next season', for England supporters the best World Cup is surely always the next one.
Vive la revolution(ish)!
One thing that made Russia 2018 so compelling was the number of upsets, with almost all the great powers of world football being humbled. None of the previous three winners made it to the quarter-finals this time. Just four teams – Brazil, Germany, Italy and Argentina – had filled 18 of the 24 places in the previous 12 World Cup finals. Not one of them reached the final in Moscow; only Brazil survived as far as the semis.
Meanwhile, Croatia broke the cartel to reach their first-ever final, and Belgium came close to doing the same. So is it all change and all bets off in international football?
Yes and no. The compelling upsets in Russia do suggest that the winds of change are blowing through football, partly driven by the huge sums of money now sloshing around the game. Ultimately, however, the story of Russia 2018 was not all unpredictable anarchy, but the consolidation of a new power in international football – the deserving winners, France.
Having won their first World Cup in Paris in 1998, France have now reached three of the past six finals, as well as the final of the 2016 European championship. The French squad contained three of the five most expensive footballers ever (or will do, once Kylian MBappé's transfer to Paris Saint-Germain is completed).
This could be just the beginning of the French football empire. With an average age of 25 years and 10 months (among squad members who played a game), these French champions are younger than every World Cup winner except the famous Brazil of 1970 (25 years and nine months). The brilliant 19-year-old MBappé could potentially play in another four tournaments. Then again, youthful Brazil did not win another World Cup for 24 years after 1970. That's football, thank goodness.
Having tipped and backed them, I was happy to see France beat the fighting Croats. But stop the predictable nonsense, please, about this being a triumph for the European Union. MBappé's parents, from the former French colonies of Cameroon and Algeria, might have trouble even getting into the EU's 'Fortress Europe' from Africa today. International football is about national loyalties. There is a reason why France coach Didier Deschamps ended his victory speech on Sunday with the historic cry of 'Vive la République!' rather than 'Vive l'Union Européene'.
England in 'not too bad' shocker
The rising wave of enthusiasm behind Gareth Southgate's England was followed by an air of almost national disbelief that we had lost the semi-final to Croatia and football was not coming home after all. Both reactions confirm that, as noted on spiked during the tournament, 'the one thing we seem guaranteed to lose when it comes to our national game is a sense of perspective'.
England actually did all right, and slightly better than many of us expected before the tournament. Being beaten by a talented Croatian team was surely an advance on being humiliated by Iceland at Euro 2016. But England's record in Russia – played seven, won three, lost three and drew one (before the penalty shoot-out success against Colombia) – hardly justified the headlines about 'glory'. In the end, England confirmed their status as an ordinary collection of international players, without a star creative or controlling midfielder, relatively few of whom are now automatic choices for the top Premier League sides.
England coach Southgate won a lot of praise for his relaxed media style and creation of a feelgood factor around the England camp. His ability to do the job of coaching an international football team in a crisis, making the right selections, substitutions and tactical changes, remains open to question.
The draw and the exit of top teams meant that England were presented with their easiest-ever route to a World Cup final, but were not good enough to take that possibly one-off opportunity. I take no pleasure in being proved right about this England team's limitations. Although watching the French attack in the second half on Sunday, one was left with the sense that narrowly losing that semi-final might have been a mercy killing to spare greater pain later.
England were all right, no more or less. But they are still a young side who should get better – albeit without an MBappé among them. And in two years, football really will be coming home with the semi-finals and final of the European championships at Wembley. We live in some small hope, even though we know it is the hope that kills you.
Now can we have our ball back, please?
It was good to see millions of people evidently bursting with joy and excitement about England's progress to the semi-final.
(I even felt the mood thousands of miles away, while bizarrely watching the match against Croatia on a big screen aboard a ship floating off the coast of Alaska. After half an hour, with England leading one-nil, the ship lost its TV signal; to cheers from the crowd, the English captain ordered the bridge to change course and get it back ASAP.)
Yet throughout the World Cup party, you did not have to look very deep to find that there were, as Brendan O'Neill put it on spiked last week, 'two Englands'. There were the football fans caught up in the special atmosphere of a World Cup. And then there were those phoney fans who latched on to this multi-ethnic England team as a symbol of 'positive patriotism' – as opposed to the 'negative' national feeling behind the Brexit vote, you understand – and could still barely disguise the disdain with which they looked down upon the flag-waving, beer-drinking/chucking masses.
One reason why these types seemed so keen to identify with England in Russia was surely the relative absence of the traditional working-class supporters whom they view as 'knuckle-dragging throwbacks'. As the Daily Telegraph (which knows a thing or two about the middle classes) observed, those who did make the expensive trip to Russia for the early games constituted 'a small army of middle-class England fans' numbering 'lecturers, chartered accountants, investment bankers, company CEOs and the like'. Despite FIFA's fears, there would be no 'abusive' choruses of 'Fuck off Europe, we all voted out' from such well-heeled supporters.
When we lost, it seemed to be the new breed of faux fans at home who took it hardest and wept on cue for the cameras, seemingly in disbelief that it was not coming home after all. As Rod Liddle noted in the Spectator, those who follow football all the time are better used to defeats – especially if, like Rod, they support a team such as Millwall – and able to accept that in the end it's only a game, albeit the greatest game on Earth, the most important irrelevance in our lives.
So, we're glad you enjoyed the World Cup. Now, show your true colours and get back to berating the revolting proles for daring to wave the flag for Leave. Hands off football – and Brexit, by the way.
Mick Hume is spiked's editor-at-large. His latest book, Revolting! How the Establishment is Undermining Democracy – and What They're Afraid of, is published by William Collins. Buy it here.
Picture by: Getty.
To enquire about republishing spiked's content, a right to reply or to request a correction, please contact the managing editor, Viv Regan.