The two Englands
The World Cup has been brilliant. But it didn't bring us together.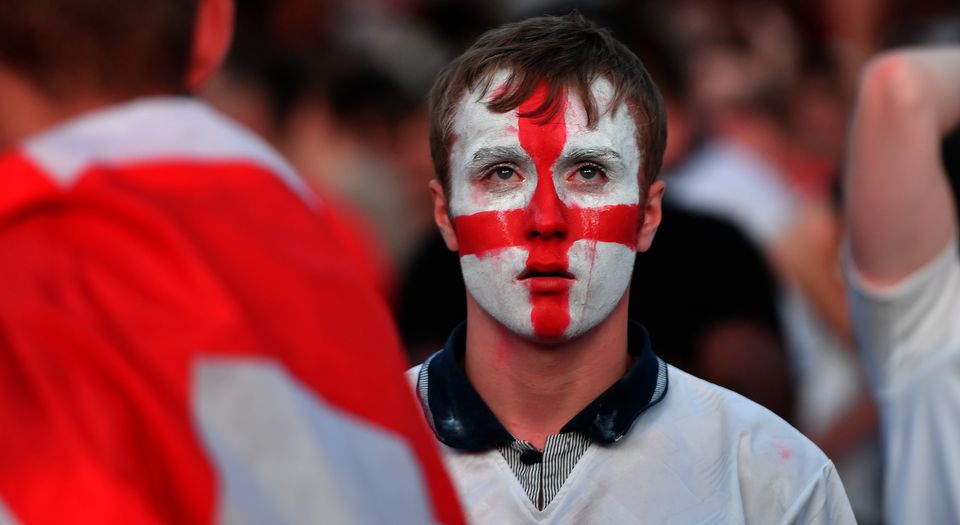 So we're back to seeing football fans as scum. That didn't take long. Even as the England team were limbering up for the game with Croatia last night, members of the great and good were out in force warning of fans' savagery. 'If England get beaten, so will she', said an anti-domestic-violence meme showing a woman with blood across her mouth in the shape of the red cross of the St George's flag. It was tweeted by the NHS and shared tens of thousands of times. It made headlines. Let's talk about the 'alarming link' between the World Cup and violence against women, said the Independent. Park your 'World Cup cheers' and think about the 'unimaginable number of women' who are suffering, said one commentator. Tweets warned of 'football hooligans' running riot in their own homes.
The subtext could not be clearer: English football fans are animalistic, incapable of self-control, a threat to women and girls. And we know which fans they're talking about. They don't mean the middle-class Johnny Come Lately fans who discovered the joys of football by reading a Nick Hornby novel and really wish those fat blokes with tattoos would sit down at the game and stop blocking little Ethan's view. They mean traditional fans, the less well-educated ones, the ones who might even have the England flag hanging from their front-room window – look away, Lady Nugee! – and who get really emotional about the game. Who see football not as some Blairite shared national experience – yawn – but as a site of passion, fury, conflict. All the articles about the brutish men who will hurt women after a game have been accompanied with photos of precisely Those People. Those dreadful people.
There are two things to say about this extraordinarily misanthropic message that spread among the Twitterati and the broadsheet press even as the rest of the nation were cheering and then weeping into their beers over England's clash with Croatia. The first is that there is very little evidence to back up this hateful, classist view of your average fan as an unpredictable beast.
The anti-domestic violence campaign itself, alongside most of the media coverage, relies on a tiny study that was carried out in one part of England – Lancashire – and which looked at reports of domestic abuse during the 2002, 2006 and 2010 World Cup tournaments. It found a 38 per cent increase in reports when England played and lost. Yet as the study itself said, 'it is difficult to say the tournament is a causal factor' in these rising reports. Indeed, it looked at mere numbers of domestic-abuse reports, not at alleged reasons for this abuse, so it is entirely feasible that many of these admissions had nothing to do with football at all. Maybe a man abused his wife after attending the opera? No, that can't be. Also, the vast majority of assault victims when there is a rise in hospital attendances during the World Cup are men aged 18 to 34. Shock, horror: men get drunk and excited and have scuffles.
And the second thing to say about the elitist depiction of working-class football fans as violent trash – a prejudice that has existed for a very long time, of course – is that it shoots down the idea that this World Cup brought the nation together. That it allowed us temporarily to forget our divisions – especially over Brexit – and to unite around the heroic figure of Gareth Southgate and his young, keen, smart but sadly not experienced enough team. There is no question that many Brits fell in love with the national team again. The World Cup brought great joy to millions of us. The atmosphere in pubs showing the games was thrilling, even moving. But this tournament didn't unite the nation. It did the opposite. It showed just how divided we are. Morally, socially, in terms of values, everything. There are now two Englands – two Britains, in fact – and the World Cup illustrated that as much as any recent political event has done.
There is the England that watches the national team and sees merely skill and talent, and there is the England that watches the national team and sees skin colour and origin and the benefits of so-called multiculturalism. Witness how members of the new political clerisy constantly talked up the diversity of the team and cited it as a reminder of what a mess we would be in without immigration.
The team, to them, was little more than a Powerpoint presentation for lecturing what they view as the vulgar, racist hordes. Ironically, they see racial beings where the rest of us merely see football players. So there's the England that obsesses over individual identity and there's the England that thinks more collectively, more nationally, for whom these players, whatever their background, are English and football players ahead of everything else.
There's the England that pursues of the promise of nationhood, and the England that views the nation as outdated. There is the England that feels national pride and sometimes even waves the English flag, and there is the England repulsed by such 'jingoistic' behaviour. Even in London itself, you can have a working-class estate adorned in England flags not far from Corbynista-inhabited parts of London where the only flag you're likely to see is the EU one. Two Londons. The England that sees itself as a nation, and the England that sees itself as a small cog in the pseudo-cosmopolitan machine of Brussels whose wise counsel is apparently preferable to the opinions of ordinary Brits. Especially the ones who wave that bloody flag and beat their wives when England lose.
And there's the England that trusts its fellow citizens and the England that doesn't. There's the England where we gathered in pubs and parks to go wild for the team, and in the process made new friends, hugged strangers, helped inebriated people into Ubers, and there's the England that frets that this heaving mass of fans will turn violent and harm women and girls.
There's the England of solidarity and the England of elitist mistrust. There's the England that sees the citizenry as largely decent and good, and the England that sees them as a volatile, gullible, unhealthy throng that requires constant guidance from on high. From racism to domestic violence, from immigration to multiculturalism, from warnings about 'inappropriate' chants to concern about overly enthusiastic flag-waving, no opportunity has been missed by the new elites to use the World Cup as a method of moral instruction for the masses.
So stop saying the World Cup brought us together. It has been a stirring tournament that thrilled millions, and Southgate, Kane, Maguire, Pickford, Dele and the rest deserve all the love coming their way. But Britain is now so split on values, beliefs and the future that even the World Cup threw this split into sharp relief. I know which of the two Englands I prefer. Like millions of others, I experienced it many times over these past few weeks, and I know it is not the foul, prejudiced, violent land of the new technocratic elite's nightmares, but rather is a place where people value collectivity over individual identity, talent over race, and pulling together rather than waiting to be enlightened by those who presume to know more than us. En-ger-land – it's not so shabby.
Brendan O'Neill is editor of spiked. Find him on Instagram: @burntoakboy
Picture by: Getty
To enquire about republishing spiked's content, a right to reply or to request a correction, please contact the managing editor, Viv Regan.