Who's the real baby here?
That Trump blimp reveals how infantile some of his critics have become.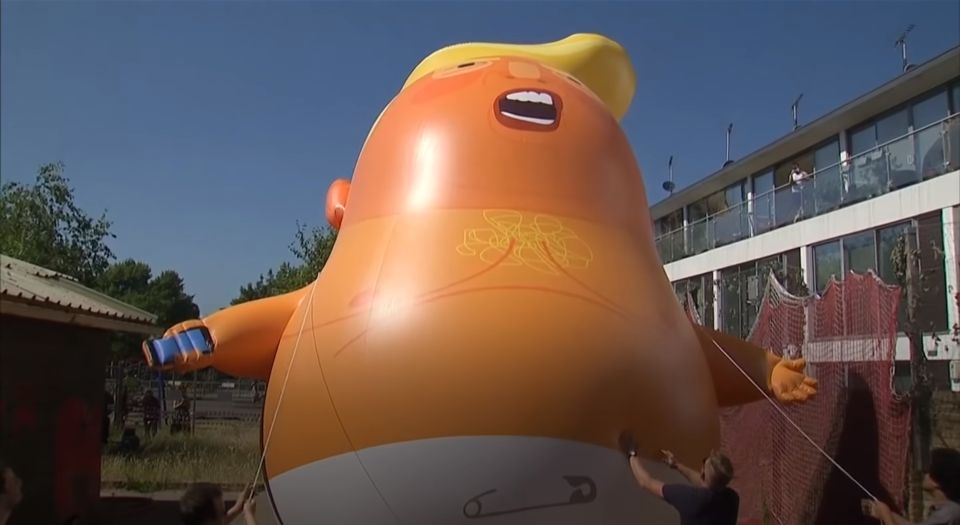 The mayor of London, Sadiq Khan, has given permission for a six-metre-high blimp, shaped like Donald Trump as an angry baby, to be launched from the gardens of the Palace of Westminster during Trump's state visit this week. A crowdfund was then set up to produce a rival blimp depicting Khan. After some prevarication, Khan agreed to let both blimps fly.
The anti-Trump stunt has been organised by environmentalist activist Leo Murray, the great-grandson of Labour politician Anthony Greenwood. Murray, who rents out two flats in a £1.8million townhouse in Hammersmith, has written a piece for the Guardian explaining his reasons, and unwittingly reminding us how unhinged the metropolitan elite's response was to Trump's election victory. 'On the morning Donald Trump was elected, I cried on the Tube', he admits. Bringing to mind a four-year-old frightened by a bad dream, he says that 'almost everything we feared about President Trump has come true'.
Commentator Owen Jones, who has spearheaded the London demonstrations against Trump, told Channel 4 News that the blimp is in the 'proud tradition of anti-establishment satire'. Apparently, it will demonstrate how Trump's misogyny, racism and homophobia are not welcome in the UK. But as a project initiated by a super-rich member of a political family and approved by the mayor of London, the Trump baby blimp is hardly 'anti-establishment'. And how 'big baby' translates to 'dangerous racist' is anyone's guess.
In any case, the protesters' claim that Trump is a uniquely evil president, perhaps even a fascist, just doesn't stand up to scrutiny. What about the litany of egregious decisions made by recent US presidents? If these protesters believe Trump's hardline immigration policy reveals an unreconstructed racism, then why didn't they bat an eyelid when Barack Obama deported more migrants than any of his predecessors? On foreign policy, Trump has made some tremendous blunders. But they hardly stack up next to the disastrous Middle Eastern wars launched by successive US presidents.
There is lots to dislike about Trump, but the idea that he is taking America down the road to fascism is childish and hysterical. What's more, the job of criticising Trump is being made all the more difficult by those who so easily slip from condemning the man to condemning the people who voted for him. Indeed, the idea that Americans have either wittingly or unwittingly elected a 21st-century Nazi implies American voters are either stupid, bigoted or both.
The Trump baby blimp reveals how infantile some of Trump's critics have become. When it flies over Westminster, it will be an embarrassing day for London and the UK, not for The Donald.
Luke Gittos is law editor at spiked and author of Why Rape Culture is a Dangerous Myth: From Steubenville to Ched Evans. (Buy this book from Amazon(UK).)
To enquire about republishing spiked's content, a right to reply or to request a correction, please contact the managing editor, Viv Regan.