Even the World Cup is about Brexit now
The elite's loathing of the flag-waving masses is now on full display.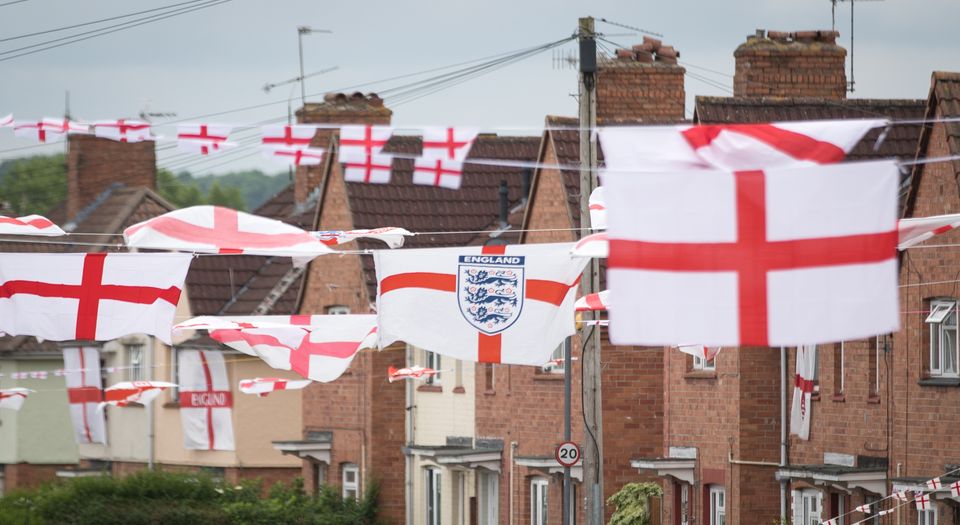 There has been much heady media talk this week about how England's early success in the World Cup has 'brought the country together again'. Come off it.
Leave aside for a moment the small matter of fellow Britons from Scotland and Wales adopting their usual 'Anybody But England' attitude to the football. The divisions within England itself which were laid bare by the battle over Brexit have been highlighted once more by attitudes to the World Cup in Russia.
On one side of the pitch stand the EU cheerleaders of the Remainer elites, who recoil in horror from any sign of support for national sovereignty, will celebrate every identity except the national one, and fear the English football flag (formerly known as the Cross of St George) as a red-and-white rag to incite bull-headed racists into a post-match pogrom.
On the other side stand the mass of largely working-class England fans, millions of whom voted Leave in support of democracy and sovereignty, and who fly the English flag because they love football, not fascism.
Before the World Cup began, England fans were issued with an official warning not to wave the flag in public – that is, not to show support for their national team – as it would mark them out as racists and imperialists in Russia. Deputy chief constable Mark Roberts, the head of football policing for Britain's National Police Chiefs Council (who knew?), announced that, 'People need to be really careful with flags. It can come across as almost imperialistic… and can cause antagonism. We really urge some caution about people putting flags out and waving them about in public.'
The liberal media were soon expressing their own flag-phobia. One Independent commentator observed that people like him wouldn't wave one because of the assumption that 'You fly the flag, you're a close-our-borders, take-back-control, I'm-not-racist-but Brexiteer who brushes away a tear at the first strains of the national anthem. You fly the flag and you're a gammon-faced Middle Englander one heart-pump away from a coronary as you spit bile from the fourth row of the Question Time audience. You fly the flag, you're a bulldog-tattooed, shaven-headed, there's-no-black-in-the-Union-Jack sports casual yomping around London fuelled by cheap lager and steak bakes, demanding the release of the English Defence League's jailed founder Tommy Robinson.' And they talk about Leavers exhibiting sweeping irrational prejudices…
This is surely one reason why there were noticeably fewer England flags on show in some areas before this World Cup. It wasn't only about the (understandably) lowered expectations attached to the team. It was also about Brexit.
The Remainer elites rely on a fantasy version of recent history, which says they lost the EU referendum not because they lost the argument, but because of a wave of racism and xenophobia sweeping UK society. For these fantasists, a red-and-white England flag has become a symbol of this nascent fascism. They imagine that picture of a south London housing estate shown across social media, where an England flag hangs from the balcony of almost every flat, to be a symbol of white power and 'privilege', rather than of a marginalised traditional working-class community. Never mind that these people are expressing colourblind support for an England squad in which 11 out of 23 players are black or of mixed ethnicity, compared to six England players at the 2014 World Cup.
Now FIFA – the footballing arm of the Western cultural elite – has spelt out the Brexit connection in the campaign to show the red card to flag-waving fans. FIFA bosses have reportedly threatened to punish England if fans dare to break its autocratic rules on 'displaying insulting or political slogans in any form' or 'uttering insulting words or sounds'.
What offence were the England supporters being warned against? Singing the ditty, 'We're all voting Out / We're all voting Out / Fuck off Europe, Fuck off Europe / We're all voting Out!', as they did at Euro 2016 (changed to 'We all voted out' after the referendum). At the time FIFA issued this warning, no England fans had actually been heard singing it in Russia. But the soccer-crats feared that Thursday night's match against Belgium – capital, Brussels, geddit? – could cue an outburst of 'insulting words and sounds' aimed at the EU. Hopefully their threats put the idea in some fans' heads and mouths.
No doubt if England continue to survive in the World Cup, more politicians and public figures will try to jump on the popular bandwagon; the Sun has a petition calling on the government to fly the 'Three Lions' flag down Whitehall. But few would be fooled by such gestures; we know what they really think of us by now.
Even before the Brexit vote, Labour's shadow foreign secretary, Emily Thornberry, a key left-wing ally of Jeremy Corbyn, was infamously sacked by former Labour leader Ed Miliband for tweeting her contempt for an Essex 'white van man' flying an England flag. (When Thornberry went for lunch with the Westminster press corps this week, they draped the entire room in red-and-white. One-nil to the free press!) These prole-despising politicians even make Tony 'New Football' Blair almost look like a man of the people by comparison.
Even in the past, some of us on the left never saw a contradiction between opposing Britain's imperialistic adventures abroad and supporting the England football team. Today many of those supporting the England flag look like the real British radicals – Leave voters responsible for the biggest democratic revolt against the establishment in our modern political history.
We might even recall that the old saying 'Patriotism is the last refuge of a scoundrel' was coined in another age by the Tory Samuel Johnson, to decry self-styled patriots such as the English revolutionary Thomas Paine. Today, in a penalty shoot-out between democracy-and-sovereignty-despising Remainers and revolting flag-waving Leavers, I know which side I'm on.
Mick Hume is spiked's editor-at-large. His latest book, Revolting! How the Establishment is Undermining Democracy – and What They're Afraid of, is published by William Collins. Buy it here.
To enquire about republishing spiked's content, a right to reply or to request a correction, please contact the managing editor, Viv Regan.