Rachel, spare us your partisan tears
Anti-Trump emotionalism has become a menace to reasoned debate.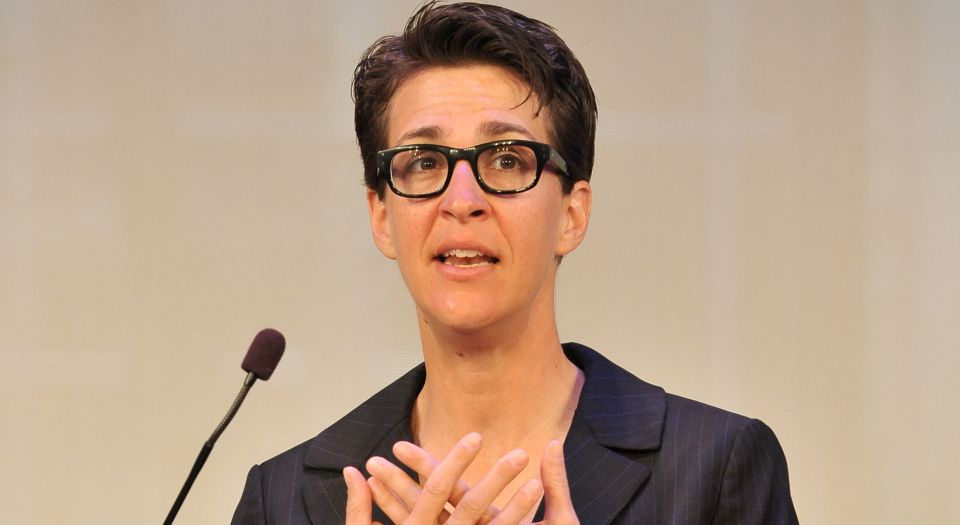 Why is Rachel Maddow made more upset by Mexican infants being temporarily taken from their mothers than she is by the bombing to death of 27 Libyan women and children, most of whom were asleep in their beds at the time? Or to put it another way: why does Ms Maddow weep over bad things Trump does where she never did, at least not publicly, over the bad things Obama and his war-mongering sidekick Hillary Clinton did? Welcome to the era of partisan tears, where you'll win liberal pity only if the politician making your life a misery is someone they already hate. If it's someone they like, screw you – you're on your own.
Maddow, the embodiment of the pained, performative liberalism that is widespread in East Coast circles, is a presenter on MSNBC. This week she choked up as she read out a news release from Associated Press. The story concerned the opening of three 'tender-age' shelters in South Texas, to which the Trump administration is reportedly sending the very young children of adults who cross the Mexican border illegally. Maddow began to weep. She turned away from the cameras and asked her producers to flash up some graphics while she regained her composure. Cue an outburst of social-media solidarity. 'I'm weeping too', virtually everyone said, for what's the point in weeping these days if you don't tell everyone about it? The unrecorded tear is a wasted tear in our narcissistic era.
Ms Maddow's reaction was very probably genuine. It would take a hard heart to impute theatrics into her weeping. But two things are nonetheless striking. First there's the fact that Ms Maddow and the army of online emotionalists who live-tweeted their weeping alongside hers somehow managed to maintain eyes as dry as the Sahara during far worse things done by previous administrations.
Where were their sobs when Obama and Clinton's misadventure in Libya not only killed the aforementioned 27 women and children but also contributed to the destabilisation of Libya and to the exodus of more than 600,000 Libyans? And often into far worse conditions – crowded camps on the Tunisian border; a repressive life in Egypt; the perilous Mediterranean Sea towards Europe – than the kids being taken into tender-age shelters in Texas will experience. Why didn't they cry when Obama ramped up the deportation of Haitians in 2016? 'Natasha Joseph's almond-shaped eyes brim with tears as she cradles her pregnant belly', started one report about a Haitian woman who was thrown out of the US while her husband was imprisoned in Arizona. Her husband would not witness the birth of their child. Shattered Haitian families don't deserve public weeping, it seems. Because the shattering was done by politicians these people admire.
On it goes. Trump's talk of a Mexican wall has liberals reaching for their tissues, but the massive security fence between the US and Mexico that was given the green light by Hillary, among others, went virtually unnoticed. When Trump used an executive order to restrict travel from certain Muslim-majority countries, it was the return of Nazism. When the Obama administration used an executive order to terminate travel privileges for inhabitants of certain Muslim-majority countries – thus making it harder for them to get to the US – it wasn't Nazism. It was just politics. Obama was still cool. They still tweeted gushingly about him every time he declared his undying love for Michelle.
What these double standards in emotionalist performance point to is a situation where even charitable concern, even liberal feeling, has become a hyperpartisan affair. In this era when politics is increasingly marshalled to the cause of moral preening, when activism is less about changing society and more about advertising how caring you are, more and more areas of life have come to be politicised. How you parent, what TV shows you watch, your once private religious beliefs (or lack thereof), and now even who you're willing to cry over (Mexicans, yes; Libyans, not so much)… all of these facets of life are increasingly tools of political oneupmanship, means of moral distinction, ways to show you are better than those other people who live, believe and think differently to you. It is sadly not surprising that even crying is now a partisan matter. If your tears make a neat political point – like 'Trump is bad' – let them out. But if they would only complicate things – such as by suggesting Hillary isn't all apple pie – keep 'em in.
And the second striking thing about Maddow's furiously retweeted tears is how they're being talked about: essentially as proof that liberals are decent, feeling people whereas Trump and the brainless mob who voted for him are cruel and heartless creatures. As one writer put it, Maddow's 'on-air breakdown' exposed 'the empathy gap in politics'. Her weeping apparently says 'everything there is to say about the ideological divide in America right now' – my emaphasis – which is apparently between liberals capable of empathising and those who are 'cold, unfeeling'.
This splitting of people into emotionally switched-on and emotionally dead camps is happening everywhere. Witness all the historically illiterate Holocaust-talk over Trump's child-migrant policy. The idea is that society is now divided between good, crying people who would never have fallen for Hitler's schtick and the moronic, Trump-backing masses who most likely would have. '[I now understand] how Hitler managed to get everyone onside', said famously emotionally-correct singer Lily Allen this week. There is a darkly ironic dehumanising bent to this Nazi blather: the message is that those Other People, those flyover-state people, those people who are less educated and less emotional than us, would have been perfect witless fodder for fascism. Because they're barely human. They don't even cry over what is happening in Texas.
The Maddow spectacle confirms that anti-Trump emotionalism is now a menace to reasoned debate. With its exploitation (and thus denigration) of the Holocaust, and its preference for kneejerk emotion over rational analysis, and its fostering of a new therapeutic divide to replace the meaningful ideological splits of old, anti-Trumpism looks increasingly like a rash and elitist pseudo-movement in which signalling your sorrow and shame is far more important than putting forward a political critique or political ideas. 'I fucking hate Trump' – that's all they have.
Brendan O'Neill is editor of spiked. Find him on Instagram: @burntoakboy
Picture by: Getty
To enquire about republishing spiked's content, a right to reply or to request a correction, please contact the managing editor, Viv Regan.