Bilderberg: wrestling with cops in Turin
What it's like covering the global elites' top-secret get-together.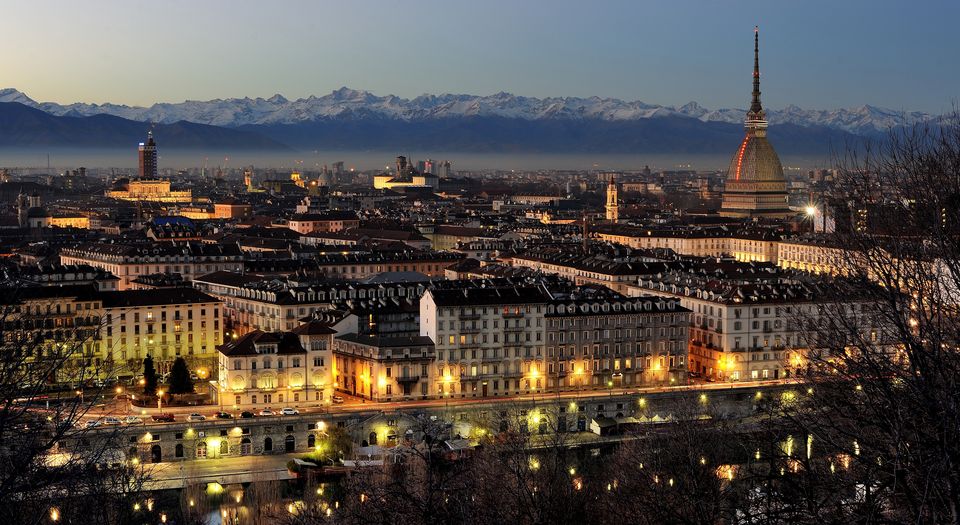 Two weekends ago, I was in Turin, watching as another Bilderberg conference slid quietly into history. The eminent participants were heading home: the prime ministers to their cabinets, Mark Carney to Threadneedle Street, the head of NATO to his Brussels HQ, and Henry Kissinger to his favourite perch atop an Aztec tower of skulls, where he will rest and groom and murmur songs of thanks to Oxomo, the goddess of night.
Incredibly, Kissinger has been coming to Bilderberg, an annual private conference for members of the Western political elites, for more than six decades. His first was in 1957, just three years after the conference was founded. Ever since its inception, this elite transatlantic thinktank has been a driving force behind the political and economic unification of Europe.
A leaked report from the inaugural conference in 1954 shows that 'European integration' was one of the four main topics discussed. The participants agreed that 'European unity' was 'a necessity of our times'. And by the time of the third conference this consensus was even fiercer: 'It was generally recognised that it is our common responsibility to arrive in the shortest possible time at the highest degree of integration, beginning with a common European market.'
Kissinger and his fellow globalists spent the next several decades nurturing the EU into existence, and the last few years desperately trying to stop it falling apart. In the run-up to the Brexit referendum two summers ago, members of Bilderberg's inner circle of bank bosses and corporate CEOs lobbied hard for a Remain vote. But they found themselves swimming against a tide of populism.
And the problem hasn't gone away. At the very top of this year's agenda was 'Populism in Europe'. Which means that at the Turin conference, populism was being discussed by an elite group of Europhiles and technocrats, behind closed doors, at a private summit thrown by a billionaire, in a country that is currently swerving towards populism. Ironico, as they say round these parts.
The billionaire host of Bilderberg 2018 was John Elkann, the chairman of Fiat Chrysler and the head of Exor, the holding company for the Agnelli family's business interests. Elkann recently tapped George Osborne to be chairman of an advisory council at Exor. Osborne was already a regular at Bilderberg, but this juicy new job is another step towards the upper echelons of power.
Osborne managed to wangle an invitation to the Turin summit for his protégé and former parliamentary private secretary, Amber Rudd. It must have been nice for Rudd to be able to lick her Windrush wounds among the mega-rich and powerful of Bilderberg. Three days of private politicking with bank bosses, Silicon Valley investors and Wall Street tycoons – how delightful! And yet, when I spotted her leaving the conference venue on the Sunday afternoon, she wore a face that looked not unlike an arse that had just been fulsomely slapped.
At this point, the enormous security operation for the publicity-shy conference was winding down. Most of the police and private security and soldiers had gone home. I'd already filed my reports, and the horrible tense atmosphere surrounding Bilderberg was lifting.
Then suddenly everything went extra-horrible.
Watching Rudd wheel her suitcase morosely towards a minibus I decided to snap a photo. That, it turns out, was a bad decision. I've never actually been attacked by a bear, so I don't know what that's like. I imagine it's pretty unpleasant. But I do know what it's like to have Italy's angriest policewoman come at me like Joe Pesci on benzedrine.
The officer barged me back on my heels, whacking wildly at my camera, and in my considerable dismay I found my thoughts turning to the nature of truth. As the officer's wiry knuckles whitened on my wrists, I pondered Heidegger's definition of truth as 'unconcealment' – bringing things out of hiddenness. Some things, it turns out, are harder to unconceal than others.
While the policewoman and I tussled clumsily in the soft afternoon sun, I glanced over at the minibus. Out from behind it emerged the stately ex-president of the European Commission, José Manuel Barroso, now chairman of Goldman Sachs International. It would have been the perfect two-shot, politician and banker outside Bilderberg, but it was not to be. A second set of Italian fists fastened hard on my forearms, the camera was yanked from my hands and I was surrounded by a half-dozen furious cops. Two of them scuttled off with my camera and began scrolling through my photos. Another searched my bag and wallet.
In their time, Rudd and Barroso have both been vocal supporters of political transparency. Barroso in particular made a point of championing transparency and openness in dozens of his presidential speeches. Then along came a cushy job at Goldman Sachs, a company with long links to Bilderberg, and José Manuel was ushered inside the group's inner circle. Transparency suddenly became less of a priority than omertà.
Barroso was offered a seat on Bilderberg's steering committee, which means that he's now a fully paid-up member of an organisation with such a resolutely negative stance towards the press that reporters outside its annual conference routinely get harassed just for trying to cover it.
Just before coming to Turin, the Wall Street Journal columnist and Bilderberg regular Peggy Noonan wrote that in politics we are suffering 'an epidemic of tactlessness, which is an absence of respect for the other side'. But I find it hard to muster much respect for the institution of Bilderberg when, with a perfectly straight face, it publishes a conference agenda featuring the topic of 'the "post-truth" world'. The term refers to that cluster of related ideas and phenomena which includes bots and trolls, 'alternative facts', fake news, the explosion of cynicism and the erosion of trust in politics.
In the ideological landscape of Bilderberg, a post-truth world is one in which populism runs riot. Distracted by fakery, people have lost faith in rationality; they've been tricked into turning away from globalisation and forgotten the truth that gigantic supranational institutions are actually better for them.
And yet Bilderberg itself has a relationship with truth and facts that is dysfunctional at best. The way it does business, behind tightly closed doors, away from the dreaded public and press, goes hand in hand with a pathological unwillingness to portray itself truthfully. The current chairman of the group's steering committee and vice-chairman of Nestlé, Henri de Castries, has said that there was 'nothing to communicate' about the Bilderberg conference. In Turin there were three days of formal talks attended by four prime ministers, two central bankers, the secretary general of NATO, the German defence minister, the head of UNESCO, and the secretary of state of the Vatican — and at the end of it, nothing to report. Nothing.
Also, it doesn't get much more post-truth than having the memory card of my camera wiped so that I can't tweet out a photograph of an elected member of parliament at an event attended by a board member of Twitter.
If Bilderberg were just a series of private meetings, with no public figures attending, then none of this would much matter. But Bilderberg's history is woven into the fabric of postwar transatlantic politics, and its present is crammed with extremely senior ministers, parliamentarians and public administrators. The group has been instrumental in the creation of the EU and remains an important forum for the development and shaping of transatlantic economic and security policy. It's not enough to say 'nothing to see'. And anyway, we'll be the judge of that.
Here's a better idea: accredit some journalists, hold a press conference, and the reporters can decide if there's something to report or not. We'll all speak to each other with respect and tact, and no one has to wrestle any cops. And who knows, if it all goes well, it might be the beginning of a beautiful friendship.
Charlie Skelton is a writer and journalist. He is currently script editor of Frankie Boyle's New World Order. Follow him on Twitter: @deYook
Picture by: Wikimedia Commons
To enquire about republishing spiked's content, a right to reply or to request a correction, please contact the managing editor, Viv Regan.