Weinstein: heading for a #MeToo mistrial?
The media have already pronounced him guilty.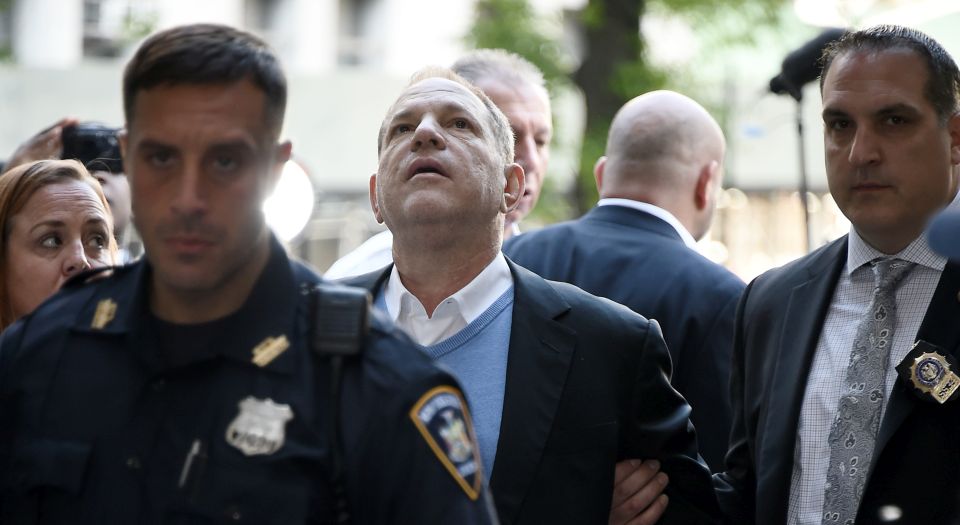 So much has happened since #MeToo was first tweeted in October last year. Countless women have shared stories of rape, sexual assault, unwanted touching, inappropriate comments, and bad dates. Scores of men have been named and shamed, their alleged bad behaviour prompting public outrage. But despite accusations, apologies and counterclaims, what's been missing is due process. Criminal proceedings involving actual police investigations, lawyers, courts and juries have been notable by their absence.
This might be about to change. Harvey Weinstein, #MeToo's original and most infamous hate figure, has handed himself in to police in New York. He has been indicted on charges of rape and a criminal sexual act in response to allegations from two women relating to incidents said to have occurred in 2004 and 2013. Actress Lucia Evans alleges that in 2004 Weinstein forced her to perform oral sex. In 2013, Weinstein is alleged to have raped a woman who has not been identified. Weinstein denies all the charges against him. He has been granted bail for $1million on condition of electronic monitoring.
Anyone concerned with justice or women's rights should be pleased that Weinstein will face trial. It is far better to have accusations of rape and sexual assault tested in a court of law, where evidence from both parties can be heard and assessed by a jury. If found guilty, Weinstein deserves to be punished. But for the trial to be fair, for justice to be done, the important legal presumption that the accused is innocent until proven guilty needs to be maintained.
Unfortunately, in Weinstein's case, the #MeToo movement may have made justice impossible. On TV debate shows, in newspaper columns and on social media, Weinstein was found guilty immediately after the accusations were made against him. #MeToo's proponents argue that women making claims of sexual abuse must always be believed. Any hint of questioning, the tiniest slither of doubt, the remotest claim of innocent until proven guilty, is considered an act of treachery. The accuser is holy now. When evidence is no longer needed in order to find someone guilty, when allegations alone are enough, the more accusations that are made against a person the more guilty they are assumed to be. This is not just bad for Weinstein – it is bad for his alleged victims, too.
It will be virtually impossible to find members of a jury that have not formed an opinion on Weinstein. The pressure on all concerned to bring about a conviction will be immense. Weinstein's lawyer, Ben Brafman, has already expressed disquiet that the details of the charges were not made known until just before Weinstein's indictment. Brafman says: 'By virtue of some of the publicity that has occurred… the ability for people to keep an open mind is of concern to me.' The huge publicity given to allegations made under the #MeToo banner makes it unlikely that Weinstein's trial will take place without a view to how it plays out on social media.
#MeToo's proponents are already on the defensive. Novelist Ian McEwan said this week that he had 'degrees of scepticism' about the charges against Weinstein. 'I am going to withhold judgements until I have heard the arguments in court', he argued, not unreasonably. The response to this heresy was swift and unforgiving. Catherine Mayer, co-founder of the Women's Equality Party, criticised McEwan for crying 'rough justice' about the treatment of alleged offenders while querying the testimony of the victims. She told The Times, 'He's seeing multiple women speaking about these things as a mob, when it is actually evidence of the crime at scale'.
To Mayer, juries and courtrooms are an unnecessary expense. She has found Weinstein guilty of every accusation levelled against him all on her own. Presumably, she had unprecedented access to the many hotel rooms across the world where Weinstein is alleged to have carried out his crimes. Meanwhile, Stella Duffy, another founder of the WEP, claimed it was 'seriously disturbing' for 'comfortable, white, privileged men' to dismiss the #MeToo movement as a mob. It is, however, apparently acceptable for comfortable, white, privileged women to abandon hard-won legal precedents. No matter how many accusations are made against an individual, due process demands that people have an opportunity to defend themselves.
Weinstein's lawyer has called the 2013 rape charge against him 'absurd'. He says that he and his accuser had a decade-long, consensual sexual relationship that began before and continued after the alleged attack. Of course, an ongoing relationship does not preclude rape.
Yet ironically, for those already convinced of Weinstein's guilt, it is the #MeToo movement that has relativised the crime of rape. The #MeToo banner validates every negative interaction women have had with men, from the criminal to the annoying, from rape to unwanted compliments, from sexual assault to staring. Within this context, rape comes to be seen as just one point on a continuum of male bad behaviour.
#MeToo's proponents are currently throwing their hands up in horror at Germaine Greer's recent comments that rape is rarely a violent crime. Greer has argued that rape is often not violent but is simply 'bad sex', where consent is neither asked for nor formally granted: 'Sex where there is no communication, no tenderness, no mention of love.' For all their outrage, Greer's critics make the same point when they place rape under the same heading as knee-touching. Both Greer and the #MeToo activists think rape is unwanted sex. The difference is that Greer thinks women can deal with this and men do not deserve severe punishment, whereas #MeToo's proponents think women are irrevocably damaged by sex without formal consent and men can never be punished enough for committing such a heinous crime.
Greer and McEwan both raise questions about the definition of rape and the nature of justice. These issues are in vital need of debate. Sadly, the #MeToo circus that will no doubt surround Weinstein's trial makes such discussion impossible.
To enquire about republishing spiked's content, a right to reply or to request a correction, please contact the managing editor, Viv Regan.