The unpardonable offence of 'flash nigger' Jack Johnson
Why the first black heavyweight world champion was framed.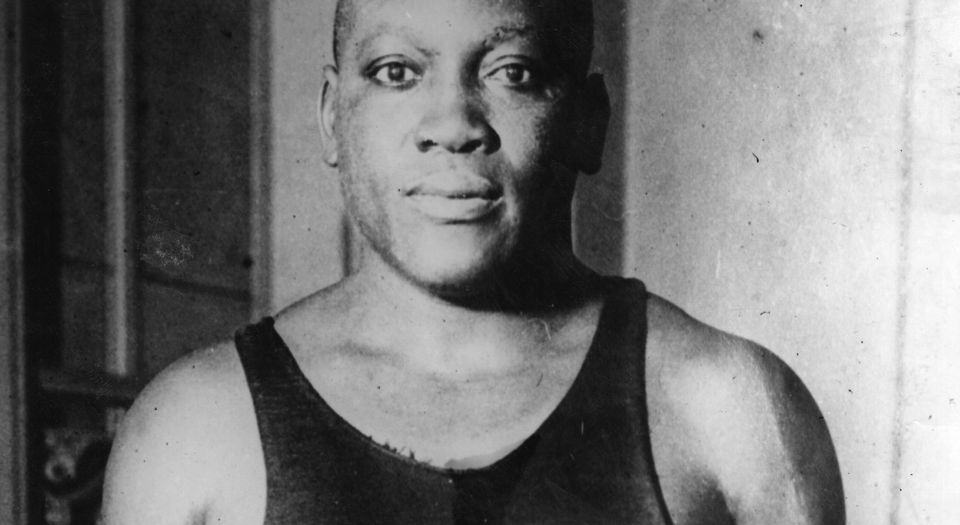 Seconds out, round 37. Last week President Donald Trump posthumously pardoned Jack Johnson, boxing's first black world heavyweight champion, sentenced to jail in 1913 for transporting a woman across state lines for 'immoral purposes'; in other words, he was convicted of the heinous crime of having sex with a white woman. After Trump – flanked by Sly 'Rocky' Stallone and former boxing champs, including Britain's Lennox Lewis – announced the pardon to right 'what many view as a racially motivated injustice', fans and opponents did their routine sparring over what it meant.
In the red corner, President Trump's supporters declared that it proved their man is far from the 'alt-right' white supremacist figure often portrayed, and delighted in pointing out that his presidential predecessor, Barack Obama, had refused to pardon Johnson. 'Supposedly the president's a racist, okay?', scoffed Trump's former White House spokesman Anthony Scaramucci, 'So this is obviously ironic, that he's one of the least racist people that we all know'.
In the blue corner, Trump's critics dismissed the president's pardon as a self-serving stunt designed to distract from his racist policies and score fake points against Obama's legacy. Jeffrey T Sammons, professor of history at New York University, tweeted that it was 'a cynical, empty public-relations gesture that tells us that the only good black man is a dead black man, by someone who lied about [President Obama] and uses black athletes as #red meat to his base'.
Break! Let's leave for now the latest round of US political shadow-boxing – in which nobody ever really lands a punch – and get to the main event. Why was the world champion railroaded to jail in the first place? And why has it taken officials more than a century to clear his name?
A glance back at Johnson's story reveals that, for all the shrill talk of a rising tide of racism and even 'fascism' today, Trump's America bears no comparison to the virulently racist society in which Johnson fought before and during the First World War.
Born in Galveston, Texas in 1878 – just 13 years after the abolition of slavery – Jack the 'Galveston Giant' Johnson became a boxer in the heyday of discriminatory Jim Crow laws and racial segregation. An informal colour bar meant no black man was even allowed to fight for the world title; Johnson first came to prominence in 1903 by winning something called the 'Coloured Heavyweight Championship of the World'.
Johnson smashed through that barrier in style, beating anybody who dared to fight him and finally needling the white Canadian world champion Tommy Burns into meeting him in Sydney, Australia on Boxing Day 1908. To the consternation of the white crowd and the watching world media, Johnson battered Burns around the ring, all the while smiling and taunting the champ and his supporters: 'Come and get it, little Tommy. Who told you I was yellow? You're WHITE, dead-scared white, white as the flag of surrender.' Finally, in the 14th round, the police invaded the ring to prevent a knockout. Johnson was declared the first black world heavyweight champion, and the Western world recoiled as if struck on the chin.
The mood of the time was famously captured by American writer Jack London – author of the adventure novels White Fang and The Call of the Wild – who reported on that fight for the New York Herald and other newspapers. London was considered an ardent American socialist. Yet he freely admitted that he wanted Burns to beat Johnson because, 'He is a white man and so am I. Naturally I wanted to see the white man win.' London added that it would be natural for Johnson to take a similarly race-based view of the world; early evidence of embryonic identity politics, perhaps.
Despite this prejudice, London's report was clear-eyed in its assessment of the title bout. 'The fight! There was no fight! No Armenian massacre could compare to the hopeless slaughter that took place in the Sydney stadium. The fight, if fight it must be called, was like that between a pygmy and a colossus' – with the white man cast in the role of pygmy, of course.
As the desperate worldwide search began for a 'Great White Hope' who could beat Johnson and restore 'the honour of the White Race', the end of London's Herald article was a rallying cry for a famous former champion to come out of retirement. 'Jim Jeffries must now emerge from his alfalfa farm and remove that golden smile from Jack Johnson's face. Jeff, it's up to you. The White Man must be rescued.' (Some versions omit that last sentence, but even without the punchline the message is clear.)
Jeffries agreed to challenge Johnson, he said, 'for the sole purpose of proving that a white man is better than a negro'. Billed as the 'Fight of the Century', it took place in the desert heat of Reno on 4 July 1910 in front of a packed white crowd confident that their man Jeff would win. As the account in one of my father's old boxing books has it, 'They hadn't come to see a fight; they had come to witness an execution… They were 42,000-to-one before ever the bell went for the first round. The most popular tune the band played that day was "All Coons Look Alike to Me".' (Denzil Batchelor, Jack Johnson and His Times, 1957.)
Once the bell went, it was indeed clear that they were not watching a fight, but the drawn-out execution of Jeffries by the majestic, smiling Johnson, who toyed with the ex-champion and found time between throwing punches to throw jibes at his many enemies ringside. When the result became known – and later when the film of the fight was shown – violent race riots rocked a dozen American cities; it has been estimated that up to 26 black people were killed. The film was quickly banned, and erstwhile boxing fans such as former US president Teddy Roosevelt overnight became fans of banning prize fights altogether to avoid any humiliating repetition.
Contrary to the words of that racist song, the world had never seen a black man quite like Jack Johnson before. In the ring he mocked his opponents as 'white trash' while waving and laughing at the Ku Klux Klan fans in the crowd. Outside the ring he loved to add insult to injury by flaunting his money, flash cars and white women (he would marry three of them) in all the best places from Chicago to Paris, becoming 'romantically linked' with everybody from the German spy Mata Hari to the film star Mae West. In an age when black men in the southern states risked being lynched for looking at a white woman, Johnson not only looked racism in the eye, he spat in it and smiled for the camera. Little wonder he has been called 'the bravest man in America'.
Nor was it only America. After Johnson destroyed Jeffries, the champion took his new white bride on a 'working' honeymoon to Europe. He was met by enthusiastic crowds in London, where he hoped to fight the British champion Bombardier Wells, but the home secretary obtained an injunction banning Earl's Court from staging such a contest. 'Public sentiment of the day was outraged at the suggestion of a Black versus White fight', says Denzil Batchelor's old account, adding that the English establishment might have been more distressed 'because they were well aware of the probable result'.
When Johnson was reduced to appearing on the Oxford Music Hall stage instead, an appreciative article in The Times noted with some regret that in his own country the champion 'passed as a "flash nigger", a type not to be encouraged by those who have to keep tens of millions of black men in subjection to the dominant race'.
Unable to defeat the 'flash nigger' in the ring, the US authorities set about bringing him down outside it. That was the spur for his 1913 conviction, at the second attempt, under the Mann Act, properly called the White Slave Traffic Act. This notorious law made it a federal crime to transport across state lines 'any woman or girl for the purposes of prostitution or debauchery, or for any other immoral purposes' – a definition so broad it could be used to criminalise any sexual relations of which the state disapproved, especially interracial sex. (Other prominent Mann Act 'criminals' would later include Chuck Berry.)
Johnson was sentenced to a year in jail, even though the 'offences' of which he was convicted occurred before the act became law. Released on bail pending an appeal, Johnson fled the US with his new wife Lucille Cameron (one of the white women he was accused of 'trafficking'). He would spend seven years in exile, making a few half-hearted title defences – the last in Paris in 1914, when more than 3,000 French women joined the glamorous crowd to watch the sex-machine champion on the eve of world war – bullfighting in Barcelona, beating up would-be street muggers while appearing in a London variety show. In all of Johnson's wild-living travels around the world, the only person he met who could match his notoriety (and libido, if not his dress sense) was surely the 'Mad Monk' Rasputin in pre-revolutionary Russia.
A paunchy, unprepared Johnson finally lost his world title in Havana, Cuba in 1915, knocked out by white American Jess Willard in the 26th round of a scheduled 45-round contest, having reportedly dominated the first 20 rounds. (Today no title fight lasts longer than 12.) He eventually returned to the US and to jail in 1920. After living another quarter century in the fast lane Johnson died there aged 68, crashing the big roadster that was all he had left of the old high and handsome lifestyle.
The framing of Jack Johnson was, as President Trump acknowledged last week, a blatant case of 'racially motivated injustice'. Writing during the champ's years in exile, the black American writer and activist WEB Du Bois observed that similar accusations of moral 'character' defects and 'marital troubles' did not seem to disqualify white sportsmen from competing or even white statesmen from holding office, never mind send them to prison. Why had Johnson been singled out? 'It comes down then, after all', concluded Du Bois, 'to this unforgivable blackness'. The judge who sentenced Johnson to jail conceded that others convicted of similar charges had only been fined, but concluded that, since this defendant was such a famous black man with 'far-reaching' influence, 'the court is bound to consider the position he occupied among his people' and make an example of him. It was a racist showtrial, more of a foregone conclusion than any fixed fight.
Why, then, has it taken more than a century formally to clear Johnson's name? There have been several attempts to obtain a pardon, backed by films and plays about his story (The Great White Hope, 1970; Unforgivable Blackness, 2005). Yet they were knocked back by presidents who refused to sign the pardon – most recently by Barack Obama, America's first black president.
Explaining a decade ago why President Obama would not pardon Johnson, attorney general Eric Holder agreed there was 'no question' that the case was an historical injustice, but said there were also 'countervailing concerns at the way he treated women' and 'a history of domestic violence accusations against Johnson'. Just last week the Chicago Tribune added that these 'reports of womanising and physical abuse added an element of controversy that has only grown during the current era of #MeToo'.
It appears that the fashion for automatically accepting allegations of sexual misconduct as facts, and judging past events by the politically correct standards of today, has reached the point where decades-old 'reports' and 'accusations' can now be treated as hard evidence, even though the accused and accusers are all long dead. There seems little doubt that Jack Johnson, of whom it has been said that 'sexuality was his essence, the driving force behind his success', would not have met the modern standards of sexual etiquette demanded by #MeToo. But how could the Obama regime have deemed 'reports of womanising' to be a 'countervailing' argument against clearing the victim of a racist frame-up for alleged white-slave trafficking?
In fact, there has always been a strong anti-Johnson sentiment among self-consciously respectable black politicians and leaders. In the words of The Times of London from 1911, some in the black community have long seen him as 'a flash nigger' too concerned with money and sex and celebrity. In his fine 2004 book, Unforgivable Blackness, Geoffrey C Ward quotes Booker T Washington, a figurehead of 'respectability politics' among American's early aspirant black middle classes until his death in 1915, protesting that Johnson's wild behaviour was 'misrepresenting the coloured people of this country'. This was the result, preached Washington, of 'educating a man to earn money without due attention having been given to his mental and spiritual development'. He might as well have branded the vulgar Johnson 'uppity'.
Even today, some social-justice activists seem anxious to distance themselves from Johnson. Earlier this month a writer in the Guardian insisted that, 'When he stood up to white America – something that took huge personal courage – it was to help himself rather than African-Americans as a whole. He expressed no solidarity with other black Americans and even took pains to distance himself from their spokesmen.' Johnson, he wrote with disdain, 'lived a philosophy as free from identity politics as a Fox News commentator' (and such freedom is supposed to be a bad thing?), before suggesting that Trump might even pardon this black individualist as 'a kindred spirit'.
We might agree with that writer that Jack Johnson was no 'role model for black activists' today. He was much more than that. As documentary-maker Ken Burns says in his 2005 film Unforgivable Blackness, 'For more than 13 years, Jack Johnson was the most famous and the most notorious African-American on Earth'. The fact that the first black heavyweight champion of the world achieved that fame and notoriety on his own terms is a testament to his admirable strength. Unlike the magnificent and much-loved Muhammad Ali (who liked to say 'I AM Jack Johnson'), Johnson did not take on the American establishment and 'shake up the world' with a growing mass movement for black civil rights behind him. Instead, Johnson laughed in the face of old-fashioned lynch-mob racism with little or no solidarity, armed with two fists and a sharp tongue. Balls of steel and an uppercut to match.
Jack Johnson was the first and last of his kind. After he lost the title it would be another 30 years before a second black boxer, Joe Louis, became heavyweight champion, in 1937. Louis perfected an image sometimes described as 'the good negro' – respectable, conservative, never seen in public with white women. America embraced Louis as 'The Brown Bomber', arguably the first black all-American hero. A 'Jack Johnson', however, was a real bombshell; it was the nickname given to a fat First World War shell that blew the old order to kingdom come.
Mick Hume is spiked's editor-at-large. His new book, Revolting! How the Establishment is Undermining Democracy – and What They're Afraid of, is published by William Collins. Buy it here.
Picture by: Getty.
To enquire about republishing spiked's content, a right to reply or to request a correction, please contact the managing editor, Viv Regan.