Just say Yes
Brendan O'Neill reports from Dublin on the abortion referendum.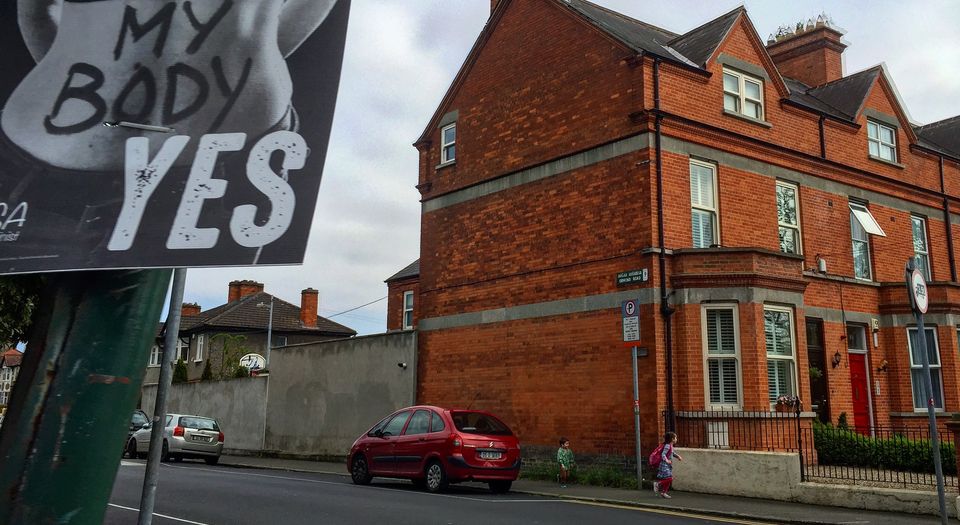 Dublin is fizzing with debate. Every street is festooned with Yes and No placards. Lampposts have become political megaphones, some sporting four or five placards each. Pictures of fetuses pleading with voters to 'save us' vie for space with images of fist-pumping women demanding 'Freedom, Equality, Choice!'. Pamphleteers are out in force. Gangs of smiling young women in Temple Bar press 'Yes' leaflets into your hand and say: 'Remember to vote.' On O'Connell Street, pale young men in 'Save 8' t-shirts – '8' being the Eighth Amendment to the Irish Constitution, which bans abortion – ask passers-by to say 'No' to repealing the amendment. 'Okay. I'll say no. I say no to you and this', one woman fires back, quick as anything, as she refuses to take a leaflet from the pained-looking lad.
This has become a city of tribes. On one side, the Yes tribe. They want a Yes vote this Friday, when the Irish electorate will be asked in a referendum if the Eighth Amendment that protects the life of the unborn child – and thus prevents women from ending unwanted pregnancies – should be repealed. 'Yes', these campaigners say, energetically, colourfully, everywhere. Theirs is a seriously impressive campaign. Their message is one of optimism. Their badges are bright, their street agitators engaging, and they have that word on their side, that upbeat word, the very last word in Ulysses, the masterpiece of Dublin's most famous literary son, James Joyce, who said that, given all the torment of his times, he wanted to end his great work 'with the most positive word in the English language': 'Yes.'
A hundred years later, 'Yes' has colonised Dublin. I've seen young women glammed up for a night out still wearing their Yes badges: outfits take second place to political belief in times like these. A heavily pregnant woman walking by the Liffey was sporting a 'Ta' t-shirt ('Ta' is Irish for Yes). At a pop-up coffee-shop-cum-Yes-hotspot, a group of hip, young men in 'Repeal' sweatshirts sip espressos. Outside the General Post Office on O'Connell Street – a site of political campaigning ever since the Irish Republic was declared there in 1916 – the Yes lobby is cheerful. 'Beep for Yes', one of their placards says, and drivers do. 'Good man yourself', shouts a woman at me when she sees my Yes badge. A No bus drives by, a big, red thing emblazoned with the words 'Save lives: vote NO to abortion', and one of the Yes men shouts: 'Down with this sort of thing!'
And on the other side, the No tribe. They're more dour, necessarily so. Their campaign is a defensive one, naturally: they're defending an amendment that has been on the books since 1983 and which, according to many polls, might now be overthrown by voters. I feel for the young guys in 'No' badges (most of the No campaigners I've seen have been youthful, no doubt religiously inclined men): wearing the No get-up in Dublin won't win you a warm smile in the street. Outside the GPO, elderly women have models of fetuses at various stages of development and they explain things in depth to passers-by. 'The heart starts beating at 22 days. They can smile and yawn.' Everyone's respectful. Right next to the No stall is the Yes stall, busier, louder, and there are no clashes. Here we have two spectacularly opposed moral views – one believing women's rights override the rights of 'the unborn', the other believing the opposite – and it's perfectly civil.
This is democracy in action. Dublin right now, like much of Ireland, is in the grip of democracy, and of all the things that democracy requires: discussion, argument, leaflets, propaganda, ideas, posters, badges, the works. This referendum has empowered the people to overhaul a key and controversial part of the Irish Constitution itself, and people are taking this power incredibly seriously. They know – you can hear it in their voices, in their arguments, in their pleas – that they have it within their power to change Ireland forever, or, indeed, to keep it as is. And this has energised political life. Politics has burst through the grey walls of Dáil Éireann and Áras an Uachtaráin and hit the streets, the cafés, the pubs, the meeting halls. Ireland's political and moral future has become the property of the populace, in a far more profound way than it does during general or presidential elections, and people relish this.
The placards and banners and campaigners that you see on every street are attempting to appeal to the reason and / or passion of ordinary people. They are no longer just inhabitants of Ireland, bossed this way and that by samey political parties; they are citizens, in the real meaning of the word, having their opinions solicited, their vote tempted, their views taken seriously. And this has had a great enlivening impact on public life. And in many ways, this points to why a Yes vote is so important: because if people say Yes to repealing the Eighth Amendment, they won't only be expanding women's liberties, which is incredibly important, as I argued on spiked here; they will also be expanding democracy, drawing a hitherto narrowly legal question into the realm of public debate and public control.
The double-whammy outrage of the Eighth Amendment is first that it limits women's autonomy, preventing them from exercising self-government, from exercising sovereignty over their bodies and minds; and secondly that it removes the issue of abortion from the democratic sphere. Instead, through making the restriction on abortion an actual constitutional stipulation, the Eighth Amendment puts abortion on the rarefied, unreachable, legal plane of constitutional expertise. It tells Irish people that abortion is not something they should think about too much or publicly discuss or seek to liberalise; instead, it is an issue for the clever and legally minded, to be kept away from hoi polloi. A Yes vote will change this forever. It will instantly make this issue that touches upon liberty, choice, equality, community and health into a matter of public concern, of public control, a matter for the people.
They won't thank me for saying this – given that most Yes leaders come from that part of the Dublin political set that is anti-Brexit – but this means that the campaign for Yes has much in common with other recent uprisings against technocracy. In essence, the cry of Yes is to 'Take back control', to allow the people to assume their rightful democratic authority over an incredibly important issue. This is why it's important to back Yes – because it will boost the liberty of individual women, and it will deepen the democratic say-so of the entire Irish people. Putting politics beyond ordinary people's reach? Down with that sort of thing. Everyone's had enough of that.
Brendan O'Neill is editor of spiked. Find him on Instagram: @burntoakboy
Pictures by: Brendan O'Neill
To enquire about republishing spiked's content, a right to reply or to request a correction, please contact the managing editor, Viv Regan.