The fantasy of Russia's dirty money
Blaming Russia for everything has become the elite's go-to conspiracy theory.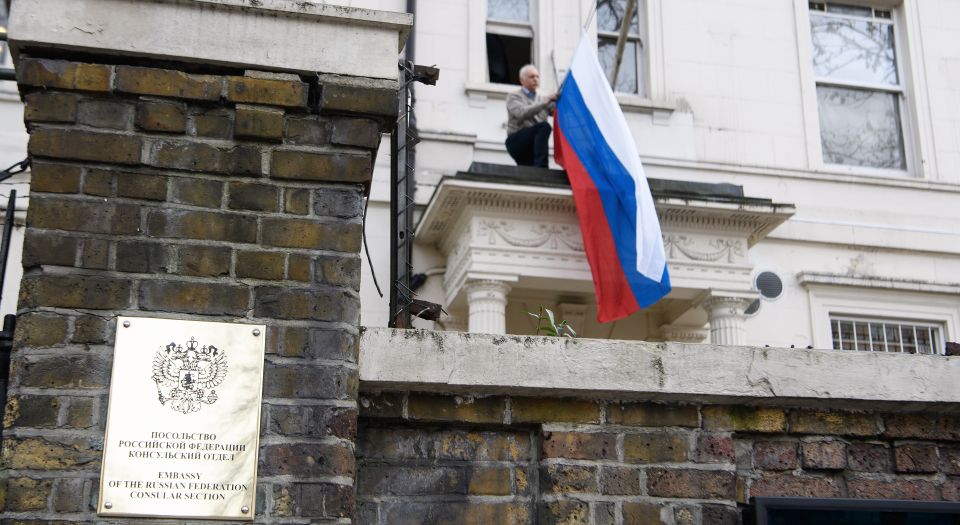 Seeing Russia as the source of the world's ills really has become the all-too-acceptable, go-to conspiracy theory for Britain's political establishment. How else to explain the announcement earlier this month that British diplomats plan to use the G7, the G20, NATO and the EU summits this year to try to deepen the alliance against Russia? And, more pertinently, how else to explain the appearance this week of Moscow's Gold: Russian Corruption in the UK, a foreign affairs select committee report, which asserts that the ill-gotten gains of Putin and the Kleptocrats, to use their band name, are laundered through the UK's financial markets, and then used to, and I quote, 'subvert the international rules-based system, undermine our allies, and erode the mutually reinforcing international networks that support UK foreign policy'.
The subsequent headlines and uncritical reporting have regurgitated the report's main contention: that Russia's 'dirty money' is running through the veins of the UK economy, and is then being used, presumably by shadowy agents and tweetbots alongside (that awful phrase) 'useful idiots', 'to erode faith in our institutions'. Got that? Popular disillusionment with party politics, scepticism towards public authorities, indeed Brexit itself: all this can be traced, at some deep, speculative level, to the malign influence of Moscow, with Putin, backed by his gang of oligarchs, pulling the strings.
Hence the unquestioned but historically dark undertones of the phrase 'dirty money', which is now itself being laundered through its chattered repetition in the UK media. It is a phrase that doesn't just play on the legal sense of 'proceeds of crime'; it also implies a moral taint, a poison in the well of global finance, that has bled into Western society in money form. And in doing so, it implies that there is something corrupt, something almost evil, about the provenance of the money, namely Russia and Russians. Hence Russian oligarchs, as opposed to all the other oligarchs out there harmlessly pottering about, are simply assumed to be morally tainted, and possessed of some nebulous plan for world control, some unstated protocols of Moscow. Hence the prefix 'Russian', when describing politically powerful businessmen, has become a synonym for sinister, immoral, corrupt. Other oligarchs, George Soros for instance, can donate hundreds of thousands of pounds explicitly to subvert the democratic will of the British electorate, and few bat their eyelids. Yet if a Russian oligarch invests in a property scheme in London, or buys a football club, then they must implicitly be up to no good.
What else is any of this but conspiracy theory, with Russia posited as the power behind the dethronement of the UK's, and indeed the West's, political elite, whose own power has lingered long in 'institutions' and 'rules-based systems' now seemingly under attack? And like much conspiracy theory, the speculative will to see the evil agency at work seems to win out over any sense of reality, perspective or objective analysis. So Moscow's Gold features a lot of punditry and speculation supporting the thesis that Russia is pursuing some form of moral, political corruption through cash, but little in the way of actual proof.
It cites as examples of mass money-laundering: Russia raising nearly £3 billion in eurobond issuances, nearly half of which were bought by investors from the UK; Russian energy company Gazprom raising £656million in a bond sale, some of which were bought by UK investors, according to VTB Capital; and the floatation on the London stock exchange last year of En+, a Russian energy company controlled by Russian oligarch Oleg Deripaska. Terrible behaviour, right? The only problem is that there was nothing actually illegal or suspicious about these transactions, as the report itself later admits: 'Both the En+ IPO and the sale of Russian debt in London appear to have been carried out in accordance with the relevant rules and regulatory systems, and there is no obvious evidence of impropriety in a legal sense.'
Which is hardly surprising. When the push for proof of Russian perfidy comes to shove, the report repeatedly comes up wanting. 'Attempting to quantify the extent of the problem remains challenging', the report's authors admit, 'because it is difficult to establish for certain that individuals of concern obtained some or all their wealth through corrupt practices'. In other words, they don't know if Russian oligarchs are really that Russian. Not that this difficulty stops their estimations, speculations and sheer assertions. For a Russian oligarch must, by nationality alone, be assumed to be a rotten oligarch, the report assumes. Because, remember, Russia itself is rotten.
While Moscow's Gold does little to tell us about the extent of money laundering or the actuality of the Kremlin's intentions, it does capture the strength of Western political elites' animus towards Russia. It is a demonstration of their existential need for Russia to be as corrupting and malign as they imagine it to be. Why? Because in conjuring up Russia as some sort of global demiurge, elites can both absolve themselves of responsibility for their own failings, and revive that old Cold War sense of moral purpose in the face of the Red Menace.
The report is a work of one-sided art in these respects, dragging in Russia's 'actions in Crimea and Ukraine' as circumstantial evidence of Russia's sinister global ambitions, while ignoring the West's equally active role in both crises, in which the UK et al both enticed one-time Russian ally Ukraine into the West's orbit, with the prospect of EU membership and NATO protection; and played a key role in the initial unravelling of Syria that prompted Russian intervention – in the interests of regional stability – in the first place. The report even draws on the poisoning of the Skripals as further proof of Putin's threat, despite the recent revelation from the UK's own national security coordinator, Sir Mark Sedwill, that none of the police, MI5, MI6 or GCHQ has been able to identify who might have been responsible for the Salisbury nerve-agent attack.
Strangely, amid the Cold War bluster, and desperate conspiracy theory, Moscow's Gold does contain glimpses of Russia's actual potency. Because for all that Putin's illiberal regime, and its crony-cum-state capitalistic base, demands criticism, Russia is really not that powerful, behind or in front of the throne. 'The proportion of dirty money in London is estimated to be small, relative to the size of the entire financial sector', admit the authors of Moscow's Gold. And in justifying the influence that economic sanctions might have, they reveal that the Russian economy is only 'the same size as Spain's' and is dependent on the global market for survival.
The Russia that ultimately emerges here is not one that is powerful in fact; rather, it is one that is most powerful as a figment of the political elite's imagination.
Tim Black is a spiked columnist.
To enquire about republishing spiked's content, a right to reply or to request a correction, please contact the managing editor, Viv Regan.