Why Ireland must repeal the Eighth Amendment
The right to abortion is one of the most essential liberties.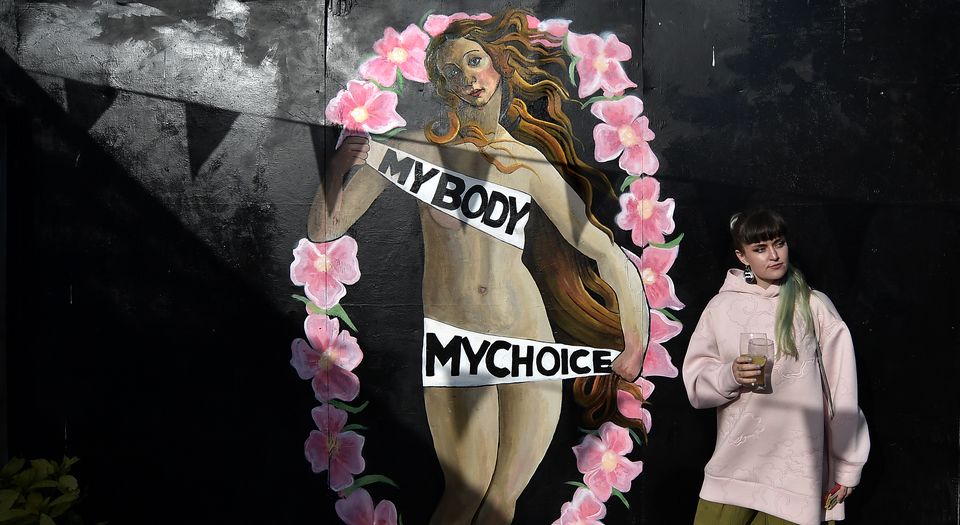 Abortion touches on many issues. It's a health concern, being a procedure that usually takes place in a clinic and which, in the UK at least, requires the agreement of two doctors. It's a family-planning matter, in that it poses the question of whether we trust women, and couples, to decide when to have children and how many children to have. It's a social issue: after all, society will be impacted upon if people are pressured into having children they do not want. But beyond all of these concerns, and overriding every one of them, is the central matter, the burning historic, human concern that abortion speaks to and revolves around and throws into the sharpest of relief: autonomy.
This is the one simultaneously simple and profound reason why women must have access to abortion services whenever they want or need them: because if an individual does not have dominion over her own body, then she is not a free person. If sentient, sane adults are made to do something to themselves against their will – whether it's self-harm, or taking a drug, or continuing an unwanted pregnancy – then they do not enjoy self-government. Instead they are beholden to others, to the moralism and diktats of those who presume to know better than we do ourselves what should become of our bodies, our minds and our lives. Abortion rights are essential to a free, democratic society because, to add a gender update to John Stuart Mill's great phrase, 'Over herself, over her own body and mind, the individual is sovereign'.
This should be the key concern in the Irish referendum next week. On 25 May the people of Ireland will vote on whether to repeal the Eighth Amendment to the Irish Constitution, which sanctifies the right to life of unborn children. spiked hopes they will vote 'Yes' and get rid of this archaic amendment which in elevating the rights of the unborn demeans the rights of born, living, adult women. It does so through reducing women essentially to vessels, to walking wombs, to people whose own rights, including the fundamental right to bodily autonomy, are made subservient to the state-protected rights of something inside their bodies. It says women should be the guardian of other lives, including lives they do not want to carry, rather than the shaper of their own lives as they see fit. For a supposedly modern nation, whose leaders continually talk up their social progress of recent years, to have an actual constitutional stipulation that says women must lose basic freedoms when they become pregnant is an outrage, and one that the Irish people will now hopefully correct.
The Eighth Amendment was itself passed in a referendum in September 1983. It became law in October 1983. It says: 'The state acknowledges the right to life of the unborn and, with due regard to the equal right to life of the mother, guarantees in its laws to respect, and, as far as practicable, by its laws to defend and vindicate that right.' What this means is that Ireland has some of the most restrictive abortion laws of any nation on Earth. A woman cannot access abortion services unless the pregnancy is a direct threat to her own life. So no matter how distressed or depressed she is about being pregnant, no matter how many children she already has, no matter how much she believes that the best course of action for her is to end this pregnancy, she cannot make or act on that decision. Her choice – over her body, her family, her life, and her future – is denied to her by the state.
This has, of course, caused great difficulty for many thousands of Irish women. Some travel to foreign countries, often at expense and sometimes distress, in order to exercise their basic right to determine their own destinies. Between 1980 and 2016, a staggering 170,216 Irish women and girls went abroad for abortion services, the vast majority of them to the UK. Thousands of Irish women surreptitiously order abortion pills from the internet: between 2010 and 2012, 1,642 abortion-pill packages were dispatched to Irish addresses by one provider alone. But even this is unpalatable to the Irish authorities who must adhere to the Eighth Amendment. So over the past 10 years, more than 6,000 abortion pills were seized by officials upon arrival in Ireland. To put this another way: women in the early stages of pregnancy have been physically prevented from taking a very safe drug that they want because the state thinks it knows better than them what should become of their bodies and by extension their lives. This is nasty, ugly, illiberal paternalism.
The Eighth Amendment has got to go. It is time everyone took individual autonomy seriously. It is time we upheld an all-in, all-rounded, and serious definition of individual autonomy, one which includes bodily autonomy, reproductive autonomy, personal autonomy, familial autonomy, and moral autonomy. That is, the right to think whatever we like, say whatever we believe, raise our children as we see fit, and govern our lives for ourselves in any way we choose, so long as we do not harm others. Autonomy is under assault in so many ways today. We live under ever-more paternalistic governments and bureaucracies who presume to instruct us on everything from what we may say to how we should parent. A fightback against this technocratic encroachment into the ideal of self-government is long overdue, and abortion rights, given that they pertain so essentially to bodily autonomy, must be a key part of this. Irish people who value freedom should vote Yes to overthrowing the Eighth, because that amendment is a dire assault on women's freedom.
The key argument of the pro-life lobby in Ireland, and elsewhere, is that abortion rights are different to other rights in that the woman's choice impacts on a life other than her own: the life of the fetus. That is, when a woman chooses abortion she does 'harm others'. Those of us who are pro-choice should not balk from this moral confrontation, or even necessarily demean the equation of fetal life with the woman's life, given that many people hold to this equation sincerely. Instead we should be open about the fact that being pro-choice does indeed involve making a moral judgement – a moral judgement that says the liberty of a woman, of a sentient, adult citizen, is more important than the life of an unborn child. This is the moral worth we attach to the experience of freedom and autonomy: we judge that already existing life, with all its fullness and freeness and relationships and aspirations, takes precedence over potential life.
That is our moral judgement, which we are happy to make. Is the pro-life side happy with its moral judgement, which says there is a period in a woman's life when she must lose her freedom; when she must do as the state demands of her; when she must submit her body to the desires of bureaucracy; when she must make herself subordinate to fetal life and to the laws that protect that fetal life at the expense of her own autonomy? In essence, when she must become a reproductive serf to official diktat. These are the questions upon which next week's referendum should turn. This is the issue: autonomy. A vote to repeal the Eighth Amendment is a vote to liberate the individual from the grip of intolerant, illiberal officialdom. Say 'Yes' to repeal and to expanding freedom and choice in Ireland.
Brendan O'Neill is editor of spiked. Follow him on Instagram: @burntoakboy
To enquire about republishing spiked's content, a right to reply or to request a correction, please contact the managing editor, Viv Regan.