The Met Gala and the cultural-appropriation hypocrites
Crucifixes? On non-Catholics? Why isn't Twitter up in arms about this?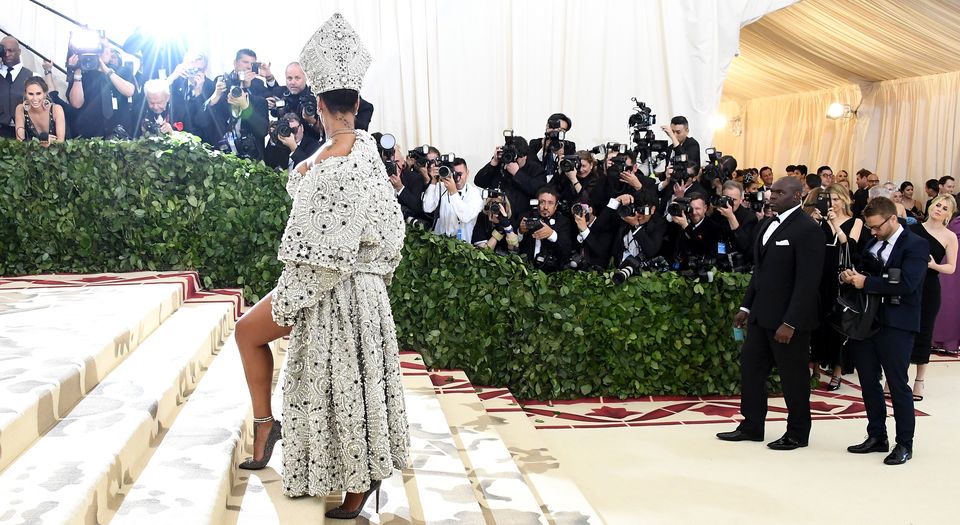 A rather dull and familiar argument has broken out on social media following the annual Met Gala in New York City. The event is a celebrity fundraiser in aid of the Metropolitan Museum of Art's Costume Institute, and essentially involves famous people walking up and down a red carpet in garish outfits, while journalists praise whatever political statement they are supposed to be making.
The Gala's costume theme takes its lead from the Costume Institute's annual exhibition. This year it is Heavenly Bodies: Fashion and the Catholic Imagination. After several years of persuasion, the Vatican even agreed to donate outfits to the exhibition. And so the celebs took to the red carpet in crucifixes, mitres and rosaries, while those commentators and activists who would usually explode at such flagrant 'cultural appropriation' salivated over the outfits on display. The Guardian declared it 'the best dress code of all time', and the panelists on The View praised Katy Perry's ridiculous angel dress.
Meanwhile, certain Catholics took to Twitter to voice their disapproval of the Met Gala, using the sort of language that has plagued cultural debate in recent years. Words like 'disrespect', 'offence' and 'appropriation' were bandied about. They sounded like a priest lambasting his fornicating congregation. TV presenter Piers Morgan was so upset about it that he tweeted the pope, telling him he was disappointed that the Vatican had approved this 'Catholic-mocking' event. He said that if next year's Gala was Jewish- or Islamic-themed, people would be suitably outraged.
On that point, at least, Morgan is right. There is no doubt a hypocrisy among the chattering classes where mocking religion is concerned. Islam, in particular, is a total no-go, while Christianity has always been fair game. Charlie Hebdo's various mocking depictions of Jesus over the years barely caused a stir, while its Muhammad cartoons caused outrage. So nervous are people about mocking Islam that even after Charlie Hebdo's staff were massacred by Islamists, there was a sense of 'they had it coming' in the commentary. But just because that hypocrisy exists doesn't mean you need to get upset when people play dress-up with Catholicism.
If anything, the Met Gala just proved how ridiculous it is to be nervous about mocking, or just playing with, religious ideas and imagery. And the same goes for the ongoing panic about cultural appropriation. Why were the Met Gala attendees given a pass to 'appropriate' Catholic culture? The event's organisers claimed to be honouring Catholicism rather than making fun of it. But this is precisely what virtually all people charged with cultural appropriation say in their defence, including Keziah Daum, the Utah teenager who wore a Chinese dress to a prom and sparked a huge online backlash as a result.
Many of the celebrities at the Met Gala wore crucifixes despite not being Catholic. Most of them probably know little about the doctrines of the church or the Catacombs of Rome. But who gives a shit? People should be free to wear what they want, and artists and comedians should be free to mock or play with different cultures without being shouted down by the easily offended. This year's Met Gala reminded us that cultural mixing is nothing to get upset about. The question is: why, today, do we so often forget that?
Michael P Fitzpatrick is a writer and teacher based in London.
Picture by: Getty
To enquire about republishing spiked's content, a right to reply or to request a correction, please contact the managing editor, Viv Regan.