The #MeToo era needs some hippy spirit
Two new plays reflect how prudish and harsh the gender debate has become.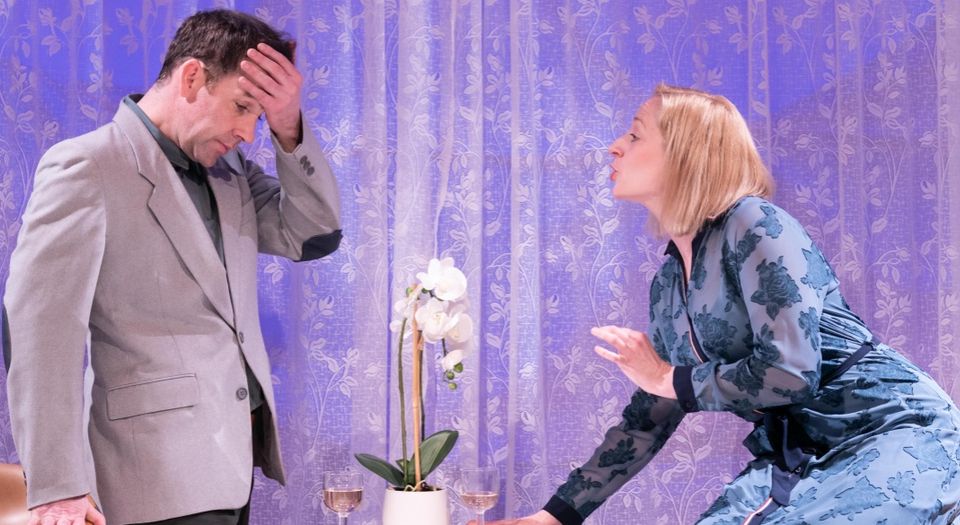 'The revolution will not be televised.' So sang Gil Scott-Heron in one of the finest protest songs of the 1970s. On the face of it, it's a song about censorship, claiming that the powers-that-be will neuter change by making it invisible. But it has always struck me as more than that. The song's claim is that change comes out of leftfield, from beyond the ontology of our times, subverting our understanding of who we are. It will be a shock to the system. 'The revolution will be no rerun, brothers, the revolution will be live.'
Two new plays about sex and gender at two of London's most politically devout theatres seek to address the idea that revolution is once more in the air. This is thanks in part to the #MeToo movement making visible misogynistic abuse that has previously been concealed. One play is The Writer, by Ella Hickson, at Islington's Almeida Theatre. It's about a young playwright struggling to make it in what she considers a male-dominated business. The other is The Prudes, by Anthony Neilson, at Sloane Square's Royal Court Theatre. This one is about a middle-aged heterosexual couple whose sex life is in crisis. Both plays reflect the moral panic at large and presuppose that, in terms of our sexual politics, we're all at sea.
Hickson's play attempts to reconnect feminism with its radical, anti-patriarchal, lesbian-separatist roots. Her writer hero is desperately trying to grapple with the dominant patriarchal orthodoxy she sees in theatre. To her, this institutional misogyny is both overt, in the hierarchies of men who control theatres, and implicit, in the microaggressions running through their canon and conventions. Using a series of scenes including a mock audience Q&A, her leading character (Romola Garai) passes through a chauvinistic hall of mirrors designed to disorientate the spectator so that we question the evidence of our own senses. Her character is trying to work out if it is possible to change the world by writing plays and bring down patriarchal capitalism, or if her radical efforts are always already co-opted by the system and doomed.
Hickson's strategy, with director Blanche McIntyre and Anna Fleischle's spartan design, is a kind of old-fashioned postmodernism. The play keeps us in mind of its status as an illusion, with the action orchestrated by a fictional director (Michael Gould). Reality, this reminds us, is simply a social construct. She contrasts her writer's righteous commitment to 'systemic awareness' with the director's loathsome pragmatism as 'a good-night-out kind of guy'. The writing is riven with the familiar binary of bad, oppressive, othering men versus good, liberating, inclusive women. One particularly amusing notion in the increasingly mirthless two hours is that anyone whose partner is smaller than them should consider themselves a patriarchal oppressor, because bigger people (male or female) are domineering and 'deaf to the sound of their own wanting'. I am pretty sure this was not meant as a joke, so bad news if you suffer from giantism.
Instead of being a cue for revolutionary excitement, flushed with the adrenalin of upheaval, an opportunity to tear down the old order in a Dionysian frenzy, Hickson's play is an uptight, self-absorbed, wilfully neurotic confection, virtuously wringing its hands over its perceived powerlessness. At one point, Garai's gutless character rages, 'Do you know how hard it is to write a play, to face yourself every day!?'. And at another point, she whimpers that she must feel 'emotionally safe' to make art. Garai faithfully stewards this charmless solipsist on a journey running the tiny gamut from palpitating novice in a stew of awkward self-conscious vexation to incoherent teenager babbling in a metaphorical pulpit. She eventually ditches her pathetic, wheedling boyfriend, played by Sam West, and is swept into the dreamy uplands of undifferentiated lesbianism, and the joys of cunnilingus enjoyed spontaneously with an Indian takeaway. But just when she thinks she has ascended into identitarian heaven, she finds herself guilty of patriarchal collusion after fucking her (smaller) female partner (Lara Rossi) with a double-ended dildo designed to pleasure both parties. This ought to be funny. Not here. The message: give a girl a phallus and she's no better than a bloke.
The play is so mixed up intellectually, politically and artistically, that it's hard to know where to begin or get off. This, though, may also be the point in a work paralysed by a sense of overwhelming victimhood. It's a profoundly facile and defeated play, completely out of touch with its own creative libido. There is nothing at stake beyond the feeble career aspirations of our hero, who does little more than femme-splaining to any right-on man who'll listen to her litany of woe. Hickson needs to rediscover the joy of bra-burning feminism, and in this she might be aided by Jo Brand's great joke: 'What is the way to a man's heart? Through his breast pocket with a bread knife.'
Anthony Neilson's The Prudes, by contrast, bravely seeks to hold out for some hope of joy at the heart of male-female relations in these censorious times. His play is about a couple who haven't had it off in over 14 months, and takes the form of them sharing their pain with us in what feels like a cross between a funeral parlour and a knocking shop. The man can't get it up when he's with his partner, even though he remains a prolific exponent of the five-finger shuffle. His partner is also fond of self-love, albeit with more ceremony: hot bath and candles. For him it's 'like farting without the same sense of achievement'.
As a writer, Neilson has an illustrious history of keeping Eros as the centre of male-female sexual relations, and in the current climate this is no mean feat. Only Neilson could have delivered the ravishingly transcendental moment of a man masturbating over a fresh turd laid by a female filmmaker while listening to a Bach cello piece, as he did in his 1997 play The Censor. But here even he appears a tiny bit constrained by the times. His man, played by the flamboyant Jonjo O'Neill, is a brilliant study in sweaty insecurity and furtive desire. But Sophie Russell is a more controlled and circumscribed creation, a 'strong woman' designed not to goad the febrile Twittersphere.
The problem in both plays is desire – and its failure to live up to its billing. Since the 1960s, desire and its unfettered liberation were supposed to mark the path of social progress out of the wretched patriarchal hypocrisy of the Victorian era. As Philip Larkin put it, 'No God any more, or sweating in the dark'. Everyone could be who they wanted to be and disport their genitals as they pleased – with only questions of consent offering bumps in the road. The difference is that where Neilson wants to keep faith with his characters' messy sexual proclivities, Hickson wants to police them. In both cases their characters are too fearful to act. Neilson's characters live in fear of retribution. Hickson's characters are inhibited by impossible aspirations. Either way, they are all entombed in subjectivity.
This is the dead-end of identity politics in which Hickson's puritans seem to have the upper hand. Neilson's more Dionysian tendencies are held in check, while the thoughtpolice keep them kettled in gender roles. The anger and frozen resentment that we are left with, and which runs beneath both these plays in different ways, will doubtless bite back in due course. It will be supplanted and perhaps 'critiqued' by future generations who may castigate the sexual enmity and suspicion of our times. Call me a disgusting old hippy, but what we could all use is some good old-fashioned love and forgiveness. That really would be a revolution. And completely untelevisable.
Patrick Marmion is a playwright, journalist and associate lecturer at the University of Kent.
The Writer at the Almeida Theatre in London until 26 May.
The Prudes is at the Royal Court Theatre in London until 2 June.
To enquire about republishing spiked's content, a right to reply or to request a correction, please contact the managing editor, Viv Regan.