Korea: what's Trump got to do with it?
The inter-Korea agreement was struck in spite of the US.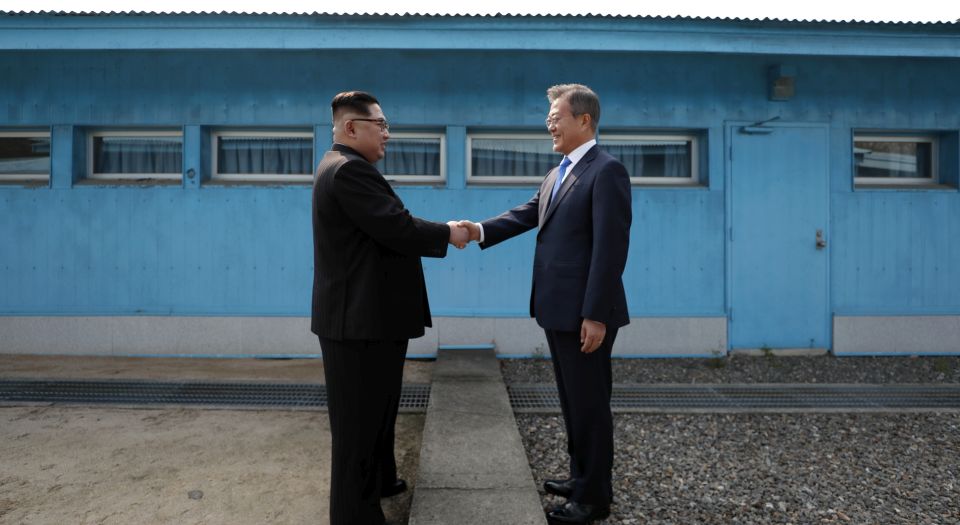 Never one to miss an opportunity to blow his own trumpet, President Donald Trump responded to the agreement struck between Kim Jong-un, North Korea's leader, and Moon Jae-in, the South Korean president, with an almighty parp.
'When I began, people were saying that was an impossibility', Trump said of the joint pledge finally to end the Korean War, commit to denuclearisation, and bring North and South together. 'They said there were two alternatives', he continued: 'Let them have what they have, or go to war. And now we have a much better alternative than anybody thought even possible.' The Trumpet solo was also being played on Twitter, as The Donald made Korea's future all about his US presidency: 'KOREAN WAR TO END! The United States, and all of its GREAT people, should be very proud of what is now taking place in Korea!'
His predictable attempt to claim responsibility for what has been entitled the Panmunjeom Declaration for Peace, Prosperity and Unification of the Korean Peninsula makes perfect sense. It is genuinely good news, not just as an outbreak of diplomacy in a foreign-policy landscape ravaged by shallow moral posturing and clueless warmongering, but also because it promises what it says on the tin: the unification of a people who still, 65 years after the devastation of the Korean War cleaved families and friends in two, have so much in common.
That the agreement has substance is clear from the fact that Kim and Moon were able to agree on so many specific pledges, including: an end to 'hostile activities' between the two nations; changing the demilitarised zone (DMZ) that divides the country into a 'peace zone' by ceasing propaganda broadcasts; an arms reduction in the region pending the easing of military tension; organising a reunion of families left divided by the war; connecting and modernising railways and roads across the border; and, above all, a movement towards the unification of Korea.
'We have been here before' is the understandably sceptical response. Summits between the leaders of North and South Korea were held in 2000 and 2007. And denuclearisation agreements have also been signed by the North before, with South Korea in 1992; with the US in 1994; and with four of its neighbours and the US in 2005. There was even an agreement signed with the US in 2012 to halt nuclear-weapons testing in return for urgent food aid. And each and every time, North Korea has reneged on its agreements, and restarted its nuclear-arms programme.
But they were different times, and, perhaps, most importantly, different political leaderships (although Kim was in power by 2012, he was little more than a year into the role). And here we come to the real driver of last week's agreement. Not Trump, but Moon, the South Korean president. Even before he came to power, after the impeachment of South Korean president Park Geun-hye on corruption charges in 2016, Moon was always noted for his commitment to engagement with North Korea. As opposed to his harder-line predecessors, he always wanted a close to the war, and to set both territories on a trajectory that might at some point lead to unification. Since his election last May, he may have toed the harsh, bellicose line of Trump's US, yet his political modus operandi was always diplomacy, and his desire was always for engagement and reconciliation.
So, even at the start of this year, while Trump was exchanging tweets with North Korea about the size of his nuclear button, Moon's administration was pursuing a rapprochement with North Korea, staging the first inter-Korean talks in two years in January. The resulting joint Korean Winter Olympics team may have grabbed the headlines, but it was the joint commitment to further negotiations and engagement that altered the political dynamic. This was not a domestically easy move by Moon, whose popularity ratings dropped the more he reached out to Kim. Because while many older South Koreans, like Moon himself, have a connection to the North, not to mention family members there, younger South Koreans, having never known North Korea as anything but a threatening other, lack that sense of lost unity and thwarted commonality. So Moon allowing, for example, North Korean athletes to take the place of South Korean ones in the Winter Olympics team annoyed many young South Koreans.
But amidst backlash at home, and Trump's continued belligerence abroad, South Korean diplomats have continued negotiations with their North Korean counterparts. Indeed, it was South Korea that organised Trump's planned May summit with North Korea for him. So uninvolved was the US in brokering the summit that Trump was initially willing for South Korean officials to announce the summit from the White House lectern before his advisers suggested this might look a little odd, and encouraged the South Koreans to do it on the driveway instead.
So this inter-Korean agreement has been reached in spite of Trump and the US, not because of them. If anything, Team Trump is an obstacle, perhaps even a threat to the agreement. Because America's objectives, to the extent to which they can be discerned in the chaos of Trump's revolving-door administration, are different to both North Korea's and South Korea's. Trump, like his predecessors, possibly in order to outdo his predecessors, is obsessed with grandstanding denuclearisation, or, better still, nuclear disarmament (for the 'wrong' countries that is), whereas both Kim and Moon are motivated in the long-run by unification, and, for the time being, by reconciliation.
Trump is focusing almost entirely on the goal of 'complete and verifiable denuclearisation', whereas Korea is dreaming of, as the title of the agreement suggests, 'peace, prosperity and unification'. It is these aims that animate the two Korean leaders, not the getting rid of every single nuclear warhead.
As Kim Seong-han, a former vice foreign minister in Seoul, put it earlier this year, 'The South Korean government's attitude is more weighted in favour of improving relations between the two Koreas than resolving the North's nuclear issue'. And, as one Seoul-based North Korea watcher noted of the North's state-media response to the Panmunjeom Declaration, 'The emphasis is all on peace, the nation, dialogue and unification. Denuclearisation is a small side issue.' That's why the agreement pledge to denuclearise the Korean peninsula is vague on specifics, whereas the rest of the agreement is highly specified, from family reunions to changing the role of the border zone.
Admittedly, North Korea certainly seems willing to curb its nuclear ambitions, as the symbolic closure of its damaged testing site at Punggye-ri indicates. But the chances of encouraging Kim to destroy all of his extant nuclear warheads and intercontinental ballistic missiles, when, from North Korea's perspective, it is only through nuclear posturing that North Korea has brought the US to the negotiating table, are slim. They are its insurance policy, its only diplomatic currency of value, and its bulwark against the kind of Western action and intervention that destroyed the dictatorships of Saddam Hussein and Colonel Gaddafi. Why would Kim agree to the weakening of his regime? And if that is the case, and Trump's demands for complete and verifiable denuclearisation go unmet, does that mean the US will persist in the economic isolation of North Korea at the expense of its nascent re-engagement with the south?
So while Trump is wrong to claim credit for the outbreak of diplomacy on the Korean peninsula, he is definitely in a position, with his North Korean summit fast approaching, to claim credit for its potential breakdown. It is a question of whether grandstanding on nuclear weapons is more important to the US than the end for which North Korea has been using their production – namely, access to the world, and, above all, reconciliation with the South, and all that might flow from it. That is, is America's objective of denuclearisation more important than the two Koreas' desire for unity?
Tim Black is a columnist at spiked.
Picture by: Getty
To enquire about republishing spiked's content, a right to reply or to request a correction, please contact the managing editor, Viv Regan.