It isn't America vs Assad – it's America vs Iran
US meddling in Syria is really aimed at Tehran.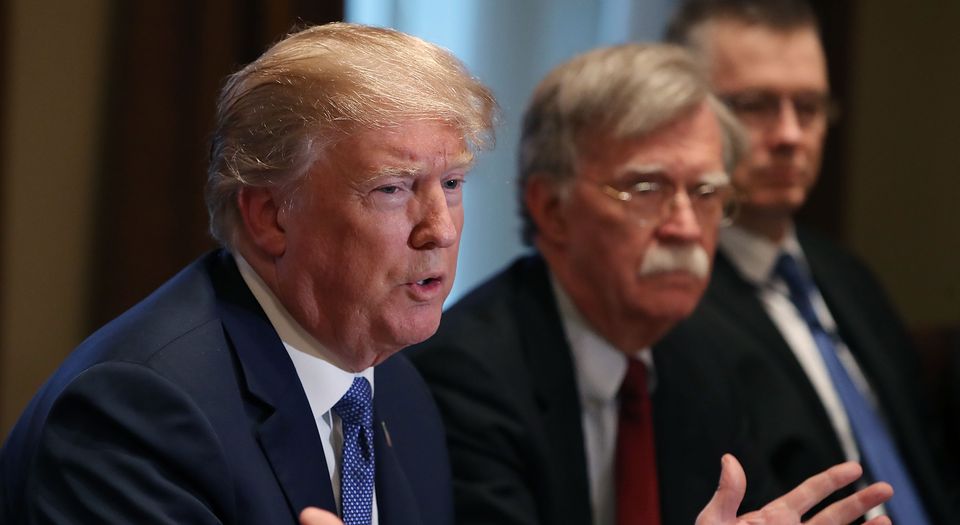 If anything illustrated just how shallow and posturing the US-led airstrikes against Syria were, it was the almost desperate refusal on the part of the US and its allies to take responsibility for any of the strikes' consequences, intended or not.
We were told that it was a targeted, self-contained mission, and that its objectives had been completely met. Jim Mattis, the US defense secretary, called the strikes a 'one-time shot', and no more. More revealing still, Boris Johnson, the UK foreign secretary, said the strikes were limited to preventing the erosion of the 'taboo' of chemical weapons, stating 'the rest of the Syrian War must proceed as it will'. In other words, this was an intervention into the Syrian conflict that was not intended to have any effect on the Syrian conflict; an attack on one side – that of Syrian president Bashar al-Assad – that was not meant to have any effect on that side; an intervention that was more symbolic than strategic. But then its symbolism was its point. It was, as Brendan O'Neill has explained on spiked, an act born of narcissism, in which the Syrian conflict acted as a mirror in which Western leaders and cheerleaders could glimpse, however fleetingly, an image of moral authority.
In a sense, President Trump is being consistent, not just in his lifelong narcissism, but also in launching this intervention that dare not speak its name. Because he has no ostensible interest in a long-term intervention in Syria. He ran an election campaign decrying US involvement in assorted overseas ventures, especially its Middle Eastern imbroglio. As far as he seemed to be concerned, the only reason for US involvement in Syria was to defeat ISIS, a mission Sarah Huckabee Sanders, the White House press secretary, had revealed 'is coming to a rapid end, with ISIS being almost completely destroyed'.
And so, while Trump was all too happy to bask in the warm glow of Syria's burning factory sites, he remains adamant that US forces (including 2,000 troops) will soon be withdrawn from Syria, something Trump reiterated just days before the intervention, and Bob Corker, the chair of the Senate foreign relations committee, confirmed afterwards. '[Trump] is very committed to getting out of Syria as rapidly as possible', he said: 'I don't see anything changing that.'
Yet this intervention that was not an intervention, this attack to preface a withdrawal, is not accidentally incoherent; it is part of an American (and Western) approach to the Middle East that is systematically incoherent, that combines a fear of embroiling the US and its allies in 'another Iraq/Afghanistan/Libya, etc' with a desire to be seen to be doing something. Part of this incoherence is due to the change in administrations. Back in 2011, when the Arab Spring still seemed to herald a better, more democratic future for the Middle East, Hillary Clinton, then secretary of state, spied a chance for a bit of self-aggrandising posturing and called for the removal of Assad, stating that the US no longer recognised him as the legitimate leader of Syria. The US then set about backing various rebel groups, under the auspices of the Free Syrian Army, with the objective, effectively, of regime change. Seven years later, after various costly and botched attempts to find, fund and arm Assad's gravediggers, and then, in 2015, the military intervention of Russia in support of Assad (and regional stability), the US objective in Syria changed completely. It now wants only to eliminate ISIS, the Islamist group Western intervention did so much to help create, directly (through the funding and backing of anti-Assad Islamist groups) and indirectly (through the destruction of the Iraqi state).
Yet the incoherence goes beyond the shifting objectives of what is effectively a seven-year-long intervention in Syria. It touches on the America's, and therefore the West's, destabilising approach to the Middle East as a whole. Because while in one breath Trump might be tweeting his determination to extricate the US from yet another interminable, profoundly pointless adventure, in another he, alongside John Bolton, the US national security adviser, and Mike Pompeo, the secretary of state, remain determined to confront what they perceive to be the regional power behind the despots, namely Iran. This is their animus, their axis of evil contracted to a single, central point. While they want out of Syria, they want to continue to fight Iran, which has moved into Syria, in Syria. That's why Trump's approach is so incoherent. He wants troops out of Syria, but he has to fight Iran in Syria. And in doing so, of course, he and his latest set of advisers will happily confront the larger spectre, looming behind its ally Iraq, the spectre that continues to haunt the Western political class's disoriented imagination – Russia.
The US is not therefore withdrawing from Syria. It is not letting the conflict unfold according to its own harsh but immanent political and military logic, to 'proceed as it will' as Johnson had it, a process which might actually result in a settlement Syrians want. Rather, it is backing and working with its regional allies to continue intervening in Syria, not in the interests of the Syrians of course, but as part of the confrontation with Iran – a nation that has taken advantage of the near collapse of the Syrian state to establish 'deep roots' in Syria, commanding militias comprising tens of thousands of fighters. This is the bigger story, for instance, behind US ally Israel's escalating battle with Iranian forces in Syria, with Israel shooting down an Iranian drone in February, and Syrian anti-aircraft batteries bringing down an Israeli F-16 in in retaliation. This month, as the Wall Street Journal reports, Israel mounted airstrikes against an Iranian air-defence system flown from Iran to Syria, with 'tacit support' from the Trump administration.
And it is not just Israel that the US is working with in its conflict with Iran. Like the UK, America's other key ally is Saudi Arabia, a kingdom Trump and family have been cosying up to, championing, and selling arms and military support to, while it continues to kill thousands of civilians in Yemen, half stages the deposing of Lebanon's elected leader, and treats its Gulf State subordinates as just that, subordinate – as Qatar discovered last year when Saudi Arabia cut off its contact with the outside world. But rather than seek to calm regional tensions, Trump's US seems set on escalating them, pitching its regional proxies, with the Sauds to the fore, into combat with Iran. So in early April, the White House announced that Trump had contacted King Salman of Saudi Arabia to 'discuss joint efforts to ensure the enduring defeat of ISIS and counter Iranian efforts to exploit the Syrian conflict to pursue its destabilising regional ambitions'. A case of meeting destabilising fire with destabilising fire, it seems.
And while the US-bombed sites in Syria were still smouldering, and Trump was still talking of getting our boys out of Syria, Bolton and Pompeo were busy spearheading a push to build a coalition of military forces, headed by Saudi Arabia, to replace 'our boys' in Syria, and continue the Western intervention there in Arab form.
How exactly is this ratcheting up of regional animosities, this playing upon conflicting regional interests, going to bring much-needed stability, let alone peace, to Syria? In continuing to drive other regional powers further into a conflict in which they are already involved, sometimes in opposition to one another, the US and its Western allies are stirring an already boiling pot, mixing in more militias, more proxy armies, in with Russia, Turkey and Iran's vast array of powerful military assets, from Hezbollah to Hamas. And just to add to the tensions, Trump seems dead set on abandoning Obama's nuclear deal with Iran, an ambition he has been talking up, and working towards, ever since he became president.
And why? Why is Team Trump so keen on confronting rather than negotiating with what had been an increasingly emollient Iran? Because, once again, it serves to varnish a Western leader with moral authority, to provide a particularly narcissistic president with the reflection of a strong leader facing down a bad guy, where his putatively weak predecessor could only bow down, and negotiate. And it gives a section of the American foreign-policymaking establishment an enemy to be combatted, and one backed by the adversary of its Cold War dreams.
And so the intervention, the meddling and the destabilising continue. Not in direct military fashion – although that, as we have seen this month, has happened, too – but in proxy and political form, backing and arming regional forces, and threatening Iran with post-nuclear-deal sanctions. For all the talk of protecting the people of Syria from the chemical excesses of Assad, the US and its allies are treating Syria as little more than collateral damage in a conflict that could engulf the region. ISIS may be in terminal retreat, but peace and stability seem as far away as ever.
Tim Black is a columnist at spiked.
Picture by: Getty
To enquire about republishing spiked's content, a right to reply or to request a correction, please contact the managing editor, Viv Regan.