The real scandal of the Ulster Rugby rape trial
Punishing men who were found not guilty makes a mockery of justice.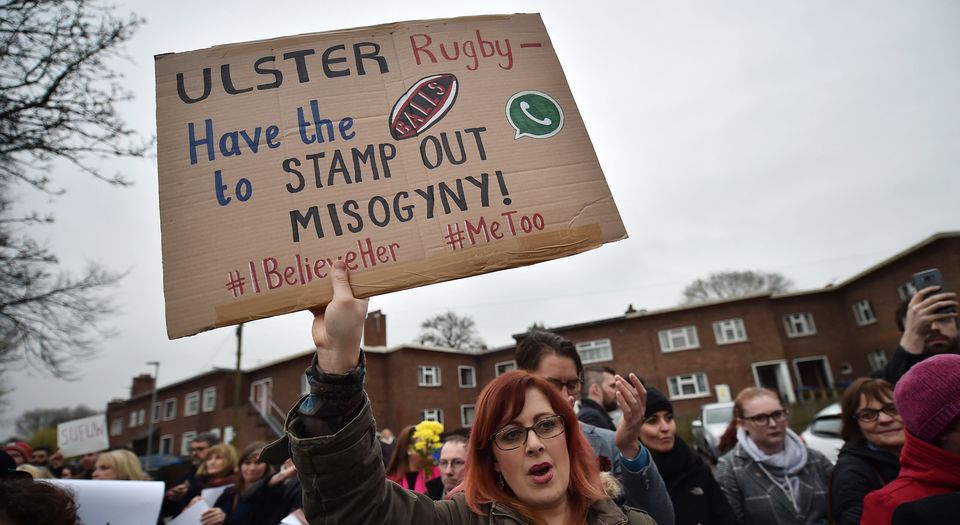 Ulster rugby players Paddy Jackson and Stuart Olding were accused of rape and found not guilty, and yet they have been sacked by their club.
Their case is hugely controversial. They stood accused of raping a female student at a house party two years ago. Jackson was also accused of sexual assault. Two other men, Blane McIlroy and Rory Harrison, were accused of indecent exposure and of perverting the course of justice respectively. The jury came to its decision after three hours and 45 minutes: it delivered a unanimous not guilty verdict to all charges.
End of story, right? Wrong. After the verdict, the hashtag #IBelieveHer started trending on Twitter. Protests were staged outside the Ulster rugby ground. Activists insisted the verdict was wrong. The nine-week trial had gone into great detail about the men's lives and personal behaviour. Explicit and degrading WhatsApp messages from members of the rugby team were read out in court. The two men accused of rape had previously boasted about 'spit-roasting' women and had referred to women as 'sluts'.
As is the case in many rape trials, the relationship between the complainant and the accused was scrutinised. It was this that led many to claim the court had been unfair in its treatment of the complainant. 'Why does it feel that in rape cases it is the alleged victim who is on trial?', asked Irish Times columnist Una Mullally. 'It is time now to lobby effectively for reform in trials of sexual assault', she continued.
The Irish Rugby Football Union and Ulster Rugby both revoked the contracts of Patrick Jackson and Stuart Olding with immediate effect. This means Olding and Jackson have either been sacked for being accused of something they were subsequently found not guilty of or for sending each other a few gross messages on WhatsApp. Either one would be unjust.
We will never know for sure what happened on the night in question. But the point, the very serious point, is that these men were unanimously found not guilty by a jury of their peers. Yet today, it seems that believing in a fair trial and the delivery of justice by juries has gone out of fashion.
'An act can fall short of criminal and still be a deep and awful wrong', writes Sarah Ditum in the Guardian. Yes, Olding and Jackson may be unpleasant men. But where Ditum and other feminists cross the line is when they hint, or openly say, that the verdict should be ignored and the men punished in some way despite their acquittal. 'The jury settled the legal formality of their guilt, but, as with myriad other men, the case to answer doesn't end with an acquittal', says Ditum. But if we believe in justice, then we must accept that after acquittal the accused person actually doesn't have a 'case to answer' – otherwise we risk enforcing mob persecution and constant inferred guilt upon people we happen not to like.
What's more, those tweeting #IBelieveHer should be very careful. Have they forgotten that all rape cases in England and Wales are now under review following serious miscarriages of justice against some men? Have they forgotten Danny Kay, who was wrongly imprisoned for two years? Or Oliver Mears, who spent two years on bail for something he didn't do? These men suffered wrongful convictions or accusations, arguably exacerbated by this believe-the-victim culture. There is a very real danger that instant belief of so-called victims will undermine the presumption of innocence.
Jackson and Olding were found not guilty. And if we believe in justice, that means they must be entitled to live as freely as they did before they were accused. Are these men pigs? Maybe. Are they rapists? No. In their failure to recognise the difference between these two things, proponents of #IBelieveHer are playing a dangerous game. Their politicisation of rape trials will harm the ideal of justice and give rise to extra-legal, mob-like activity.
Ella Whelan is a spiked columnist. Her new book, What Women Want: Fun, Freedom and an End to Feminism, is published by Connor Court. Buy it on Amazon UK and Amazon US.
To enquire about republishing spiked's content, a right to reply or to request a correction, please contact the managing editor, Viv Regan.