Enoch Powell was wrong – so were his critics
Both Powell and his detractors rejected the positive idea of integration.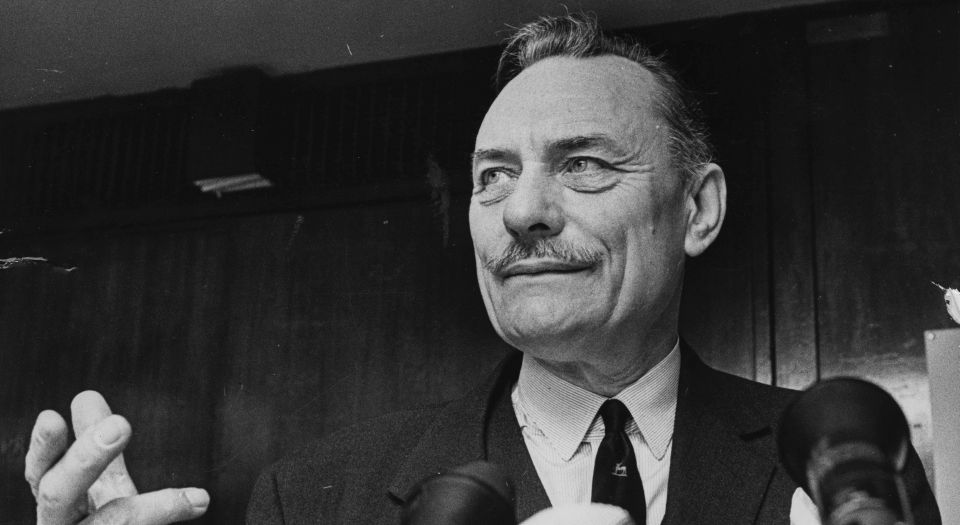 Fifty years ago, Enoch Powell put race at the top of the British political agenda with a speech that became known as 'Rivers of Blood'. He did it with lurid and alarmist language that was intended to shock parliament into halting black immigration while encouraging black repatriation. It was an ugly, racist speech that was easily seen off, and in the absence of a politics that advocated integration, the way was cleared for an era of multiculturalism.
Powell's speech was based on two premises from which he drew ugly conclusions. His first was that racial integration was essential for the cohesiveness of society. His second was that racial integration on the scale required in Britain in 1968 was impossible. As a matter of logic, which Powell understood better than most, if something is both essential and impossible then a drastic change of direction is required if disastrous consequences are to be averted. And so it was that Powell argued that because, in his opinion, black and white could not live together, it was necessary to keep Britain white by stopping immigration and encouraging repatriation. Powell had been making similar points in previous months, but with little media attention. Given the opportunity to speak to the Conservative faithful in Birmingham one Saturday afternoon, he ensured that a speech with lurid metaphors, circulated to the press in advance, would not go unnoticed.
Unless Powell's policy prescriptions were adopted, he foresaw racial conflict. He argued that by the year 2000, 'Whole areas, towns and parts of towns across England will be occupied by sections of the immigrant and immigrant-descended population'. Powell made much of the problem posed, as he saw it, by second-generation immigrants because he did not believe they would be integrated. Thus, racial conflict was inevitable, or as Powell put it: 'We must be mad, literally mad, as a nation to be permitting the annual inflow of some 50,000 dependants, who are for the most part the material of the future growth of the immigrant-descended population. It is like watching a nation busily engaged in heaping up its own funeral pyre.' Immigration without integration filled Powell with foreboding, and 'like the Roman', he said, 'I seem to see "the River Tiber foaming with much blood"'.
Powell's argument struck a raw nerve with the political class because they mostly agreed with his policy prescriptions. In his statement sacking Powell, Tory leader Edward Heath pointed out how his party believed that 'immigration must be most stringently limited and that immigrants wishing to return to their own countries should be financially helped to do so'. Moreover, the political class broadly agreed with Powell's two premises. They instinctively knew that integration was necessary, but they were so disdainful of ordinary people that they believed that integration was not, on the scale required, possible. Powell's ugly conclusions made them distinctly uncomfortable.
By mostly accepting Powell's two premises, his critics could not challenge the content of his speech. But they could and did challenge his tone and lurid metaphors. Within 24 hours, Edward Heath had sacked Powell from the shadow cabinet and his political career was effectively over. Heath gave one reason for the sacking, namely the speech had been 'racialist in tone and liable to exacerbate racial tensions'. The following Monday, a Times editorial described Powell's speech as 'evil' and 'disgraceful', not because of its content, but 'as Mr Heath observed, because it was racialist; that is, because it was calculated to inflame hatred between the races'. Heath then gave a television interview where he said nothing to distance his party from the content of Powell's speech, but stated his determination 'to do everything I can to prevent racial problems from developing into civil strife'. Powell's Tory critics sought to avoid what he predicted – not with different policies, but with different language.
As for the Labour government, it shared the Tory view that a proper debate on race, racism and integration was not desirable. After nearly three weeks of silence on Powell's speech, the prime minister Harold Wilson said: 'I am not prepared to stand aside and see this country engulfed by the racial conflict which calculating orators or ignorant prejudice can create.' Wilson went further when he declared, 'There is a clear duty on the parliamentary leadership of government and of opposition parties to do all in our combined power to take these inflammatory issues out of politics'. After Powell's brief interlude, race regained its status as an issue that was deemed unsuitable for a political debate involving the people.
It is true that in the immediate aftermath of Powell's speech there appeared to be a groundswell of support for what Powell had said. The political elite seized on opinion polls and their own mailbags to justify their view that they stood between a racist populace and racial conflict. They saw it as their role to silence debate rather than lead it in a positive direction. Yet the public reaction was sharply divided and in need of leadership. In so far as a majority sided with Powell's ideas, it was only because, of the two scenarios on offer, Powell's at least had a degree of coherence. For if, as was the case, the political class did not believe that integration was possible, Powell's critics seemed to have no credible solution. Indeed, their approach of sacking Powell and shutting down debate merely betrayed their own lack of ideas.
After Powell's sacking, a few hundred London dockers marched to parliament in support of Powell and in the hope of speaking to their MPs. There was other protest action in support of Powell around the country. But as The Times noted in its report on the dockers' protest, 'hardly any of the home-made banners betrayed racialist sentiments, with the emphasis on free speech and Mr Powell's right to say what he said'. The Times also noted how 'trade unionists opposed to racialism were not slow to react. A mass meeting of shop stewards at Ford's Dagenham factory denounced Mr Powell's speech as "defamatory and demagogic".'
Moreover, in London's docklands, after the march had left for parliament, over 100 other dockers held a rival meeting to dissociate themselves from the demonstration that they described as 'anti-trade-unionist and racialist'. A Tilbury dockers' spokesman said, 'Many dockers are disgusted by the support shown to Powell'. And when 800 London dockers voted to strike for 24 hours it was 'in support of the principle of free speech', rather than in support of Powell or any of his views.
After 20 years of immigration, ordinary people were not on the whole racist. Indeed, by living and working alongside immigrant families, men and women of all colours were learning that, despite the absence of any mainstream leadership on the issue, integration was possible, and that racism was something to be abhorred. These were the ordinary men and women, and there were many of them, who worked out for themselves that it was important to judge people by the content of their character and not by the colour of their skin.
Powell's speech was prompted by the imminent second reading of the Race Relations Bill 1968. Powell recognised that under the Labour government that had already passed (with Tory support) a Race Relations Act in 1965, a Labour-led political class was steering the country away from the notion of racial integration and towards a form of multiculturalism. In the then 20-year history of British immigration, between 1948 and 1968, there were only two significant speeches on race given by British politicians. Apart from Powell's, the other was given by home secretary Roy Jenkins in 1966, when he started to steer the political class away from the notion of racial integration in favour of its negation, namely multiculturalism:
'I do not regard it [integration] as meaning the loss, by immigrants, of their own national characteristics and culture. I do not think that we need in this country a "melting pot", which will turn everybody out in a common mould, as one of a series of carbon copies of someone's misplaced vision of the stereotyped Englishman… I define integration, therefore, not as a flattening process of assimilation but as equal opportunity, accompanied by cultural diversity, in an atmosphere of mutual tolerance.'
Powell was opposed to Jenkins' approach, which challenged his first premise that racial integration was essential for a cohesive society. No doubt with Jenkins' view of integration as multiculturalism in mind, Powell sought to re-establish the proper meaning of the word when he said that, 'To be integrated into a population means to become for all practical purposes indistinguishable from its other members'. Only integration of this nature would make it possible to judge people by the content of their character, rather than by the colour of their skin.
Fifty years after Powell's speech, it has become clear that swathes of first and later generations of immigrants have integrated into British society so that they have for all practical purposes become indistinguishable from its other members. Powell and his critics were both wrong to dismiss the ability of black and white to live together in an integrated society. Powell was good at logic and colourful language; his critics were good at spin and the language of obfuscation. Powell offered racial conflict, his critics offered multiculturalism. Powell's critics won the day. Fifty years on we know that both were wrong: it is the politics of integration that we needed then, and now.
Jon Holbrook is a barrister. Follow him on Twitter @JonHolb.
Picture by: Getty.
To enquire about republishing spiked's content, a right to reply or to request a correction, please contact the managing editor, Viv Regan.