The myth of a post-Brexit surge in hate
Even the EU now accepts Brits are more positive about migrants.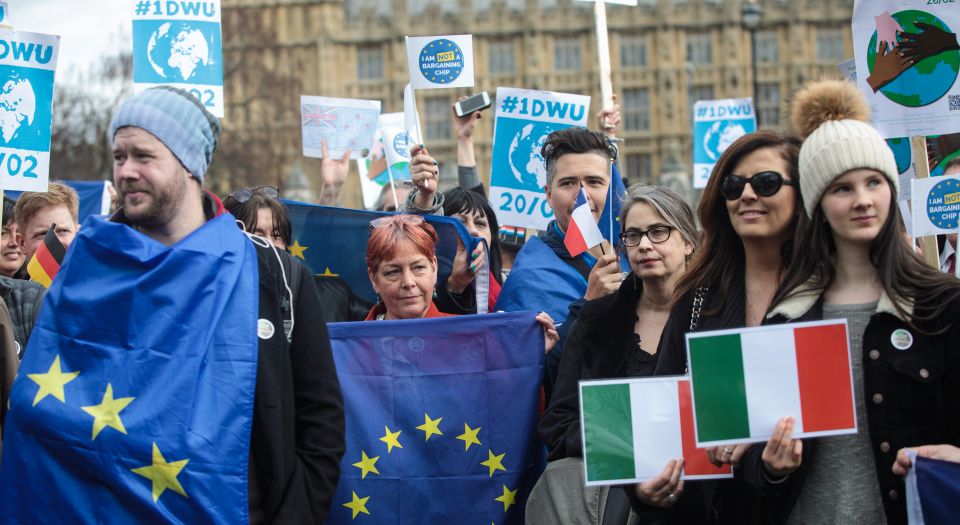 Ever since Britons voted to leave the EU in June 2016, we have been told by campaigners against Brexit that the vote was a product of xenophobia and hate, and also that it further inflamed these prejudices. This oft repeated assumption has served to disparage Brexit voters, who are viewed as having been carried along by this tide of racism. And yet the assumption is unfounded. As even new research from the EU itself suggests.
Even before the referendum, Polly Toynbee in the Guardian was claiming that 'Brexit supporters have unleashed furies even they can't control', and that post-Brexit 'those feeling betrayed will lurch even further into racism and xenophobia'. After the vote, anti-Brexit scientist Mike Gallsworthy argued that a 'rising tide of xenophobia' would discourage scientists from working in the UK. In March 2017, academic and prominent campaigner Tanja Bueltmann referred to a 'wave of xenophobia sweeping across the country'. Fifteen months after the vote, Matthew D'Ancona, developing the oceanic theme, claimed Leave had 'surfed to victory on a tide of xenophobia, bogus nostalgia and pettiness'.
There has been no let-up in these assertions and slurs on the millions who voted for Brexit. Anti-Brexit commentators constantly insist that a growing aversion to migrants – on the basis that they are a drain on resources and alien to British culture – lay behind the Brexit vote. Recently, Lib Dem leader Sir Vince Cable caricatured older Brexit voters as embracing 'nostalgia for a world where passports were blue, faces were white and the map was coloured imperial pink'.
If the Brexit tide of xenophobia thesis was true, it would surely be reflected in attitudes to EU migrants. Yet the EU's own survey data over the period of November 2014 (the earliest figures quoted) to November 2017 (the latest figures, just released) provide substantial evidence against any 'tide of xenophobia' against EU immigrants.
The EU report itself states that 'UK attitudes towards immigration and free movement are noticeably more positive than before the referendum on June 2016', and that, '[c]ompared with Spring 2016, the number of respondents who consider immigration to be one of the two most important issues, both on an individual basis and facing the country as a whole, has halved'.
The number of people who feel 'very positive' or 'fairly positive' with regard to immigration from the EU increased from 43 per cent to 63 per cent since November 2014. The large bulk of this increase in positivity came from the survey period May 2016 to November 2017 — that is, the period of the referendum itself and its aftermath. The percentage associating immigration with 'negative' feelings, whether 'very' negative or 'fairly' negative, declined from 57 per cent to 43 per cent over the three-year period. The 'very negatives' fell from 19 per cent to 11 per cent.
The figures suggest that a desire to have greater control over immigration does not mean being negative about immigration. They point to Brits becoming more positive about immigrants even as they vote to 'take back control' of the issue of immigration (and many other issues too, of course). Why haven't commentators celebrated or even commented on this positivity?
Because such optimism about UK citizens is in short supply these days. Anti-Brexit observers, feeling put out by democracy in general, feel more comfortable demeaning ordinary people. Some of them even claim that Brexit expressed and unleashed hatred against all minority groups, not just EU migrants, including black Britons and the gay community. So the left-wing journalist James Pierce said Brexit was fuelled by a 'rising tide' of hate that 'lifts all bigots' who look to a 'distant, oppressive past' (my emphasis).
He and others support this contention with reference to the tragic manslaughter of a Polish man in Harlow shortly after the referendum and figures from an LGBT charity on post-Brexit hate incidents. Yet the killing of the Polish man, as Brendan O'Neill demonstrated in spiked and later in the Sun and The Sunday Times, had nothing whatsoever to do with Brexit. And the rise of Brexit-linked anti-gay hate was debunked on BBC Radio 4's More or Less. The determination of some commentators to link any indication of prejudice and hatred to Brexit betrays their pessimism towards the public. The humble voter becomes a latent xenophobe at risk of being activated by a hateful press and politicians, rather than a rational agent.
Of course racism and prejudice remain features of the British political landscape. And it is entirely possible that a small minority of people used the aftermath of Brexit to shout abuse, and worse, at communities they dislike. Many EU migrants in the UK feel more insecure, polls suggest.
Yet challenging the assertion of a 'tide of xenophobia' is important both for democracy and solidarity. It is important for democracy because many anti-Brexit campaigners are using the mythical outburst of Brexit-related hate as a way of calling into question the rationalism of the public; as a way of questioning the wisdom of democratic consultation on big or controversial questions. We must confront that. And it is important for solidarity because the current intense pessimism towards ordinary people's motives feeds division and makes more distant the sort of political conversations around values, immigration and citizenship that could potentially promote solidarity, openness and tolerance. The fearmongering over 'Brexit racism' damages public life and the social connections we need to make the most of this exciting new political era.
Jim Butcher is a human geographer and trade union rep and tweets at @jimbutcher2.
To enquire about republishing spiked's content, a right to reply or to request a correction, please contact the managing editor, Viv Regan.