Fighting for the right to offend on a rock in the ocean
Our man at the Madeira Literary Festival tries not to get lost in translation.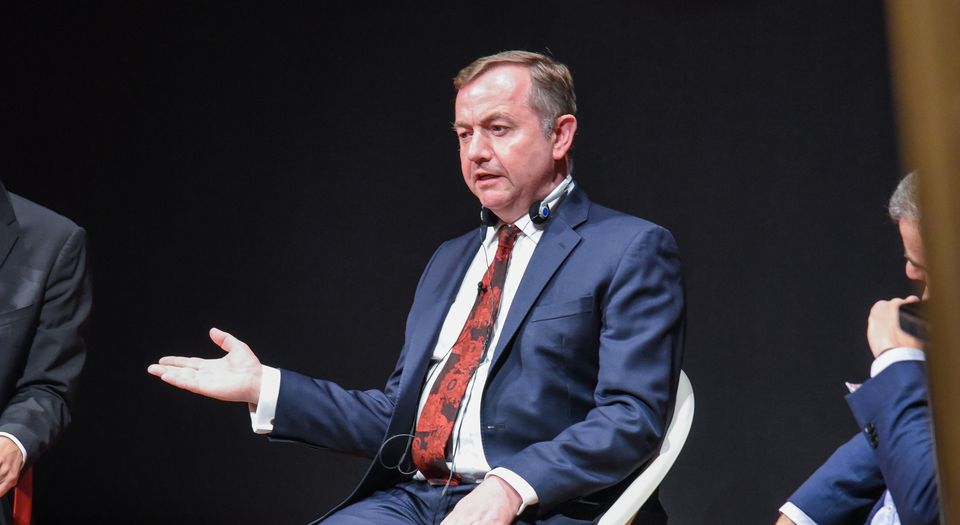 'You, Mister Hume', they said on my arrival, 'must be the only Englishman who has never been to Portugal before!'. Mea culpa. Still, I felt at home this week on the lovely island of Madeira, an autonomous Portuguese region. Not only because of the warmth of my hosts. But also because the unlovely arguments against freedom of speech that I had been invited there to contest felt strangely familiar.
Indeed it seems the language of the Western 'free speech, but…' lobby has been exported from the US via Britain and translated into every European tongue.
My trip to the Madeira Literary Festival came about after my book, Trigger Warning: Is the Fear of Being Offensive Killing Free Speech?, was translated into Portuguese by the publisher Tinta da China, as Direito a Ofender: a Liberdade de Expressão e o Politicamente Correcto – which I think/hope means The Right to Offend: Freedom of Expression and Political Correctness.
Taxiing to our pre-debate lunch at a traditional cliffside restaurant (it's a dirty job, but somebody's got to do it – those freshly caught octopi won't eat themselves), we passed a street advert for the meeting. 'Mick', said my co-speaker, the comedian and writer Ricardo Araújo Pereira, 'we're on a bus stop on a rock in the middle of the ocean. Made it – top of the world!' It would soon become clear that the fashionable Western war on free speech had reached the middle of nowhere ahead of us.
Luckily I had the ideal Portuguese ally in Ricardo. He represents something we don't really have in the UK: a smart, popular left-wing TV comedian, who agrees to be stopped for photos everywhere he goes, but who refuses to make any concessions to the 'liberal' case for limiting free speech.
Our discussion of the freedom to offend – liberdade para offender – took place in the refurbished historic Baltazar Dias theatre in the centre of the capital Funchal. Sitting on stage in my suit, rigged up with earphones for the translation from Portuguese, I hoped I didn't look too much like the accused in a war-crimes trial. But most of the large and engaged audience evidently understood English anyway.
The questions from the supportive chair, top journalist João Paulo Sacadura, and audience members focused on issues that will be familiar to spiked readers in the UK and US from recent years, given a Portuguese twist by new trends over there. Why is the right to be offensive important? Is there a right not to be offended? I replied that there can be no freedom of speech if we are only free to agree with everybody else, and only have the right not to say the 'wrong' thing. After all, as I reminded a TV interviewer, every tyrant from Stalin to the Portuguese dictator Salazar supported free speech for those who echoed their own views.
As for the spurious right not to be offended – anybody is free to take offence at anything you or I say. But that does not give them the right to restrict our freedom of speech. As Ricardo argued, what matters is not just somebody's right to talk rubbish but the right of everybody else to listen and decide what they think of it.
As we discussed how the modern threats to free speech come not from jack-booted fascists but from supposedly liberal objections to 'offensive' arguments, some Portuguese variations on the general theme became clear. As a traditional Catholic society, the authorities and elites in Portugal were relatively late to take onboard the new dogmas. Yet, as often happens, they have been running extra hard to catch up. The busybodies of the new state equalities commission are pursuing a series of bizarre legal cases against assorted oddballs who make allegedly sexist or homophobic remarks – the effect of which is to give far more publicity to the views of irrelevant and powerless individuals.
In response to questions about the doctrine of 'political correctness', Ricardo noted that one Portuguese writer had recently claimed that PC language codes were really just about 'old-fashioned good manners'. It struck me that these were arguments we first encountered in Britain 10 or even 20 years ago. But things have gone further now in the attempts to police speech, in a country like Portugal where some on the left will openly declare themselves PC. It might have appeared plausible, I observed, to claim that it was just 'good manners' to ban the poisonous n-word. But that won't wash when we are being told we can no longer use 'offensive' male and female pronouns.
The issue of how trans activists and spineless authorities are attempting to rewrite the language led Ricardo to a very funny (even in translation) account of what this means in Portugal. In the Portuguese language, words have gender and nouns are male or female – not because of 'machismo', but largely as a grammatical hangover from Latin. So trying to make the language gender-neutral is making an almighty mess of Portuguese; how do you replace 'Good evening ladies and gentlemen' with 'Good evening everybody', for example, when the word 'everybody' also has a gender? The PC response to these absurdities is of course not to abandon the campaign but to demand the imposition of more made-up words.
For me, that eye-opening story confirmed that PC language-policing is not about manners but control. Whereas conformism of speech and beliefs in a society such as Portugal would once have been enforced by the church and conservative movements, now conformism is the creed of those who claim to be progressives. The way that the left has deserted the cause of free speech in both Britain and Portugal, we agreed, is perhaps the most dangerous trend of all.
The discussion roamed across other familiar themes of the Western free-speech wars, from 'safe space' censorship in universities (if students really want to feel safely cosseted and 'at home' rather than challenged on campus, Ricardo suggested, perhaps they should just go home to mum and dad) to the blurring of the line between the public and private spheres; neither Ricardo nor his family use social media, and he looks forward to the day in 10 years when 'every great world leader has a video of himself being drunk on Facebook'.
A final question brought home how the fashionable, psychobabbling 'free speech, but…' arguments are spreading across borders and oceans. The audience member explained that he worked in the 'happiness' sector and was concerned about the impact that 'offensive' arguments could have on the mental health of vulnerable people. Yes, free speech was important, but what if your 'right to offend' could do psychiatric harm to others?
Listening to such therapy-speak, we might have been sitting in Islington or Manhattan rather than Madeira. The attempt to label large groups as 'vulnerable' and in need of protection from words is the latest incarnation of a very old prejudice against free speech: that people cannot handle freedom. What we think about free speech tends to reflect what we think about each other and our humanity. That's why those of us who believe in democracy and the demos – the people – fight for unfettered free speech and open discussion as the way to shape the future and decide what society believes to be true. And in the end, I had to tell our therapeutic questioner, free speech really must be more important than hurt feelings.
I thought it right to leave our Portuguese audience with the words of Spinoza, the Enlightenment thinker whose family fled the Portuguese Inquisition for Amsterdam, where he was expelled from the synagogue for his Godless thoughts. In a free state, Spinoza wrote almost 350 years ago, any man – to which we would add any woman or person of non-binary gender – must be free 'to think what he likes and say what he thinks'. We are still some way short of meeting that standard for a free society.
Having upheld the universal cause of freedom, we went off to eat, drink and indulge in that other universal language – football. Madeira revels in its status as the birthplace of Cristiano Ronaldo, being home to everything from the Ronaldo museum and his CR7 hotel to a famously 'overcooked' bust of the star at the airport. That evening, however, we gathered to watch Portugal's other famous football export, Manchester United manager José Mourinho, manage to get my team knocked out of the Champions League by Sevilla. Having spoken in the meeting about the attacks on free speech in British football, I was left wishing that Mourinho could have been as offensive on the pitch as he often is off of it.
Mick Hume is spiked's editor-at-large. His book, Trigger Warning: Is the Fear of Being Offensive Killing Free Speech?, is published by Harper Collins. (Order this book from Amazon(USA) and Amazon(UK).)
Pictures courtesy of the Madeira Literary Festival
To enquire about republishing spiked's content, a right to reply or to request a correction, please contact the managing editor, Viv Regan.