Tillerson and the myth of the Trump agenda
The latest sacking proves how visionless this administration is.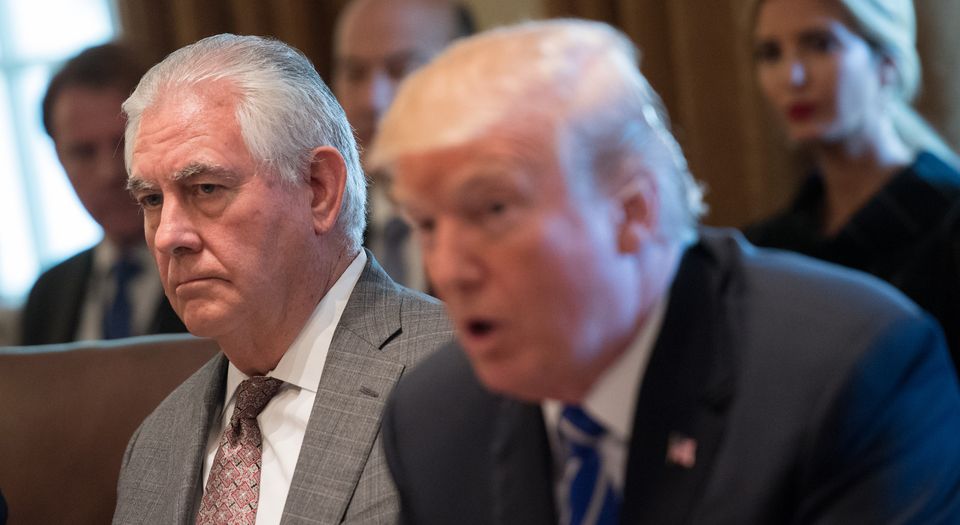 The sacking of US secretary of state Rex Tillerson, the latest big departure from Donald Trump's revolving-door cabinet, reminds us yet again of how unhinged and chaotic the Trump administration really is. Tillerson was officially sacked, via Twitter, on Tuesday morning. His deputies found out when asked by the New York Times for comment. And Tillerson was only given the heads-up by chief of staff John Kelly on Friday, who reportedly told him to 'expect a tweet'. Tillerson sat at the heart of what should be America's diplomatic powerhouse, yet has been ousted, unceremoniously, just as Trump prepares for a historic summit with North Korean leader Kim Jong-un. A meeting Trump announced without consulting the by then beleaguered Tillerson.
Naturally, the first word that flashed before every commentator's eyes when they heard the news was 'Russia'. The day before his ouster, Tillerson had backed up British PM Theresa May's position that the poisoning of a former Russian spy and his daughter in Salisbury last week was likely the work of the Kremlin (the White House had, at that point, been more ambivalent). But that theory quickly collided with reality. Trump was already planning on sacking Tillerson, and has since voiced firm support for May, keen as ever to dispel the idea that he owes his presidency to Putin and his alleged army of memesters. And as the cooler-headed of Twitter quickly pointed out, Tillerson was originally criticised for being too close to Russia, even receiving an award from Putin during his days at ExxonMobil.
With that point spent, talk quickly turned to this being a final, Trumpist purge of non-believers from the administration, following the departure of chief economic adviser Gary Cohn over Trump's proposed tariffs on steel. Whereas Trump is inclined to scrap the Iran nuclear deal, Tillerson was pushing for it to remain in place. He also opposed pulling out of the Paris climate accord. But while Mike Pompeo, the current CIA director set to take Tillerson's place, is certainly closer to Trump on policy (if a little more anti-Russian), so is attorney general Jeff Sessions, who in recent months has become a daily presidential punching bag. Meanwhile, the position of Jared Kushner, Trump's son in law and adviser, is more or less inviolable, despite his being seen as the heart of the 'globalist', New York Democrat faction in the Trump court.
Since his election, the mainstream press has tried to hold two irreconcilable ideas about Trump in their heads at the same time: that he is a nationalistic ideologue, possibly coordinating with Russia, and a blithering, emotional impulsive whose policy is decided by gut instinct and ego. More than a year on from his inauguration, the latter looks far closer to the truth. The most remarkable thing about Trump is not that he breaks with political orthodoxy, in 'cosying up' to Russia, in rejecting free trade and climate change, but that he breaks with his own policies. On everything from gun control to the Dreamers to foreign policy, he has u-turned on many of his original positions, if sometimes only to u-turn again.
Policy alignment has often meant less to Trump in his appointments than blind loyalty and/or having the right vibe. He apparently first took to Tillerson because he was a tough-guy Texan mogul, and his mane of white hair made him look like a statesman. (Later, in the job, Tillerson was criticised from all sides for his incompetence and inability to fill key positions in the State Department.) Similarly, Trump has always been pretty attached to, or at least less vocally critical of, his generals, even though the likes of defence secretary Jim 'Mad Dog' Mattis openly contradict him. Trump's cabinet choices have looked at times like a child playing at being president, a mix of his friends, family and people who 'look the part'.
Perhaps, at the tender age of 71, beauty-pageant aficionado Trump is finally learning that looks aren't everything. Meanwhile, the Beltway set is still failing to confront what is staring them in the face: that Trumpism is not some wilful ideological force, which overcame the establishment by means of brute force and Kremlin chicanery, but an entirely incoherent movement that took the presidency almost by mistake. That Tillerson was one of the administration's remaining links to the old Republican establishment – a big donor to Bush and to Romney, but notably not to Trump – reminds us of the weakness of the old GOP. So much so that not only was it easy for Trump to place his cartoonish court at the centre of American power, but that millions of voters out there would rather that than the stale status quo.
Tom Slater is deputy editor at spiked. Follow him on Twitter: @Tom_Slater_
To enquire about republishing spiked's content, a right to reply or to request a correction, please contact the managing editor, Viv Regan.