Philip Hammond's 'Tiggerish' delusions
That 'light at the end of the tunnel' looks more like an oncoming train.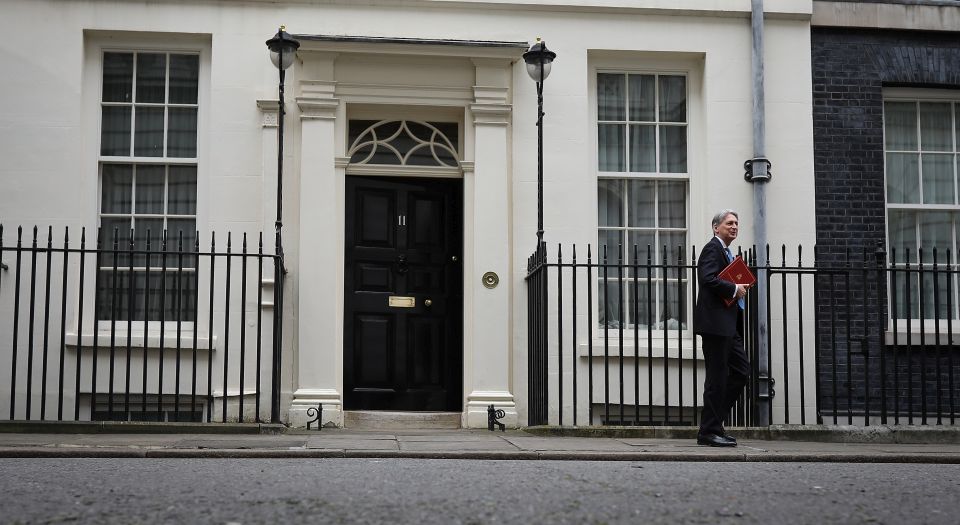 A few months of better productivity figures and a whole 0.1 per cent upgrade in the Office for Budget Responsibility's growth forecast for this year is not much to be positive about. Yet under instructions from the prime minister, chancellor Philip Hammond presented a more upbeat, 'Tiggerish' side of himself at his first Spring Statement, and announced that there was 'light at the end of the tunnel' in Britain's elusive recovery from the financial crisis of 10 years ago.
It didn't take long for critics to accuse the chancellor of complacency. Shadow chancellor John McDonnell berated him over the state of Britain's hard-pressed public services. McDonnell and others drew on the many forecasts, including the OBR's, that suggests Britain is still the slowest-growing economy among the major industrial countries. Many more played the gloomy Brexit card, one that ironically Hammond himself is usually partial to play. They admonished him for apparently forgetting the big economic hit to come when Britain eventually leaves the European Union.
However, there is a much deeper complacency on show this week, which unites Hammond with most of these critics. And it is a complacency that has echoes across all the mature industrial countries. Too many within mainstream economic and political circles seem blind to the self-reinforcing atrophy of our zombie capitalism.
For more than 30 years, governments of all stripes have been pulling out all the stops across the West to keep their anaemic economies moving. Cheap and easy credit to help businesses and people buy things, rising government spending to compensate for a failed private sector, and a regulatory environment protecting existing businesses: these are the now familiar policies that have been covering up the prolonged atrophy.
The 2008 crisis brought our long depression more into the open. Since then we've not had anything like a normal post-recession cyclical recovery. Instead we've had a recovery in complacency. And Hammond isn't alone in his illusion that there has been some sort of revival in Britain and other industrial nations.
The truth is that Britain remains a low-investment, low-growth economy. The welcome productivity upturn since the middle of last year can't make up for a decade of lost productivity growth, on the back of slowing productivity expansion since the 1970s. Rather than speculate about a return to sustained economic growth, Hammond would do better to get to grips with how exceptional this protracted absence of productivity growth has been. According to Andrew Haldane, the Bank of England's chief economist, 'You would have to go right back to the 18th century to see a similarly lengthy period of stagnant productivity'.
What makes this even more extraordinary is that we are supposed to be in a period of technological disruption. We need to tone down that hype. It is true that the deployment of robots in leading industrial businesses like Jaguar Land Rover, Nissan and Rolls Royce – complemented by the effects of digitisation in many areas, not least e-commerce and self-service retailing – will have been positive for productivity. But the reality of flatlining aggregate productivity reveals how bad things are across the rest of the economy.
Recent Bank of England analysis confirms that the strongest businesses continue to raise their productivity – albeit more slowly than in the past. And finance and manufacturing account for over half of the recent weakness in productivity growth. But, underpinning this lethargy, are too many businesses with mediocre productivity growth, or with contracting productivity. This is why overall productivity, and therefore real wages, has not been improving.
While the top one in six firms had productivity growth of more than 50 per cent between 2006 and 2015, about half of British businesses had zero or negative productivity growth. These are the zombie companies that are struggling to keep going, while holding back the most dynamic producers. It is the influence of 'non-frontier', laggard companies that largely explains stagnant overall productivity. They tend to be concentrated in lower-value services such as retail, coffee shops, restaurants, arts, entertainment and leisure. They are also more likely to be younger, smaller, single-site 'firms'. This is the corporate expression of the rise of the precarious, self-employed, 'gig' economy.
However well – or less well – the leading firms are doing, there is less technological innovation going on in the rest of the economy. The technological transformations needed to improve productivity on a broader, sustained basis are not going to happen unless more businesses invest in new buildings, machinery, software, transport and other equipment.
Such business investment is therefore the best leading indicator of future productivity possibilities. And it remains feeble. For the calendar year of 2017, business investment grew by just over two per cent. Relative to the size of the economy, corporate spending on assets remains below the level it was at just before the 2008 financial crisis. More markedly, it remains well below where it was in the 1990s:
As the Bank of England recently reminded us – though Hammond seemed to have missed the memo – investment growth remains notably weaker than in previous expansions. Mark Carney, governor of the Bank of England, aptly summed up the position. 'This remains the shallowest investment recovery in more than half a century', he said, even if his Brexit obsession led him illogically to blame this on Brexit uncertainties. (Something that's been missing since 2010 is absurdly attributed to an event that happened less than two years ago.)
This dire investment record accounts for the most revealing point in this week's OBR report. Britain's modestly growing economy is now running above its capacity. So weak has been the accumulation of investment assets that this lacklustre economy is assessed to be overheating!
Meanwhile, ultra-low interest rates, courtesy of the central bank, have been helping to prevent the creative destruction of firms, making it easier for weak businesses to survive. Reversing this policy direction is what is needed to stimulate a genuine investment drive. The government should instead be helping to shake up the economy: letting zombie firms go; supporting business transformation; and sponsoring people in the inevitably disruptive transition from low-value, low-productivity jobs into the better, more secure jobs that technological innovation can bring.
While Hammond worries about high government debt, he should be giving more attention to how these easy monetary policies have led to other forms of debt beginning to rise again. Outstanding borrowing by businesses and households already well exceeds pre-crisis levels. Relative to annual output, we are approaching 2007 levels. Debt expansion – private as well as public – keeps the economy ticking over, creating the appearance of recovery. But this comes with all the destabilising potential that we saw explode 10 years ago.
In his more 'Eeyorish' moments, surely even Hammond must sense that things aren't rosy. The next crash for Britain's over-indebted economy is approaching. His 'light at the end of the tunnel' could well be the headlights of an oncoming train.
Phil Mullan's latest book, Creative Destruction: How to Start an Economic Renaissance, is published by Policy Press.
Picture by: Getty Images.
To enquire about republishing spiked's content, a right to reply or to request a correction, please contact the managing editor, Viv Regan.