Having a fancy degree doesn't make you right
In the age of Trump, academic elitism has reached new heights.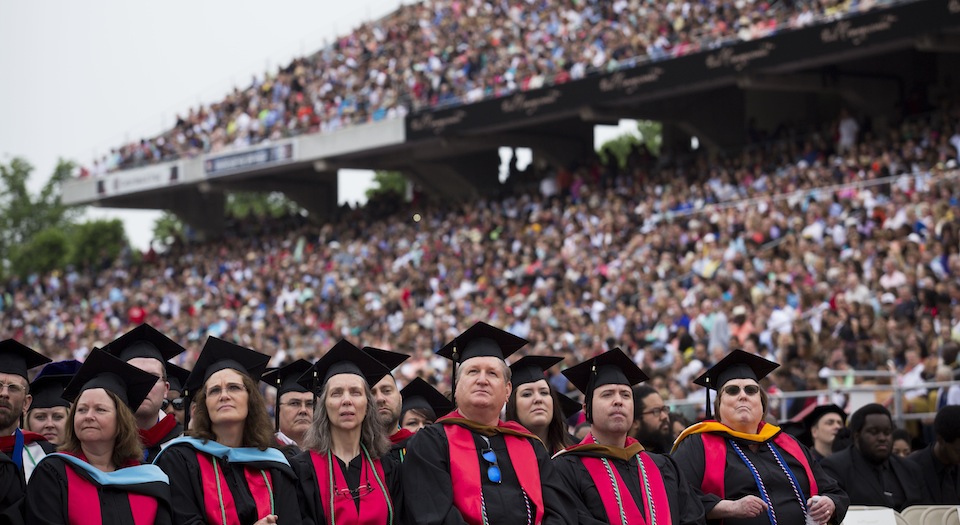 University has become a license to feel superior to those who don't have the same academic credentials, with educational merit now seen as the equivalent to intelligence. People with degrees are held up as the only ones with any real understanding of the world, and this assumption is damaging to free thinking, independent learning, and the financially underprivileged.
For my final months of university, I've been doing a fellowship in Washington, DC, where the value of your opinion seems increasingly to depend on where you attended school. I've been thrown into the middle of the academic elite, surrounded by the graduates of prestigious law schools and Ivy League colleges – people so set in their worldview that they don't even realise they live in a bubble.
Discussing the state of politics in the Trump era is often a patronising experience. When I broach the subject of the frustration of working people, I often get a condescending response: Trump voters don't know any better, they're uneducated, or they vote with their emotions. I asked one person, who was Ivy League educated, why they thought Brexit happened and they said flatly that the British people voted out of xenophobia, and that they weren't smart enough to understand economics.
For people who went to such prestigious schools, a lot of them are intellectually lazy. They're not used to being disagreed with; they assume that they are right even when their own argument is flawed. The majority of people who have the privilege to attend the best and most expensive schools come from affluent backgrounds, and know little of life outside that world. They condemn working-class people, and write them off as uneducated, because they do not understand them. They have never had to experience low wages and job insecurity.
Equating superior intelligence with a good degree suggests that it is only through going to an elite university that you can form thoughts and opinions that matter. This is not only elitist, it is simply wrong. The idea of independent learning outside of a classroom is deemed primitive, even though young people are often encouraged to learn beyond the limits of the curriculum. What's more, lived experience matters. But a perspective shaped by experiences on factory lines or in call centres is apparently nothing compared to the understanding one gains from a labour-relations degree from a top school, at least according to the academic ruling-class.
The arrogant attitude of so many of the university-educated creates a narrow definition of what education is, and who is and is not entitled to have an opinion on a particular subject. When we value people's views based on where and if they studied, we discredit a wide population of people with different backgrounds, credentials and skills. Those who went to less recognised universities, didn't have the financial means to go to university, or chose not to go at all, can be just as intelligent, well-rounded and worthy of their opinions as anyone with a top-flight degree.
Mica Soellner is a journalist and student based in the US. Follow her on Twitter: @micasoellner.
To enquire about republishing spiked's content, a right to reply or to request a correction, please contact the managing editor, Viv Regan.