Xi Jinping: president for life?
How the West's own fear of democracy could be helping Xi.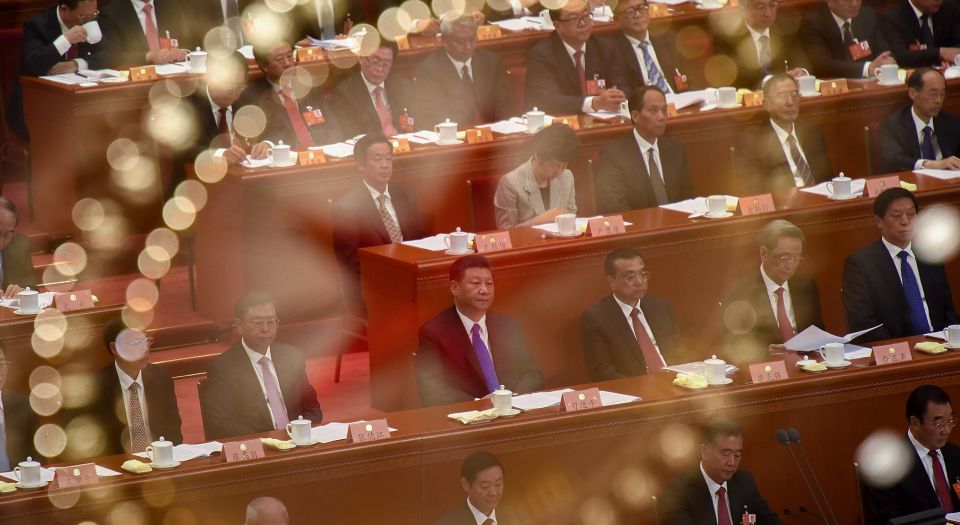 In the pages of The Economist, one government adviser is quoted as saying, 'He's gone from Mr Bean to Stalin', adding that now 'the central party apparatus is filled with true believers'.
While attention has increasingly focused on President Xi Jinping's power grab, The Economist was talking about Jeremy Corbyn and his remarkable consolidation of authority within the Labour Party. Meanwhile, on the other side of the world, President Xi has carried out an undemocratic leadership coup that Momentum could only dream of.
President Xi is the leader of the Communist Party of China. At the end of February, the official Chinese news agency announced – relatively out of the blue – that Xi intends to carry on after his second five-year term ends in 2022. It has long been suspected that he was going to break the constitutional requirement for presidents to step down after 10 years in office, but it became obvious that he wasn't going anywhere when he didn't anoint a successor at the 19th Party Congress last October. It has been 'tradition' for a fellow bureaucrat to receive the official seal of approval from the outgoing president; ready to step in and uphold the defence of the party for another two terms of office. Admittedly, this requirement for all members of the National People's Congress to hold office for just two consecutive five-year terms has been a 'tradition' for just 40 years. Indeed, the initiator of this constitutional tradition, Deng Xiaoping and his successor, Zhang Zemin, both abused the spirit of the law. Before that, there was no president… and Mao ruled as chairman for 35 years.
Continuity – even if it is invented – is important in China. The stability of society, whereby no threat to the rule of the governing party is countenanced, has shaped Chinese politics forever; through feudal times, the Maoist period or contemporary market-socialism. Surely Xi's power grab is a reflection of China's contemporary zeitgeist: a global player needing a strong and stable hand on the tiller as it enters potentially choppy waters.
Not to be blasé about Xi's motives but, lest we forget, Xi's power grab is as head of a one-party state. The army swears to defend the party and not the country; and the State Council, National People's Congress, Political Consultative Committee, Supreme Court and Supreme People's Procuratorate all report directly to the Chinese Communist Party's Politburo Standing Committee. Sitting above this, the institutions of the party, the State Council and the military… is the president.
Admittedly, people in China are understandably worried about Xi's motivations, with one colleague telling me: 'It is a very dangerous situation that reminds us of Mao's reign.' But by and large, decisions have always been handed down by an unelected elite and democracy is not going to break out any time soon. Another colleague described the general response to the news as 'normal with a modicum of unease… People don't worry about the current Xi, but they do worry about an old, doddery and potentially senile Xi still holding on to power.'
Chinese people have learned to live with a political system that disavows meaningful opposition and debate. Many have grown circumspect with the absence of alternatives. But even within the party itself, technical solutions are difficult to get excited about in the absence of ideological coherence. Communism is forgotten, the market is tolerated, but there is an absence of shared values. It comes to something when the Chinese state is having to rely on the personality of a reasonably gormless president to convey a sense of purpose.
When it comes to personality cults, of course, alarm bells start ringing in China. Next year is the 70th anniversary of the revolutionary foundation of the People's Republic and President Xi will undoubtedly latch on to the heroic narrative of national continuity and resolve to legitimise his presidential power grab. It is a narrative that will undoubtedly mask the pragmatic desire to maintain order.
More importantly, next year is the 100th anniversary of the famous May Fourth revolution, during which time radicalised intellectual youths launched an intensely nationalistic revolt against continuity. At the time, foreign-educated Chinese activists distributed pamphlets that argued for a rejection of tradition, deference and filial piety. Among other things, their actions helped kickstart the revolutionary career of Mao Zedong.
Fast forward 100 years, and the Chinese Communist Party wants nothing to do with destabilisation, individual empowerment or any other threat to continuity. In the current climate, Xi Jinping needs as much of the social glue – tradition and deference – as he can muster. Having clamped down on the Communist Youth League last year, a key power base of Xi's rivals, May Fourth is a worryingly symbolic anniversary.
To that end, the problems in established democracies in the West are motivating Xi's consolidation of power. Kerry Brown, author of The New Emperors, says, 'Trump, Brexit, the rise of the extreme right and left again in polities throughout the democratic world… made domestic Chinese politics even more fixated on stability and on avoiding any kind of uncertainty and risk.'
It seems that Xi is a cult borne as much in the West, as in China. If the EU can formally veto the outcomes of Greek democracy, if the British government can countenance the reversal of a popular mandate, how much more likely is it that Xi Jinping will confidently flaunt the idea of a benign Chinese authoritarianism?
Yinzi Huli is a writer based in China.
Picture by: Getty Images.
To enquire about republishing spiked's content, a right to reply or to request a correction, please contact the managing editor, Viv Regan.