The legend and myths of that four-minute mile
Even Roger Bannister was accused of crossing an 'ethical line'.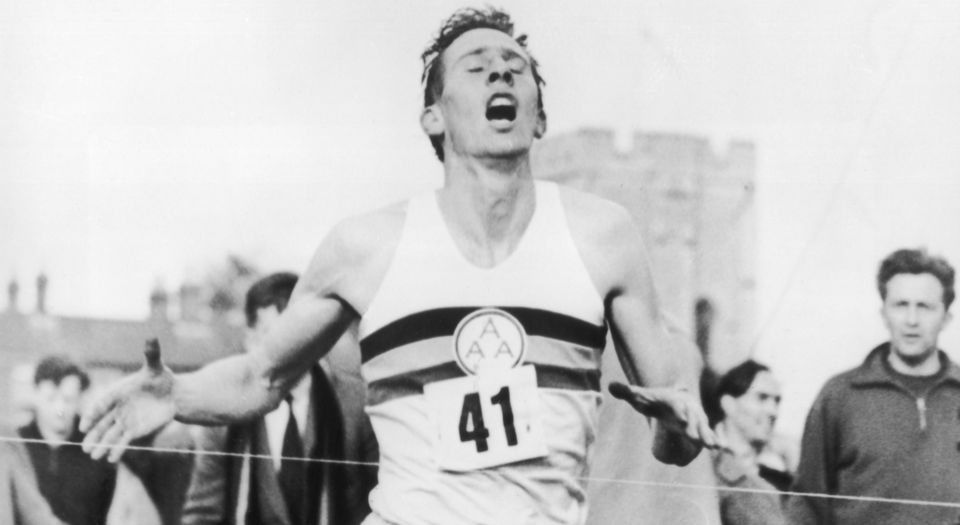 Sir Roger Bannister, who has died aged 88, was one of the few truly iconic figures of modern sport: the first man who ran a mile in under four minutes. Bannister's time of three minutes 59.4 seconds, achieved in an Oxford field on 6 May 1954, has even been compared to the first conquest of Everest a year earlier, as a giant leap of human achievement – and British achievement in particular, of course.
For once it might seem hard to disagree with creepy Lord Coe, head of world athletics. Coe, a double Olympic gold medallist turned Tory peer and IAAF president, said that Bannister had inspired every athlete and 'made the impossible possible' by breaking through the 'psychological barrier' of the four-minute mile, which had defied the best athletes for a quarter of a century. Bannister's achievement, effused Coe, had 'allowed mankind to enter a world filled with new possibilities'; it was 'a moment in history that lifted the heart of a nation and boosted morale in a world that was still at a low ebb after the war'.
Many of those looking back at Bannister's run this week have struck a wistful note of nostalgia for that apparently golden age of sporting heroics by clean-living amateur athletes. A stark contrast, it seems, to the dirty world of sport today, when Russian athletes are banned en masse and the long shadow of drug scandals can even fall on such British sporting heroes as Mo Farah and Bradley Wiggins, accused by MPs this week of 'crossing an ethical line' to win.
Time for a bit of perspective. By all accounts Roger Bannister was a top sportsman and top man, as smart and modest as he was brave. Having broken the record as an Oxford medical student, he went on to make his mark as a consultant physician and neurologist – which Bannister always said was far more of an achievement than running fast.
As with all icons, however, there are elements of myth mixed up with the legend. Bannister was not a unique runner in his time, and the four-minute mile was not really the 'impossible' task often suggested. His remarkable record-breaker was an accident of historical timing as well as an achievement of timing on the track. And his was not quite the golden age of clean athletics often assumed today.
There was plenty of controversy around athletics in the early 1950s, too. Even Bannister was accused in some high-powered quarters of breaking the record by crossing an 'ethical line' by the standards of the time.
Nor was the ethos of amateur athletics, which many now view with nostalgia, necessarily such a virtue. For decades the strict rules on amateurism helped to ensure that top-level track-and-field largely remained the preserve of white middle-class men. By excluding those from more disadvantaged backgrounds who would later come to dominate athletics – and banning anybody who dared to try to make a living from their talents – amateurism undoubtedly held back sporting progress.
Why was the 'psychological barrier' of the four-minute mile not broken until 1954? Partly because most people had bigger barriers to worry about. The Second World and its aftermath postponed the serious pursuit of world records for almost a decade.
Even during the war years of 1939 to 1945, however, two athletes from neutral Sweden – Gunder Hagg and Arne Andersson – ran a series of head-to-head races that lowered the mile record by five seconds, Hagg finally recording a time of 4:01.4 in 1945. One of those Swedes looked set to break the four-minute barrier almost a decade before Bannister had the chance. But in 1946, both were banned from athletics for violating the rules on amateurism by taking payments for running – to be clear, they were 'bribed' to win, not lose!
So, it was partly an accident of history that the barrier was still intact when Bannister took to the track in May 1954. He used an obscure Oxfordshire athletics meeting for his record bid for fear that his great Australian rival, John Landy, would break four minutes before him. The black-and-white pictures of an exhausted Bannister breasting the tape, then being held up by men in cloth caps and duffle coats while Norris McWhirter (later of Guinness Book of Records fame) announces his historic time (recorded on a hand-held stopwatch), have become images of sporting immortality.
Yet the record itself lasted for barely six weeks. Just 46 days later, Landy the Aussie amateur went to Finland and ran the mile in 3:57.4, two seconds faster than Bannister the history man. Even before that, there were serious grumbles from the athletics world about the praise heaped on the Briton. 'What has Bannister done?', demanded one international rival: 'Third in a European 800metre championship!' Bannister had finished fourth in the 1500 metres – the 'metric mile' – at the 1952 Helsinki Olympics.
Criticism focused on the tactics employed by Bannister to break the four-minute barrier – the use of the two Christophers, Brasher and Chataway, as pacemakers. Their role was not to try to win, but effectively to tow Bannister round the track at a record-breaking rate before he eventually sprinted past to race against the clock.
As author John Bale puts it in his iconoclastic book Roger Bannister and the Four-Minute Mile, the use of 'ghost runners' meant the record-breaking event had been 'paced, not raced'. At the time many asked whether such a 'staged' race had crossed an ethical line. An editorial in Athletics Weekly observed that Bannister had yet to win a race against world-class athletes, and that 'running in cut-throat competition is very different to running in a race where one's competition is so helpful'. Even Britain's past Olympic 100-metre champion Harold Abrahams, of Chariots of Fire fame, thought that 'we should be on our guard against making sport too much of a stunt'.
The disgruntled competition went further. An Australian athletics correspondent snorted that their amateur hero, Landy, would 'never have been party to such a schemed "race"'. Landy himself had said he wanted to break the four-minute barrier in 'fair dinkum' fashion.
The year before, Bannister had made a more blatantly staged record attempt at a Surrey schools athletics meeting. On that occasion one pacemaker dropped out after 2.5 laps, then Brasher – who had jogged around and allowed Bannister to lap him – suddenly took up the pace for the later stages. Bannister 'won' the race in 4:02, but the athletics authorities refused to let his time stand as a new British record. Bannister later confessed his 'great relief that I did not run a four-minute mile under such artificial circumstances'.
Others, however, thought his historic 1954 time should also be ruled out due to the 'artificial circumstances'. The anxious British Amateur Athletics Board rushed ratification of Bannister's record through before anybody else got the chance to break it. Yet two years later, notes Bale, the BAAB passed a new rule that a record time should not stand if the runner had 'unfair assistance' from pacemakers 'apparently designed to assist him to achieve a record'. The rule proved unenforceable in practice. But as Bannister wrote at the time, if it had existed in 1954, his record might well have been scrubbed off.
In more recent times, of course, the use of pacemakers has become normal. Yet it is worth recalling how controversial it was in Bannister's era. It's a reminder that the 'ethical line' in sport is always shifting as elite athletes seek an edge, whether through tactics and training methods or supplements and materials.
Bannister is seen as the consummate 'gentleman amateur' whose achievement is more remarkable given he reportedly trained for only 30 minutes a day as a student. Yet the trainee medic also adapted early sports science to experiment with very modern-sounding intensive training methods. On the morning of his sub-four-minute mile, he was busy sharpening and coating his running spikes with graphite, to avoid them getting clogged with the cinder ash that made up running tracks back then.
And while Bannister was certainly a gentleman, the 'amateur' side of his sport should perhaps be less of a cause for nostalgia. The strict application of the amateurism code meant British athletics could be largely monopolised by middle-class Oxbridge students such as the 'Chariots of Fire' set in the 1920s and Bannister's 'Three Musketeers' in the 1950s.
In international terms, too, the amateur code excluded many talented athletes who lacked the time and money to dedicate their lives to running for nothing. As mentioned, two Swedes might well have run a sub-four-minute mile in the 1940s if they had not been banned for receiving payments. Even the great black American Jesse Owens, who won four golds at the 1936 Berlin Olympics, was banned from athletics by the US authorities immediately afterwards for daring to want to use his success to make a decent living.
The snooty public image of amateur athletics was captured by the British cartoon character Alf Tupper – 'Tough of the Track' – who first appeared in the boys' comic Rover in 1949 and was still starring in the comic books of my 1960s childhood. Alf was a working-class hero who would rush straight from his job as a welder or plumber to outrun the posh university athletes, despite their worst efforts to cheat him – all done while wearing army plimsolls and subsisting on a staple diet of fish'n'chips. In the real world of postwar amateur athletics, such rebels were as rare as British Olympic champions.
Even Bannister got caught up in a minor row about amateurism, when he was invited to visit the United States shortly after his historic run (America being one of the few non-Empire countries that still valued the mile above the 1500 metres). The trip was organised via the British government's Foreign Office, which saw sport as an arm of international diplomacy (and had thus made the England football team give the Nazi salute before a 1938 match against Hitler's Germany). Problems arose when American admirers offered Bannister a trophy worth some £300; since athletes who received prizes costing more than £12 risked losing their amateur status, he had to accept a tacky replica instead. Then the Foreign Office moved to cancel his big television appearance when it learned the programme was sponsored by the RJ Reynolds tobacco company, manufacturers of famous cigarette brands from Lucky Strike to Camel. It wasn't smoking they objected to, but the whiff of 'professionalism'. It would be the 1980s before athletes were openly allowed to be paid and still compete in the Olympics.
It will be another sign of changed times when the athletes line up for the men's 1500-metres race at the 2018 Commonwealth Games in Gold Coast City, Australia next month. Back in 1954 in Vancouver, Canada it was still called the British Empire and Commonwealth Games, and they still ran the imperial mile; Roger Bannister beat John Landy in a thriller called the 'miracle mile', to claim his one major championship gold in a time of 3:58.8.
Yet for all that has changed, Bannister's achievements can still speak to us down the decades – not least in the sense of perspective he achieved about sporting triumphs and disasters. He loved sport but insisted there was more to life than running around cinder tracks and muddy fields. 'You don't have to make the rest of your life boring', Bannister wrote, 'to be a good runner'. He once suggested that the 'ideal' athlete might enjoy a few drinks and even the odd cigarette away from the track. Somehow one can't quite imagine Seb Coe saying anything so sensibly human.
Mick Hume is spiked's editor-at-large. His new book, Revolting! How the Establishment is Undermining Democracy – and What They're Afraid of, is published by William Collins. Buy it here.
Picture by: Getty
To enquire about republishing spiked's content, a right to reply or to request a correction, please contact the managing editor, Viv Regan.