This is not a negotiation
Brussels will do anything to kill off Brexit.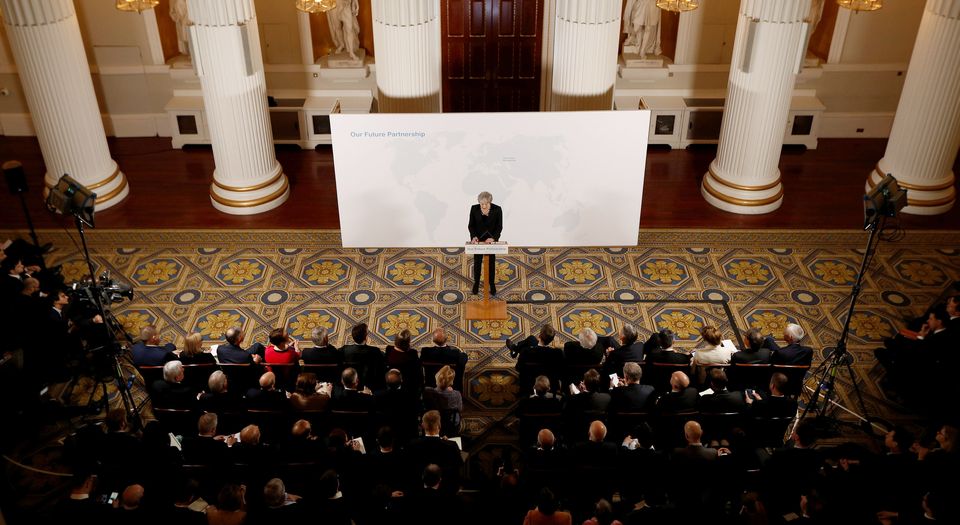 Pragmatism. That was the word of the day after Theresa May delivered her much-trailed 'Road to Brexit' speech at Mansion House on Friday, setting out Britain's negotiating position for the trade talks ahead.
In substance, she gave us little we didn't already know. She repeated the commitment from her Lancaster House speech to leaving the Single Market and the Customs Union and the jurisdiction of the European Court of Justice, while also reminding us that she was willing to align with the EU in certain areas.
The one thing she was clearer on was her willingness not just to align, but to lock us in to EU rules in those areas. May said we need to accept 'binding commitments' in 'some areas like state aid and competition to remain in step with the EU'. Which sounds a lot like the sort of treaty commitments which are incredibly difficult to get out of, and would come at such a huge cost that future politicians likely won't try.
It was a move even more cynical given it seemed like a party-political counterblast to Jeremy Corbyn's (farcical) claim that he could stay in 'a' customs union with the EU and retain the freedom to pursue his own state-aid policies. May seemed to be suggesting that even outside of a customs union, that was a pipedream.
So much for May's 'first test' of the negotiations – to 'respect the result of the referendum'. It seems we could well be taking back control only effectively to hand it back to Brussels in various crucial areas of policy.
In the end, it was May's shift in tone, her underscoring of the fact that, in the Brexit negotiations, neither end of the table, nor faction in her own party, would get everything they wanted, that was most welcomed. Even if Hard Remainers in the press called it too little, too late, and continued to push for the public to rethink.
But this gets to the heart of all that is wrong with the government's stance in these talks. The Brexit negotiations are not an exercise in reasonableness, in pursuing compromise in good faith. This is about warring interests. And the EU has no interest whatsoever in striking a mutually beneficial deal with Britain.
Anything short of a deal that humiliates Britain would be a blow to EU authority. It would put the wind at the backs of the Eurosceptic masses across Europe and give European leaders an incentive to hold their own referenda, if for no other reason than to give them a chance to renegotiate their terms with the Brussels bureaucracy.
Just look at the other side of the negotiating table. While May has edged towards 'compromise', the EU has grown more intransigent and cocky. Donald Tusk recently dismissed British demands as 'pure illusion'. Jean-Claude Juncker jokes that he'd make a better prime minister of Britain. 'Taking the high road' can only mean capitulation.
The EU's recently published draft withdrawal agreement proposes that in the event of no agreed solutions on the Irish border question, the EU would effectively annex Northern Ireland, binding it into a 'common regulatory area' between north and south. Elsewhere, the draft suggests the ECJ would have jurisdiction in the UK, with regard to EU citizens' rights and financial obligations, for 100 years after Brexit.
While May intones about a 'deep and special partnership', Brussels is talking about carving up UK territory and imposing its writ for generations to come.
In the Q&A after her speech, May limply reaffirmed her old slogan, that no deal is better than a bad deal. But this rings more hollow today than it ever has done. Whitehall is completely unprepared for a no-deal Brexit – an invitation for the EU to give us a humiliating offer.
None of this is to say that all we need to do is talk tougher with Brussels, that a bit more bluster will get us a bumper deal on trade. The point is that in these negotiations, sovereignty and democracy must be non-negotiable, and this is precisely what May seems more poised than ever to trade away.
And, no matter what happens, she still faces a hostile Rearguard Remainer-stuffed parliament that is already plotting to tie her to a customs union via an upcoming amendment to a trade bill, with some Tory Remainers willing to risk bringing down the government in order to do so.
But what of the Tory Brexiteers, those who had supposedly captured May and made her do their Hard Brexit bidding? Their approval of May's speech shows that caricature always gave them too much credit. They've always lacked the grit to confront the costs Brexit might pose in the short-term and the vision to articulate why it would be worth it. So they've thrown their lot in with May in the hope that at least we get something, anything, that looks a bit like Brexit.
None of this should surprise us. The Brexit vote was always too radical to be delivered by the Conservatives, the old 'pragmatic' party of the establishment. It is beyond the powers of the most trenchant Brexiteers, let alone the empty technocrat May.
Unless the public manages to reassert itself into a debate that is now conducted entirely above our heads, it seems this is how democracy will die: not in a blaze of glory, but in a whimper of cowardice and compromise.
Tom Slater is deputy editor at spiked. Follow him on Twitter: @Tom_Slater_
Picture by: Getty
To enquire about republishing spiked's content, a right to reply or to request a correction, please contact the managing editor, Viv Regan.